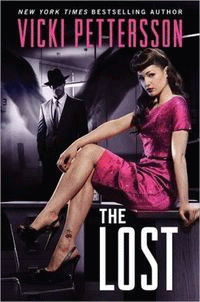 Spend your spring break in Sin City. Vicki Pettersson is giving away signed copies of the first two books in her Celestial Blues trilogy, THE TAKEN and THE LOST.

Meet Griffin Shaw. Fallen angel and former P.I. forced to return to the city where he and his wife were murdered fifty years before. He needs some modern–day know–how if he's going to get a shot at solving his own death.

Meet, too, Katherine "Kit" Craig, rockabilly devotee and spirited reporter, she's a twenty–first century woman who is obsessed with unearthing the truth. She needs protection, and she thinks this guilt ridden, world weary, all–American angel is just the man for the job.

Together they work to put to bed both mysteries old and new, and as they grow closer both personally and professionally, it quickly becomes clear that if either of them are to survive this world and the next, they need the answer to one deadly question:

Who killed Griffin Shaw?
The Taken
Order Today

The Lost
Order Today
US / Canada Addresses only
Contest ends: April 8, 2013