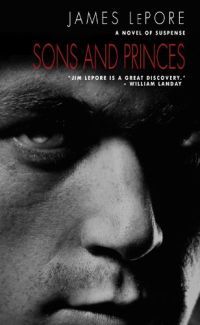 Win a copy of each book we published in 2012! One winner will receive a paperback copy of each book from all of our authors, including #1 Kindle Best Seller Twelve Months by Steven Manchester. We publish multiple national best selling authors and we want to share their works with you!
In addition, each entrant will receive a digital copy of Sons and Princes, by nationally best selling author James LePore. In this thriller, LePore takes us into the world of the mob as one man races to save his family. You can read more about it here.
Our weekly newsletter is filled with inside information directly from our authors, excerpts, interviews, reviews, and other information that fiction lovers will enjoy. We look forward to your joining us.

Sons and Princes
Order Today
Chris Massi has been running from his world his entire life. The son of a Mafia assassin and the former son–in–law of a mob kingpin, Massi has tried to stay on the right side of the law, building a prestigious career as an attorney, and insulating his children as much as possible. But now a series of tragedies have left him without a law license and without several of his loved ones. And at the same time, his teenaged son is beginning to gravitate toward the gangster world Chris has tried so hard to protect him from.
Michele Mathias has been running away from her life for more than a decade. Once a promising young woman with a future, she's now a drug addicted street player living with the knowledge that her daughter – the only bright thing in her life – was taken away from her. When her roommate is murdered in a mob–related hit, her life intersects with Chris's life – and their worlds change forever.
For Chris, a showdown is coming. The only way for him to save his son and regain his future is to face – and maybe even embrace – the demon he's always avoided. For Michele, her last chance at redemption has arrived.
US / Canada Addresses onlySons and Princes



Contest ends: February 28, 2013