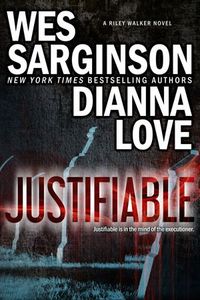 NYT bestseller Dianna Love is giving away a signed copy (signed by both authors) of JUSTIFIABLE, Book 1 in the brand new Riley Walker thriller series she co–wrote with former NBC anchor and NYT bestseller Wes Sarginson. You'll also receive a Keeper Kase™ loaded with signed Keeper Kase Cards™ (glossy cover cards of Dianna's books) including a bonus card - TIME UNTIME signed by #1 NYT bestseller Sherrilyn Kenyon.

JUSTIFIABLE
Order Today
Children are missing, adults are being murdered and a city is on the brink of exploding. The key to saving lives is a secret whispered in confession.
Once a beloved, award–winning investigative journalist, Riley Walker now anchors for a television station rated the worst in Philadelphia. That's how it works when a top newsman makes an epic mistake in front of the whole world. The busier Riley stays, the less he thinks about the one decision that will haunt him forever. His vow? Never get involved again. That works until a killer uses Riley's past against him, and targets a child the world has forgotten. Riley is the only one who can save him, but when Riley digs deep for the truth, he uncovers evidence fingering a powerful player no one will believe is guilty. Dangerous politics pit Riley against a serial killer, and threaten all he's fought to regain
To save the life of a child and stop a killer on a savage murder spree, Riley must fight an enemy far greater than the tide of public anger rolling against him. He'll have to face his own demons, and the horror of the child who died because the last time...Riley was wrong.
Contest ends: January 31, 2013