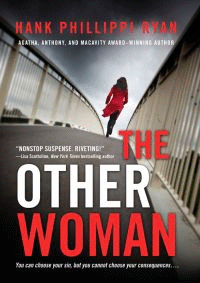 It's more than a fabulous book—it's a collectible! Hank Phillippi Ryan's THE OTHER WOMAN is now in a second printing—but you'll get first editions for you and a lucky pal! (There aren't many left, so hurry....) THE OTHER WOMAN is also Hank's hardcover debut—so you can retain one copy for your keeper shelf and give one to a lucky friend. And that cute tote bag? That's a limited edition, too! ('Tis the season—to get carried away!)
The book world is abuzz about THE OTHER WOMAN, the suspenseful story of top–notch reporter Jane Ryland in Hank's masterful blend of mystery, revenge and secret passions. The best–selling September release from Tor/Forge is now one of Suspense Magazine's Best Books of 2012, is an RT Book Reviews nom for Best Mystery and Suspense Novel of 2012, a TOP PICK, an Indie Next Great Read, got starred reviews in Library Journal and Booklist and—yup, there's more! Was just heralded by the Kansas City Star as one of 2012's Best Books.
Hank lives it—now she writes it! The investigative reporter for Boston's NBC affiliate and television journalist since 1975, Hank's won 28 Emmys and 12 Edward R. Murrow awards (whoa!) for her work. She's chased down the bad guys and exposed corrupt politicians—now she spins a taut tale of dirty politics, dirty tricks and dirty secrets—with a barrage of final twists!

THE OTHER WOMAN
Order Today
Jane Ryland was a rising star in television news . . . until she refused to reveal a source and lost everything. Now disgraced and on the low rung at a local newspaper, she begins to suspect a Senate candidate's hiding a secret mistress—and it's just days before the pivotal election.
Detective Jake Brogan is on the hunt for a killer. When a second woman's body is discovered like the first—by a bridge with no identification—Jake is plagued by a frenzied media convinced that a Bridge Killer is hunting Boston's young women.
As the body count rises and election looms closer, Jane and Jake realize their cases are connected . . . and they may be facing a ruthless killer who will stop at nothing to silence a scandal. As one character warns: "You can choose your sin—but you cannot choose your consequences."
"Political skullduggery and murder make a high octane mix in this perfect thriller . . . "
– Booklist starred review
"Ryan . . . employs her much honored investigative reporting and political background to craft a dizzyingly wild labyrinth of exciting twists, turns, and surprises. Readers who crave mystery and political intrigue will be mesmerized by this first installment of her new series."
– Library Journal starred review
To learn more about this Anthony, Agatha & Macavity award–winning author, visit www.HankPhillippiRyan.com and like her on Facebook.
Contest ends: January 6, 2013