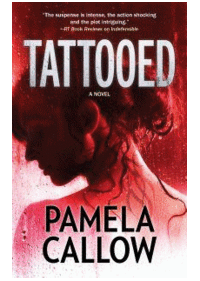 In TATTOOED, Pamela Callow's brand new, page–turning novel of suspense, celebrity tattoo artist Kenzie Sloane is renowned for her artistry in creating Japanese–style tattoos. Her body reflects her passion – and her life story. Her most treasured tattoo is that of a koi fish, which according to ancient Chinese myth, symbolizes the courage to overcome life's obstacles.
June's Giveaway Winner will receive a signed copy of TATTOOED, DAMAGED and INDEFENSIBLE (the first three books of the critically–acclaimed Kate Lange thriller series) AND this beautiful, signed digital poster print of Koi With Maple Leaves by renowned Miami Ink tattoo artist Chris Garver!

TATTOOED
Order Today
She is obsessed with tattoos.
He is obsessed with her.
When a body is found on the outskirts of Halifax, rumors run wild about the victim's identity. But tattoo artist Kenzie Sloane knows exactly who she is. They share a tattoo... and a decade–old secret.
Lawyer Kate Lange remembers Kenzie Sloane. The former wild child was part of the same crowd that attracted her little sister, Imogen, before her death. Now Kenzie needs her help. And Kate needs answers.
But there are others who know about the tattoo and its history. And one of them is watching Kenzie's every move, waiting for the perfect moment to fulfill a dark promise that had been inked in her skin.
To learn more about Pam and her books, visit her website. Join her Facebook page for some fun chat and more giveaways!
Contest ends: June 30, 2012