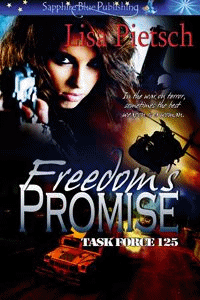 Get an introduction to Lisa Pietsch's Task Force 125 series and win the first three books: THE PATH TO FREEDOM, A TASTE OF LIBERTY & FREEDOM'S PROMISE. In e-book, PDF format.
Sarah Stevens is a washed-up military cop whose life is a shambles until she is offered a position on an inter-agency anti-terrorism task force by the CIA. The thirty-year-old, overweight, down-on-her-luck Stevens goes to a secret training camp where she is transformed into a sexy and deadly agent whose mission is to find and stop, by any means possible, the financiers of terrorism against the United States and its allies. Although she goes into it thinking that it is just a job, Sarah soon discovers that this is a new life loaded with adventure, including the handsome Vince Hennessee, her team leader, and unimaginable danger in the form of Hassan, the man she has to destroy
Sarah Stevens finally has a life.
Instead of the same old life with no man around who is worth the energy, now she has three!
One she loves but cannot have, one she can have but cannot love, and another who wants her and doesn't care if she loves him.
What's a girl to do?
When a CIA operative is captured nobody is ever sent to save him. Seasoned paramilitary operative Vince Hennessee knew the risks but the only way he could move on with the life he had planned with Sarah Stevens was to put down Nikolai Federov once and for all. What he didn't expect was that Nikolai would find him first. Now it is up to Sarah and the rest of the American Swift team from Task Force 125 to find Nikolai and put together an armed strike force that can take out the Russian and rescue Vince before it is too late.
Contest ends: April 30, 2012