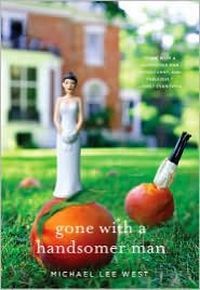 Five readers to correctly answer the Jen's Jewels trivia question will win a copy of Michael Lee West's latest release GONE WITH A HANDSOMER MAN.
GONE WITH A HANDSOMER MAN
Order Today
"All I ever wanted in life was true love, a set of copper cookware, and the perfect recipe for Red Velvet cake. The last thing I wanted was to end up on Charleston's six o'clock news, accused of murder and a slew of other crimes."
So begins the story of Teeny Templeton, out-of-work Charleston pastry chef. The first bit of trouble in which Teeny finds herself is when she catches her fiance playing naked badminton with two other women, which compels her to climb a peach tree and begin hurling peaches at him. Needless to say, the engagement is over, and her fiance slaps her with a restraining order. When he is found dead a few days later, all fingers point to Teeny. Her only hope is an old boyfriend-turned-lawyer, the guy who broke her heart a decade ago. But dredging up the past brings more than skeletons out of the closet, and Teeny doesn't know who she can trust. With evidence mounting and the heat turning up, Teeny must also figure out where to live, how to support herself, how to clear her name, and how to protect her heart.
Gone with A Handsomer Man is funny, sweet, tender, and full of surprises. Readers will beg to see more of Teeny in her next adventure, A Teeny Bit of Trouble.
Contest ends: May 31, 2011