I had such a blast writing this book! I adore Mason and Tess and loved giving them amusing, settings, and witty banter, and writing scenes that were sexy and fun. There are so many great scenes in this book from the piggyback ride in the rain, to the serial-killer clown scare, to a sugar cube-encrusted kiss. It was hard to pick a favorite, but I really liked the scene with Mason taking another run at their first kiss. It shows them having fun together and you can see my klutzy, curvy heroine, Tess coming out of her shell a little and getting her flirt on.
How many times have we wished we'd done something differently or that we could go back and get a do-over for an important moment? That's the scene I gave these two as Mason tells Tess he wants another crack at their first kiss and it's just adorable. Comin' in hot…
Mason James is the responsible brother, the one who stayed behind to run the ranch when his older brother left to play professional hockey. He's always felt in his brother's shadow and women have used him in the past to get to his famous brother. But when he meets Tessa Kane, something about her is different, and for once, he finds himself risking his heart as he falls for this woman.  
And Tess is falling right back. Except Tess has a secret. A terrible, awful secret that could wreck everything. Even though she likes Mason, she is doing everything he feared. She's agreed to be his date for the weekend, but only because she's a reporter and is trying to get the scoop on Mason's brother. Things get crazy, and as Tess's feelings grow, she finds herself between a rock and a hard-muscled cowboy.
I had so much fun putting these two in funny scenes together. They meet in a coat closet at the pre-wedding party when Tess is changing her shirt and she accidentally flashes Mason. After the party, he asks her to be his date for the weekend and they have this adorable scene where they are standing side by side and texting each other and he ends up giving her a quick kiss goodbye.
This scene happens the next time he sees her and she's just arrived at the ranch…
***
"Looks like your 'new friend' has arrived," Vivi said, a note of amusement in her tone.
Mason ignored his mom, too busy trying to quell the flurry of sensations that had just taken off in his gut. He pushed out the front door, pausing on the porch to steady himself as she parked her car next to his pickup. His border collie, Theo, raced up to greet her as she stepped from the car.
Tess had on a simple tank top and shorts, but her hair was loose and curled around her shoulders, and when she pulled off her sunglasses and smiled up at him, she took his danged breath away.
He sauntered down the porch steps, trying to act casual since he knew full well that his mother and brother would have their faces plastered to the kitchen window.
A grin broke out on his face as he approached her. Forget the food at the barbecue. Tessa Kane looked good enough to eat.
She took a step forward, and without thinking, he grabbed her hand and pulled her toward the barn. "Come on, I want to show you something," he mumbled.
"What is it?" she asked as they stepped into the cool shadow of the barn.
He turned to face her, suddenly feeling awkward and shy. "Nothing. My family was just watching us, and it felt weird saying hello to you while they stared at us through the window."
She smiled. "Understandable."
He rubbed his hand along the back of his neck. "And also, I've had something that's been bugging me all night, and I thought if I could take care of it right off the bat, we'd just get it out of the way and it wouldn't be between us all afternoon."
"Oh…kay. This sounds serious. What is it?"
"It's about that kiss I gave you…"
Her eyes widened, then she shook her head as she stared at the ground next to his boots. "Oh yeah, that. Of course. You were probably worried that I would get the wrong idea. Or that I would think this was more than just a casual date. I know you just asked me to help with the busybodies, and that I'm just a stand-in. I get it."
What the hell was she talking about?
"No. It's not anything like that." He lifted her chin, tipping her face up to his. "I just feel like maybe it wasn't my best work."
A grin tugged at the corners of her lips. "Oh."
"I think if I had another chance, I could do better. You know, make it a little more memorable ."
She shrugged, looking up at him through her lashes. Her voice was soft, barely above a whisper. "I thought it was nice."
"Darlin', I never want a woman to think a kiss I gave her was 'nice.'"
A sly grin crossed her face, and she pushed her shoulders back and took a step closer. "In that case, I think you're right." She lifted her hands and rested them on his chest. "You'd better try again."
He swallowed, the heat of her hands warming his chest.
She scrunched the folds of his shirt into her fists. "I'm ready when you are." Her voice lowered, taking on a breathy tone. "But if you're going for memorable, you'd better make it a good one."
Holy shit. Flashes of heat darted down Mason's spine. And through his groin.
He loved the way she looked shy one moment, then her eyes flashed with the spark of a dare the next. He couldn't figure this woman out, but he liked her.
There was more to Tessa Kane than he'd imagined, and it would seem that she'd just thrown down a challenge. And he was up for it. If the tightening in his jeans were any indication, apparently in more ways than one.
He pulled back slightly, just enough to gaze down into her face. A light glaze of shimmery gloss coated her lips, and her cheeks were pink with color. She stared up at him, her expression holding a mixture of fear and anticipation.
He knew the feeling.
Then she pulled her bottom lip just slightly under her front teeth, and he didn't know anything—except that he wanted that pretty, pink mouth.
Keeping one arm around her waist, he reached up with the other and slid his hand along her slender neck, feeling her pulse race under his thumb. He held her gaze, his eyes not leaving hers as he cupped her cheek in his palm.
Her lips parted, anticipating his kiss, and his own pulse galloped through his veins.
"Comin' in hot," he warned as he tilted her face the slimmest degree, then leaned in and lightly grazed her lips with his.
She tasted like spearmint and vanilla and something else— something that made him feel the same way he did on a warm summer night when the air was perfect, the stars were out, and the sweetest peace would settle in his soul.
A quiet sound escaped her lips, a cross between a moan and a sigh, as he pressed another soft kiss against her lips.
And it was about the sexiest sound he'd ever heard.
Her hands tightened the grip she had on his shirt, and he couldn't hold back a grin.
"You said to make it good," he murmured against her lips.
"Is that all you got?" she whispered back, her voice husky and breathless.
Aw hell. Now all bets were off.
***
Wowza! Wasn't that fun? And it only gets better from there! Now you've got to get the book! The Cowboys of Creedence are stories of hockey-playing cowboys and the sassy, smart heroines who fall in love with them. They are full of quirky small-town characters and charming cowboys that will knock your boots off. I hope you fall in love with these books and that I had you at hockey-playing cowboy.
Enjoy!
Cowboys of Creedence #2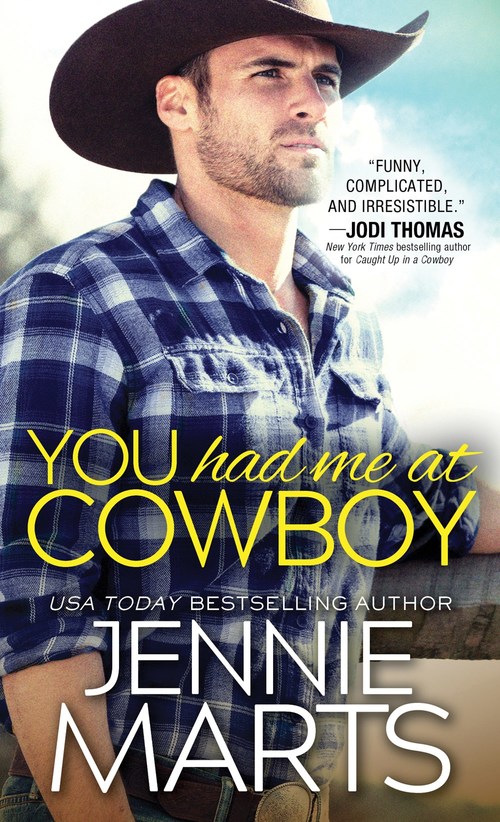 This cowboy is falling hard
Mason James is the responsible one who stayed behind to run the ranch while his brother, Rock, took off to play professional hockey. Women have used him before to get to his brother—and Mason intends never to get burned again. But after he meets quirky Tessa Kane at his brother's wedding, Mason discovers he's ready to take a chance on love.
Tessa Kane is a reporter on the verge of losing a job she desperately needs—unless she's clever enough to snag a story on the famous Rockford James. But when she falls for her subject's brother, she's caught between a rock and a hard-muscled cowboy. What will happen when Mason finds out who she really is?
Romance Western [Sourcebooks Casablanca, On Sale: November 27, 2018, Mass Market Paperback / e-Book, ISBN: 9781492655725 / eISBN: 9781492655732]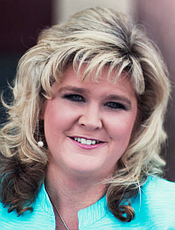 USA TODAY Best-selling author Jennie Marts loves to make readers laugh as she weaves stories filled with love, friendship and intrigue. She writes for Entangled Publishing and reviewers call her books "laugh out loud" funny and full of great characters that are "endearing and relatable."
She is living her own happily ever after in the mountains of Colorado with her husband, two sons, two dogs and a parakeet that loves to tweet to the oldies. She's addicted to Diet Coke, adores Cheetos, and believes you can't have too many books, shoes, or friends.
Her books include the contemporary western romance Hearts of Montana series, the romantic comedy/ cozy mysteries of The Page Turners series, the hunky men in the Bannister family in the Bannister Brothers Books, and the small town romantic comedies in her upcoming Lovestruck series of Cotton Creek Romances.
17 comments posted.
You drew my interest the moment I saw the word Cowboy and the more I read about the plot, the more I wanted to read this book.
(Anna Speed 11:17pm December 5, 2018)