Anna Harrington | Top 5 Reasons Why Regency Romances are Sexier Than You Think
Giveaway

September 13, 2018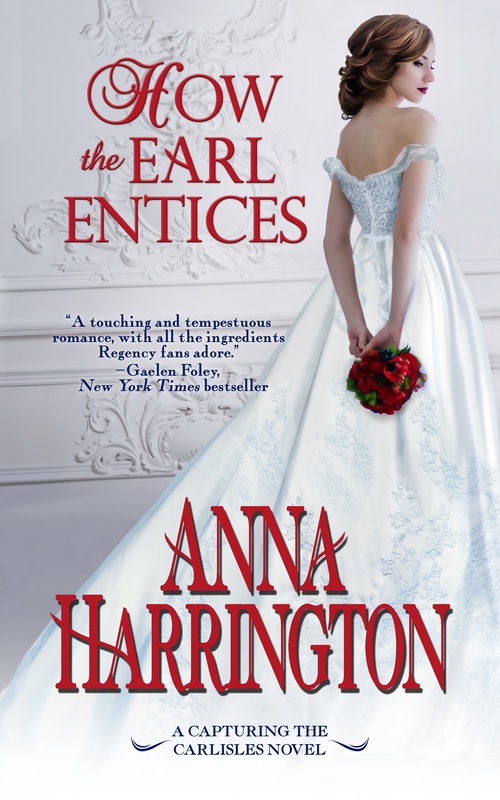 How the Earl Entices
Anna Harrington
AVAILABLE
Capturing the Carlisles Book 4

September 2018
On Sale: September 11, 2018
Featuring: Ross Carlisle; Grace Alden
ISBN: 9781641970
EAN: 9789781641978
Kindle: B07DQS7GTH
e-Book
Add to Wish List

Also by Anna Harrington:
A Remarkable Rogue, August 2022
Add to review list
A Relentless Rake, April 2022
Add to review list
An Extraordinary Lord, July 2021
A Midsummer Night's Romance, May 2021

I've heard several readers of modern romances say that they don't like to read historicals because they're just not as hot and steamy as modern romances. Not true! In fact, Regency era romances are brimming with opportunities for sizzle, if you know where to look.
No underwear = quick trysts. That's right. People during this time period did not wear knickers, and a man who claimed to wear "small clothes" would be laughed at for being effeminate. There was simply no need for underwear when a woman wore multiple layers that went all the way down to her ankles and when men's shirts had enough fabric to keep anything from being seen once it was tucked into their pantaloons or breeches. No underwear also made it much easier for women to use chamber pots…and much easier for both sexes for intimate encounters, when they don't have to remove their clothes (considering how long it took to get dressed during this time, this is a huge bonus). While "drawers" for women emerged around this time, very few women actually wore them, and they were still open in the crotch.
Carriage sex. With small compartments, pitch black darkness inside at night, and upholstered bench seats, the enclosed carriage was the make- out van of its day. (Insert your own private joke here about well-sprung carriages.) Windows with curtains could ensure privacy, although no one would have been able to see in while a carriage was driving down the dark back streets of a very foggy London at night. Ah, if only they'd been able to invent the drive-in!
Theatre sex. Carriages weren't the only private spaces in public where intimate encounters could occur. If a man was wealthy enough to rent his own theatre box for the season, he had opportunity for clandestine affairs right in there in the middle of a crowded theatre, because behind the front sitting area was a private room that couldn't be seen by the rest of the audience. Perfect for a late dinner, a card game with chums, or sex with a widow or bored wife. On second thought…with the private theatre boxes available, who needed a drive-in for their carriage?
Larger than life heroes. Oh, these aren't just your average romance heroes. These are alpha men on steroids. Forget being the Regency era equivalent of the business tycoons, politicians, and playboys that headline in so many modern romances— these men are so much more than that. They're all of it combined! They're wealthy "millionaires" with the political and social power of their titles—dukes, marquesses, and earls simply flood Regency era romances—and admired for their rakish behavior. But beneath that imperial surface always lurks a vulnerability…if only the right woman can reveal it.
Rules, rules, rules! I know what you're thinking: "How can rules be sexy?" Oh, but they are! Because rules are meant to be broken. A modern romance couple can be intimate just about anytime and anywhere they want (within reason). Want to go to her house for the night? Okay. Want to get frisky in the elevator or car? Okay. But Regency era couples don't have it so easy. There are chaperones to protect the woman's innocence, rules about never being alone in the same room, special introductions that have to be made before they can even chat—they cannot even dance together twice at the same ball! But when they find ways around these rules and manage to snag a few moments alone, the embrace is all the sweeter—and hotter—for it.
I hope you've enjoyed just a few glimpses into the sexy world of Regency era romances. So the next time you read a historical romance, you can be on the lookout for opportunities for sexy encounters…if you just know where to look. Happy reading!
Capturing the Carlisles Book 4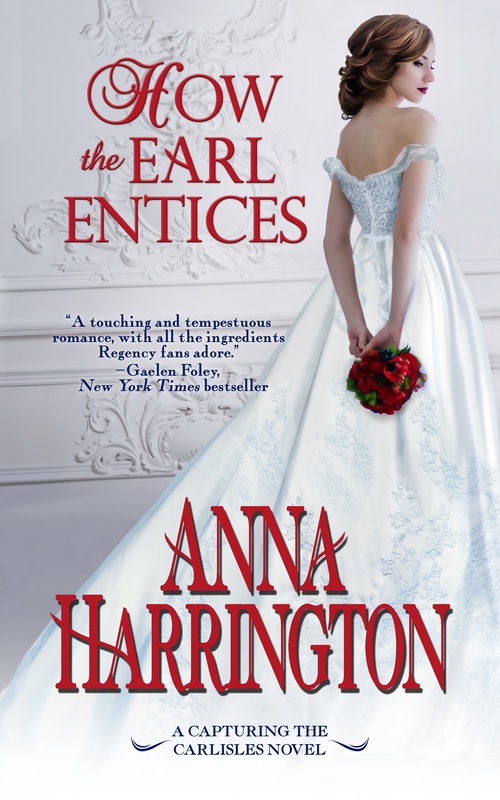 WHEN OLD DECEPTIONS …
Ross Carlisle, Earl of Spalding, has dedicated his life to serving his country. When he discovers secrets that could endanger England, he's forced into an impossible situation—commit treason and race to London to clear his name before the crown turns against him. He's prepared to abandon everything he possesses in order to protect England, including his life…until he crosses paths with a woman who's keeping her own secrets.
LEAD TO NEW DESIRES
Ten years ago, Grace Alden fled London in order to protect her son, only to come face-to-face with that past when Ross collapses on her doorstep. They strike a deal—she'll help him travel to London if he helps her reclaim her son's inheritance. But as old deceptions turn into new desires, will they be willing to sacrifice everything they hold dear in order to protect the people they love?
Romance Historical [NYLA, On Sale: September 11, 2018, e-Book, ISBN: 9789781641978 / eISBN: 9781641970396]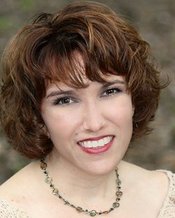 I fell in love with historical romances—and all those dashing Regency heroes!—while living in London, where I studied literature and theatre. I love to travel, fly airplanes, and hike, and when I'm not busy writing, I can usually be found in my garden, tending to my roses. I love to hear from readers and can be reached at [email protected] or follow me on all my social media. And be sure to sign up for my newsletter to be the first to receive exciting news, enter contests, access exclusive content, and more!
Win a igned paperback copy of AS THE DEVIL DARES (ebook if the winner is international)
Comments
15 comments posted.
Re: Anna Harrington | Top 5 Reasons Why Regency Romances are Sexier Than You Think

Lovely cover. I am a fan of Regency romances.
(Susan Jang 3:03am September 13, 2018)
Very interesting points made. The book sounds great. Thanks for the chance to
win.
(Nancy Reynolds 9:40am September 13, 2018)
Wow! I just received an education about the Regency period and found it very interesting. Also, the plot makes me want to read How the Earl Entices. Thank you for the chance to win.
(Anna Speed 11:19am September 13, 2018)
Interesting post... thanks for sharing with us!
(Colleen Conklin 12:56pm September 13, 2018)
Historical romance is my favorite romance genre to read. I
find there is always something else going on in the story:
secrets, suspense, secondary characters. And the HEA comes
to fruition all within the confines of the rules of the day!
Modern romance - YA, NA, or contemporary - doesn't usually
appeal to me because it lacks the passionate journey and
discovery of the H/h. I really like your Top 5 Reasons. And
I'll just say the clothing....breeches!
(Cynthia Netherton 9:35pm September 13, 2018)
I learned something new today. Thanks! Would love to read your book.
(Melanie Rosen 9:53pm September 13, 2018)
Every society has its rules and restrictions. If you lived in them, you needed to
know what they were so you could obey them and know how to get around them.
Even today there are a few rules still left that need to be worked around.
I enjoy reading the historicals of any era, partly to discover the societal rules and
to see how they will be broken.
(Patricia Barraclough 11:56pm September 13, 2018)
Hi Anna! I loved your other books on audio and I'm sure I'll enjoy this just
as much! Book hugs!
(MaryAnne Banks 1:54am September 14, 2018)
Beautiful cover
(Emily Stemp 1:28pm September 14, 2018)
Anna is right. I never thought of regency romances in
quite those terms but now I'm rethinking that. Hope the
book does great!
(Mary Songer 2:43pm September 14, 2018)
Interesting cover. Thanks for this opportunity.
(Nancy Luebke 8:11pm September 14, 2018)
I didn't know about no underwear, but knew of private
theater boxes where anything goes back in the Regency
Period. Thanks for the updates to history.
(Alyson Widen 11:56pm September 16, 2018)
Great review sounds very good, thank you
Penney
(Penney Wilfort 12:42pm September 17, 2018)
I have never thought of regency romances in quite this way.
Very interesting post. Makes me want to read more regency
romances.
(Mary Songer 4:18pm September 17, 2018)
The cover is so beautiful! I love to read historical romance
books and this once sounds so spicy and interesting. Would
love to read it!
(Traci Watts 8:53pm September 17, 2018)
Registered users may leave comments.
Log in or register now!