Anna Harrington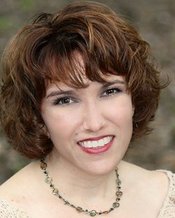 Blogging at Fresh Fiction
Anna Harrington | The Popularity of Regency Romance
February 24, 2021
So why are Regency romances as popular as ever? Romance readers of all stripes know that a happily-ever-after Read More...
Anna Harrington | Author-Reader Match: AN INCONVENIENT DUKE + Giveaway!
February 26, 2020
Instead of trying to find your perfect match in a dating app, we bring you the "Author-ReaderMatch" where we Read More...
Anna Harrington | Top 5 Reasons Why Regency Romances are Sexier Than You Think
September 13, 2018
I've heard several readers of modern romances say that they don't like to read historicals because they're just not as hot and Read More...
Anna Harrington fell in love with historical romances and all things Regency--and especially all those dashing Regency heroes--while living in England, where she spent most of her time studying the Romantic poets, reading Jane Austen, and getting lost all over the English countryside. She loves the period's rich history and finds that all those rules of etiquette and propriety can be worked to the heroine's advantage. . . if she's daring enough to seize her dreams. She is an avid traveler and enjoyed visiting schools and volunteering with children's organizations in Peru, Ecuador, Thailand, and Mexico, and amassed thousands of photos she unleashes on unsuspecting friends who dare to ask about her travels. Anna loves to be outdoors! She's been hiking in Alaska, the Andes, and the Alps, and loves whitewater rafting. She earned her pilot's license at Chicago Midway, and it is her dream to one day fly in a hot-air balloon over Africa.
Log In to see more information about Anna Harrington
Log in or register now!
Series
The Secret Life of Scoundrels | Capturing the Carlisles | Lords of the Armory
Books:
A Relentless Rake, April 2022
Mass Market Paperback
An Extraordinary Lord, July 2021
Lords of the Armory Series #3
Mass Market Paperback / e-Book
A Midsummer Night's Romance, May 2021
e-Book
An Unexpected Earl, March 2021
Lords of the Armory #2
Mass Market Paperback / e-Book
An Inconvenient Duke, March 2020
Lords of the Armory #1
Mass Market Paperback / e-Book
How the Earl Entices, September 2018
Capturing the Carlisles Book 4
e-Book
As the Devil Dares, March 2018
Capturing the Carlisles #3
Mass Market Paperback / e-Book
When the Scoundrel Sins, September 2017
Capturing the Carlisles #2
Mass Market Paperback / e-Book
Say Yes to the Scot, June 2017
e-Book
If the Duke Demands, March 2017
Capturing the Carlisles
Mass Market Paperback / e-Book
How I Married a Marquess, May 2016
The Secret Life of Scoundrels #3
Paperback / e-Book
Along Came a Rogue, March 2016
The Secret Life of Scoundrels #2
Paperback / e-Book
Dukes Are Forever, December 2015
The Secret Life of Scoundrels #1
Paperback / e-Book