Now level with his, her eyes gleamed in the darkness from beneath her hood. He could practically see the thoughts spinning through that sharp mind of hers as she tried to come up with an explanation he would believe. He didn't doubt for one moment that the little minx wouldn't lie to him to keep her—
She cupped his face between her hands and kissed him.
Surprised, he caught his breath as her warm lips touched his. The kiss was nothing more than a feathery tickle, a soft whisper so light that he found himself leaning toward her to increase the pressure beyond this mere teasing. Sweet Lucifer. She tasted of wine and adventure, spiced oranges and exotic places…danger. And he drank her in.
Her lips were soft and supple as they caressed his. Amazement swept through him that she should be so delicate beneath the hard surface she showed to the world, that he could taste an uncertainty in her that suggested a deeper vulnerability. The intrigue of her simply captivated him.
She was kissing him merely to distract him. No other reason. He wasn't arrogant enough to believe otherwise. Yet that didn't stop his blood from heating as the pressure of her lips increased, as the kiss turned hungrier and more demanding. Nor did it stop the faint groan that rose from his throat when she brushed one hand down his chest while the other slipped behind his head. She sifted her fingers through the hair at his nape in long, slow caresses that scraped her fingertips provocatively into his scalp.
His heartbeat jumped at that unwittingly erotic touch. She might be vulnerable down deep, yet the hellcat in her was never far from the surface.
As if to prove that, she took his bottom lip between her teeth and bit. The sharp nip pulsed straight to the tip of his cock and shocked all sense from his mind, just long enough for her to slip past him and glide down the steps to the safety of the wherry. She smiled brightly at the waterman as he gave her his hand to help her into the boat and onto the front bench as if she were a helpless miss.
Merritt felt like a damned fool.
But she wasn't getting away that easily. With a grin, he sauntered down the steps after her.
She refused to look up at him as he stepped into the rocking wherry and sat close to her on the bench. Very close. Nor did she look at him when he slipped his left arm behind her to grasp the edge of the seat and bring himself even closer. But he heard the hitch of her breath, as soft as the water lapping against the wooden boat.
Aware of the waterman at the rear of the boat as he pushed them away from the steps and took up the oars, Merritt lowered his mouth to her shoulder and murmured through the fabric of her hood, "That was a pleasant kiss."
"You're welcome."
His lips curled into a half-grin. "I wasn't thanking you."
"You should." She kept her face straight ahead, her attention riveted on the dark ribbon of river stretching before them. She didn't dare to dart him even half a glance from beneath her hood as she added, "Obviously, being kissed by a woman isn't a common occurrence for you."
"You'd be surprised."
She sighed heavily. "Very much so."
He refused to rise to her bait. "And you often go about kissing men on watermen's stairs, do you?"
"Doesn't every woman?"
"None I've ever known."
"Then you've been spending time with the wrong women."
"Very much so," he repeated her words with the same mocking sigh. "As I said, that was a pleasant kiss, but not pleasant enough to make me forget about Fernsby."
"You were thinking of Fernsby while kissing me?" Her brows shot upward. "I don't know whether to be offended or shocked."
"Believe me." He reached up to push back the side of her hood, then brought his mouth to her bare ear and purred, "When you were kissing me, I was definitely thinking about you."
She gave a short laugh. "Why on earth would you do that?"
"Because you're beautiful."
She turned her head sideways to stare at him, for once stunned into silence. Instead of the cutting reply he expected, she stiffened, and he could almost feel the speeding of her pulse. So…he wasn't the only one affected by that kiss.
He took advantage of the moment by caressing his thumb over her bottom lip. His gaze fell to her mouth as he outlined her lips with his fingertip. She quivered in response.
"That copper-colored hair of yours that you let fall wild and untamed, those piercing green eyes…that creamy smooth skin…"
He wasn't lying. Not one word. She was beautiful, and tonight she glowed brighter than moonlight in the soft halo of the waterman's lamp. Even knowing who she was and why they were together he couldn't resist touching her and caressed his knuckles over her cheek. She was simply too addictive to ignore, too tempting to resist.
She inhaled sharply but made no move to stop him. "The way I wield a sword?" she added sardonically. Tonight, she was waging battle with words, but the facetious tone she'd clearly aimed for died beneath her breathlessness.
"Especially that." He touched her lips. "You are beautiful, Veronica. And you know it, too."
"What's wrong with that?" Her warm breath tickled his fingertips, in an almost-kiss to his fingers. "A woman should use every weapon at her disposal."
"Not with me."
"Especially with you."
(C) Anna Harrington, Sourcebooks Casablanca, 2021. Reprinted with permission from the publisher.
Lords of the Armory Series #3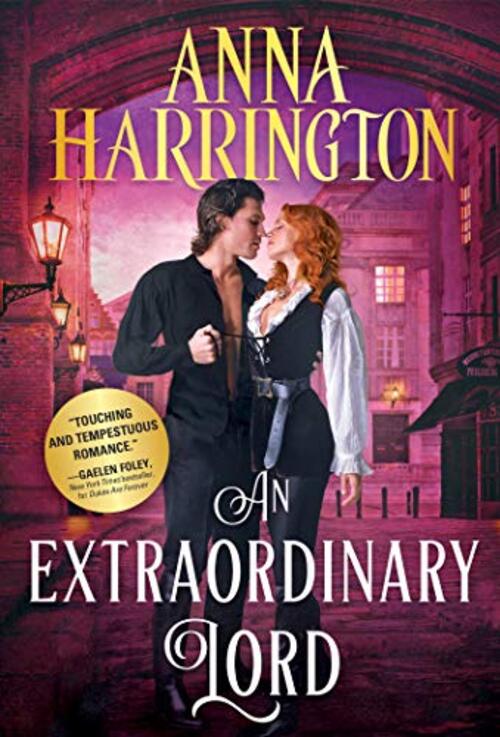 A steamy historical romance set in Anna Harrington's star-studded Regency world.
Soldier turned solicitor Lord Merritt Rivers has dedicated his life to upholding the law. He patrols the streets faithfully, hoping to stop crimes before they can happen. While hunting an escaped convict, he encounters a woman also hunting thieves. She's a delicious distraction, until he discovers that she is the criminal he's after. She's smart, challenging, and everything he finds attractive, but he cannot trust her.
Veronica Chase has hidden her past as a nobleman's daughter. She confesses to a crime to keep her adopted brother out of prison. She now lives in London's underworld, trapped between worlds, belonging nowhere.
Forming an uneasy alliance, Veronica and Merritt work together to protect innocent Londoners during the city's riots. Moving between her world and his, they grow closer to each other and to the mob's dangerous leaders. But their newfound trust won't be enough, until each face their demons and ask what's worth saving—the lives they've chosen to lead or the love that leaves them yearning for more.
Romance Historical [Sourcebooks Casablanca, On Sale: June 29, 2021, Mass Market Paperback / e-Book, ISBN: 9781728200149 / eISBN: 9781728200156]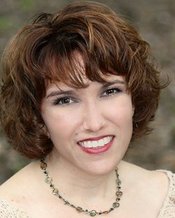 Anna Harrington is an award-winning author of Regency romance. She writes spicy historicals with alpha heroes and independent heroines, layers of emotion, and lots of sizzle. A lover of all things chocolate and coffee, when she's not hard at work writing her next book or planning her next series, Anna loves to travel, go ballroom dancing, or tend her roses. She is a terrible cook who hopes to one day use her oven for something other than shoe storage.
No comments posted.