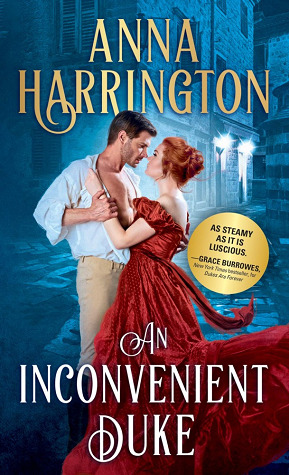 Purchase
Lords of the Armory #1
Sourcebooks Casablanca
March 2020
On Sale: February 25, 2020
384 pages
ISBN: 1728200083
EAN: 9781728200088
Kindle: B07Y5PF61Q
Mass Market Paperback / e-Book
Add to Wish List

Marcus Braddock, Duke of Hampton and former general, is back from war and faced with mourning the death of his beloved sister, Elise. Marcus believes his sister's death wasn't an accident and he's determined to learn the truth, starting with Danielle, the beautiful daughter of a baron and his sister's best friend.

Danielle is keeping deadly secrets of her own. She has dedicated her life to a charity that helps abused women--the same charity Elise was working for the night she died. When Danielle's work puts her life in danger, Marcus comes to her rescue. But Danielle may not need rescuing. . .
Lords of the Armory

An Unexpected Earl
#2.0
Amazon.com | BN.com | | |
Comments
26 comments posted.
I love to go back in time to compare how things were then
compared to what we have and do now.
(Tina Rucci 5:42pm February 24)
I like a bit of humor and some adventure or a problem the
hero can help the heroine with.
(Melanie Rosen 12:35pm February 26)
I look for intelligent characters who go after what they want. They aren't afraid to go against the rules in their quest for a HEA. I like CHEMISTRY and some friction. I like a bit of background info about the setting and the family /friends relationships.
(Laurie Gommermann 5:52am February 26)
Love is love but falling in love in today's world is so different so it's nice to revisit
the evolution of romances in the past.
(Tracy Urschler 11:40am February 26)
I look for a good story line and some adventure.
(Heather Amos 1:15pm February 26)
I look for swoony heroes, strong heroines and exciting
adventures on the way to HEA.
(Caryl Kane 5:40pm February 26)
I love when the man can come and save the day like back in
the old west
(Vickie Couturier 7:11pm February 26)
as in any story I want to like the characters and a good story, but in historical fiction I want to learn something - how people lived in the time period or about a historical event
(Diane Sallans 9:05pm February 26)
In historical romance I want a window into the time period with
details as accurate as possible without it turning into a history
lecture. I want strong heroes who are honorable and
susceptible to a woman who knows her own mind and is willing
to take risks for those she cares about.
(Patricia Barraclough 11:52pm February 26)
I love independant woman and men who find that a plus. Love
second chance romance, best friends sister. Thank you for
the post and look forward to reading An Inconvenient Duke.
Carol Luciano
Lucky4750 at aol dot com
(Carol Luciano 4:47am February 27)
Historical romance - I feel they put more effort into it - they didn't have the modern world distractions. Who wouldn't want to be courted?
(Terry Kirgan 6:58am February 27)
Getting the feel of another time and place.
(Nancy Reynolds 11:03am February 27)
I look for adventure, humor, romance and getting the feel of living in a period of time very different from the present.
(Anna Speed 3:04pm February 27)
I like humor and effective dialogue
(Joy Isley 7:18pm February 27)
I like to read about different times in history and learn about how people were at the time. It's interesting to see how different it was then compared to now.
(Rita Wray 7:48pm February 27)
I like the way it takes me away from what is going on now. I like the positivity and
the HEAs. I like the way I feel a smile in my heart and the match up of interesting
personalities and the problems they solve together. I like the clothes and the way
all the differences of then and now take me away to a different world. I am sure
that people that live then would not recognize the time they lived as how we see it.
(Sandra Spilecki 8:45pm February 27)
I love a little humor in my historical romances.
(Jana B 8:48pm February 27)
I love a great plot with authentic settings.
(Denise Holcomb 9:06pm February 27)
Witty repartee/dialogue and humour.
(Susan Jang 9:18pm February 27)
I like Regency historical romances that have witty banter and adventures between
the characters. Characters were honorable and responsible. The manners were
superb! I love happy endings!
(Alice Castle 10:11pm February 27)
I enjoy intelligent conversation, interesting situations and
a great romance.
(Nancy Krueger 10:35pm February 27)
I like a happy ending.
(Brenda Cipriano 8:42am February 28)
I love historical romances. The way everything was so
different in those times. I like the love/hate
relationships with characters in these types of novels and
then yo have the HEA in the end.
(Kimberly Fravel 1:27pm February 28)
I love learning about the history of different places and the people that lived in those times!
(Teresa Warner 5:35pm February 28)
Humor, adventure and redeemable rogues or rakes that make you swoon!
(Kelly Moore 10:10pm February 28)
I enjoy historical romances and learn about how things
operated in another period of time. I like learning about
fashion and what was expected of family members and what
one could do to have a beau.
(Alyson Widen 11:52pm February 29)
Registered users may leave comments.
Log in or register now!