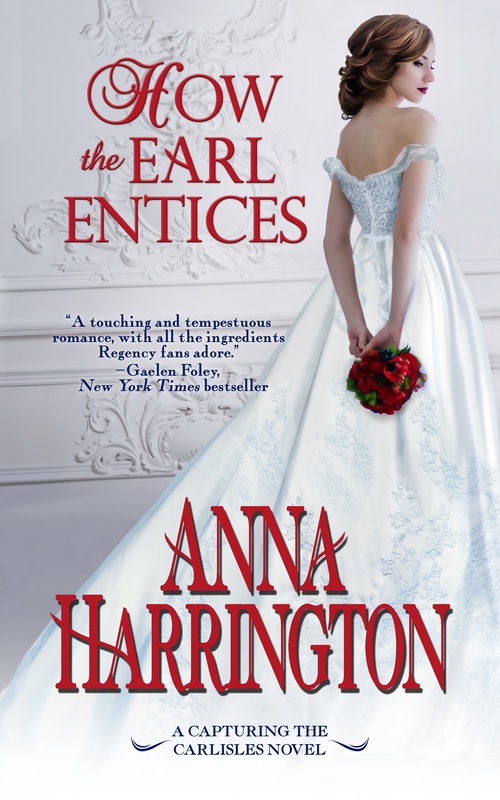 Purchase
Capturing the Carlisles Book 4
NYLA
September 2018
On Sale: September 11, 2018
Featuring: Ross Carlisle; Grace Alden
ISBN: 9781641970
EAN: 9789781641978
Kindle: B07DQS7GTH
e-Book
Add to Wish List

WHEN OLD DECEPTIONS LEAD TO NEW DESIRES Ross Carlisle, Earl of Spalding, has dedicated his life to serving his country. When he discovers secrets that could endanger England, he's forced into an impossible situation—commit treason and race to London to clear his name before the crown turns against him. He's prepared to abandon everything he possesses in order to protect England, including his life…until he crosses paths with a woman who's keeping her own secrets.
Ten years ago, Grace Alden fled the only life she'd ever known in order to protect her son, only to come face-to-face with that past when Ross collapses on her doorstep. They strike a deal—she'll help him travel to London if he helps her reclaim her son's inheritance. But as old deceptions turn into new desires, will they be willing to sacrifice everything they hold dear in order to protect the people they love?
Capturing the Carlisles
Comments
15 comments posted.
Lovely cover. I am a fan of Regency romances.
(Susan Jang 3:03am September 13, 2018)
Very interesting points made. The book sounds great. Thanks for the chance to
win.
(Nancy Reynolds 9:40am September 13, 2018)
Wow! I just received an education about the Regency period and found it very interesting. Also, the plot makes me want to read How the Earl Entices. Thank you for the chance to win.
(Anna Speed 11:19am September 13, 2018)
Interesting post... thanks for sharing with us!
(Colleen Conklin 12:56pm September 13, 2018)
Historical romance is my favorite romance genre to read. I
find there is always something else going on in the story:
secrets, suspense, secondary characters. And the HEA comes
to fruition all within the confines of the rules of the day!
Modern romance - YA, NA, or contemporary - doesn't usually
appeal to me because it lacks the passionate journey and
discovery of the H/h. I really like your Top 5 Reasons. And
I'll just say the clothing....breeches!
(Cynthia Netherton 9:35pm September 13, 2018)
I learned something new today. Thanks! Would love to read your book.
(Melanie Rosen 9:53pm September 13, 2018)
Every society has its rules and restrictions. If you lived in them, you needed to
know what they were so you could obey them and know how to get around them.
Even today there are a few rules still left that need to be worked around.
I enjoy reading the historicals of any era, partly to discover the societal rules and
to see how they will be broken.
(Patricia Barraclough 11:56pm September 13, 2018)
Hi Anna! I loved your other books on audio and I'm sure I'll enjoy this just
as much! Book hugs!
(MaryAnne Banks 1:54am September 14, 2018)
Beautiful cover
(Emily Stemp 1:28pm September 14, 2018)
Anna is right. I never thought of regency romances in
quite those terms but now I'm rethinking that. Hope the
book does great!
(Mary Songer 2:43pm September 14, 2018)
Interesting cover. Thanks for this opportunity.
(Nancy Luebke 8:11pm September 14, 2018)
I didn't know about no underwear, but knew of private
theater boxes where anything goes back in the Regency
Period. Thanks for the updates to history.
(Alyson Widen 11:56pm September 16, 2018)
Great review sounds very good, thank you
Penney
(Penney Wilfort 12:42pm September 17, 2018)
I have never thought of regency romances in quite this way.
Very interesting post. Makes me want to read more regency
romances.
(Mary Songer 4:18pm September 17, 2018)
The cover is so beautiful! I love to read historical romance
books and this once sounds so spicy and interesting. Would
love to read it!
(Traci Watts 8:53pm September 17, 2018)
Registered users may leave comments.
Log in or register now!