Marie Harte | 5 Ways Lou Plans to Woo His Lady
Giveaway: a copy of COLLISION COURSE

January 2, 2018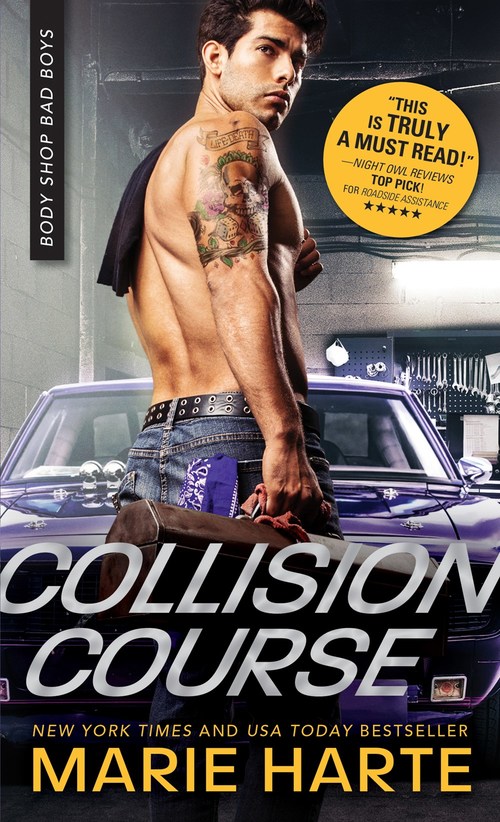 AVAILABLE
Body Shop Bad Boys #4

January 2018
On Sale: January 2, 2018
352 pages
ISBN: 1492630357
EAN: 9781492630357
Kindle: B01ND19UTC
Mass Market Paperback / e-Book
Add to Wish List

Also by Marie Harte:
Turn Up the Heat, April 2022
Hot for You, January 2022
Burning Desire, September 2021
Make Me Burn, June 2021

Lou Cortez—badass mechanic, amazing paint specialist, artist extraordinaire, and lady killer. Lou knows women. He's got his mother, grandmother, five sisters, and over a dozen other female relatives living close by. He respects women, admires women, but there's one particular woman he's been crushing on for a while.
Unfortunately, she won't give him the time of day. So Lou's refined his technique, narrowing it down to 5 MUST DO's. One way or the other, he'll get Josephine Reeves's attention. God willing…
Smile more. Women love a man who has a sense of humor. And growing up with his family, humor was a must. (God, could his sister Stella just once not date a d*ckhead?)
Study the guys and figure out how they did it. His best friends and fellow mechanics, men with way less going on than Lou, managed to snag some fine women. An almost impossibility, considering what normally comes out of the guys' mouths. How the hell did they do it?
The next time he sees her, Lou plans to hold back a little on the charm. No doubt he overwhelmed her, as fine as he is. Thinking about it, he finds that understandable.
Woo her with the truth. He just needs to show Joey he's sincere, and that since meeting her, his life hasn't been the same. (Now how to work that into conversation without scaring her away…?)
Show her how good it can be between them. Lou knows what he's doing between the sheets. And as soon as he can get the gorgeous woman in his sights, he'll do his best to show her what she's been missing.
Take a look at Lou's skills and see what you think about his chances…
EXCERPT:
The flowers were for his sister. Oh man. He's sexy as sin, he has a body to die for, and now he's buying flowers for his sister?

Joey softened toward him. "Do you know her favorite flower or color? A scent maybe? Did you want sophisticated or simple? How old is she?"

"Ah, something cool. I don't know. She's gonna be twenty-three." He rattled off a few ideas, and she made quick notes.

"I can have this for you by…" She paused to check the computer. "Tomorrow. Would that work?"

"Hell. I really need them today. Her birthday isn't until Friday, but she got some shitty news, so I wanted to give them to her when I see her later. I'm willing to pay extra, no problem."

Adding charming and thoughtful to the Lou List, Joey did her best not to moon over the man and kept a straight face. "Well, if you can wait until the end of the day, I'll try to fit them in. We close at seven. Is that okay?"

His face broke out into a relieved smile. "Gracias, Joey. You're doing me a huge favor."

Ignoring his smile, she called on her inner manager. "Well, you're doing something nice for your sister. And I know all about crappy days."

"Yeah?" He leaned closer, and she caught a waft of motor oil and crisp cologne, an odd blend of manly and sexy that nearly knocked her on her ass. "Who tried to ruin your day, sweetheart? I can fix that."
COLLISION COURSE by Marie Harte
Coming Jan 2nd, 2018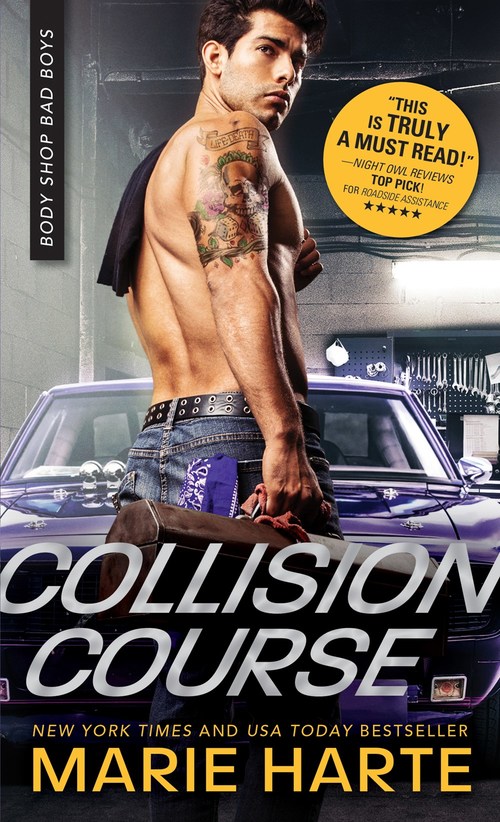 He's always had a way with the ladies
She won't give him the time of day
Sparks fly when two hearts in motion collide.
Florist Joey Reeves is working overtime to stay away from Lou Cortez, the ace mechanic with a reputation for irresistible charm. She's a single mom with enough on her plate—the last thing she needs is entanglement with the hottest guy in town...
"Well, hello there."
Joey glanced up and froze. The man who'd been haunting her sleep looked even better in the hard light of day. "H-hello." She coughed. The guys who worked at Webster's Garage all looked larger than life, covered in tattoos, muscles, and that indefinable sense of danger they wore like a second skin. But this guy, the tall, Latin lover with dark-brown eyes and lips made for kissing, who had snared her.
Romance Contemporary [Sourcebooks Casablanca, On Sale: January 2, 2018, Mass Market Paperback / e-Book, ISBN: 9781492630357 / eISBN: 9781492630364]

Strong female characters and a joyously torrid romance!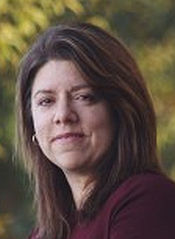 Caffeine addict, boy referee, and romance aficionado, USA Today bestselling author Marie Harte has over 100 books published with more constantly on the way. Writing romance, and in particular erotic romance, across the genres, she's created stories set on other worlds, among paranormal creatures, and between normal men and women seeking true love.
Marie is a confessed bibliophile and devotee of action movies. Whether hiking in Central Oregon, biking around town, or hanging at the local tea shop, she's constantly plotting to give everyone a happily ever after. Visit her website and fall in love.
Win a copy of COLLISION COURSE by just telling us what you think of Lou's courtship, good or bad?
Comments
18 comments posted.
Re: Marie Harte | 5 Ways Lou Plans to Woo His Lady

Ooh sounds good!
(Colleen Conklin 9:11pm January 2, 2018)
Number three is a hoot! Love Marie's books. Thanks.
(Kathleen Bylsma 4:28pm January 3, 2018)
If think it's great!
(Racquelle Robinson 5:01pm January 3, 2018)
great and can't wait to read . LOVE the cover!!!
(Jennifer Beck 7:23pm January 3, 2018)
Lou sounds like he's got a great game plan, can't wait to find out how it works out for him!
(Anita H 4:15am January 4, 2018)
It is wonderful.
(Sharon Berger 11:18am January 4, 2018)
Still snickering over number three! Great plan, otherwise!
(Kathleen Bylsma 3:10pm January 4, 2018)
Love it! Definitely laughed at#3!
(Tori Valenzuela 4:33pm January 4, 2018)
I really enjoyed reading the plan and chuckled through it.
But it was the trying to think of how to work into
conversation #4 that really captured my imagination.
(G. Bisbjerg 11:13pm January 4, 2018)
Perfect! I especially like number 4.
(Anna Speed 12:26pm January 5, 2018)
A checklist! That's what my game's been missing.
(Richard Brandt 2:45am January 6, 2018)
Sounds really good. I like his approach
(Joy Isley 12:47pm January 6, 2018)
It sounds like he's not going to have to do much to win this lady over!
(Nancy Marcho 10:07am January 7, 2018)
I think having a list is great. Everyone needs a checklist
and his is pretty straight forward and I think it will work
:)
(Jeannie Platt 1:12pm January 7, 2018)
Great! Every man should learn his game plan!
(Sally Baldwin 1:36pm January 7, 2018)
He has a good start.The smile part is good too.
(Nancy Luebke 4:44pm January 7, 2018)
Now I am ready to reach the rest!
(Vickie Gallo 6:06pm January 7, 2018)
It's a good plan. But he has to just be himself or it will all fall apart.
(Melanie Rosen 6:37pm January 7, 2018)
Registered users may leave comments.
Log in or register now!