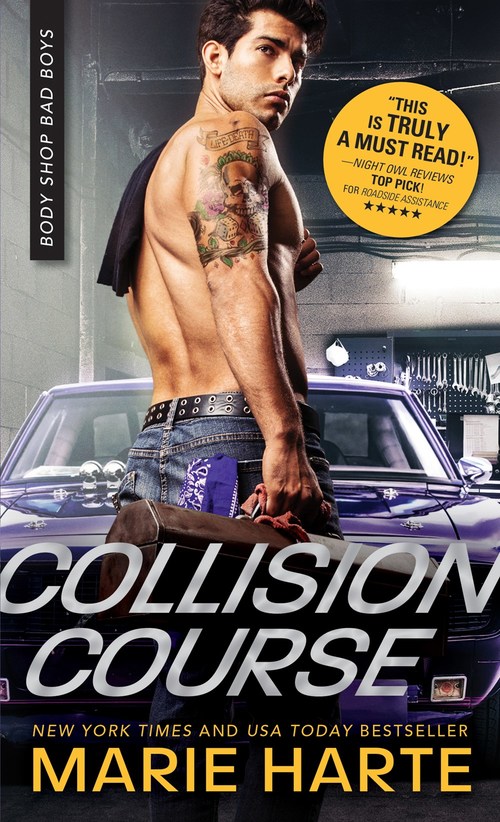 Purchase
Body Shop Bad Boys #4
Sourcebooks Casablanca
January 2018
On Sale: January 2, 2018
352 pages
ISBN: 1492630357
EAN: 9781492630357
Kindle: B01ND19UTC
Mass Market Paperback / e-Book
Add to Wish List

He's always had a way with the ladies
She won't give him the time of day
Sparks fly when two hearts in motion collide.
Florist Joey Reeves is working overtime to stay away from Lou Cortez, the ace mechanic with a reputation for irresistible charm. She's a single mom with enough on her plate—the last thing she needs is entanglement with the hottest guy in town...
"Well, hello there."
Joey glanced up and froze. The man who'd been haunting her sleep looked even better in the hard light of day. "H-hello." She coughed. The guys who worked at Webster's Garage all looked larger than life, covered in tattoos, muscles, and that indefinable sense of danger they wore like a second skin. But this guy, the tall, Latin lover with dark-brown eyes and lips made for kissing, who had snared her.
Body Shop Bad Boys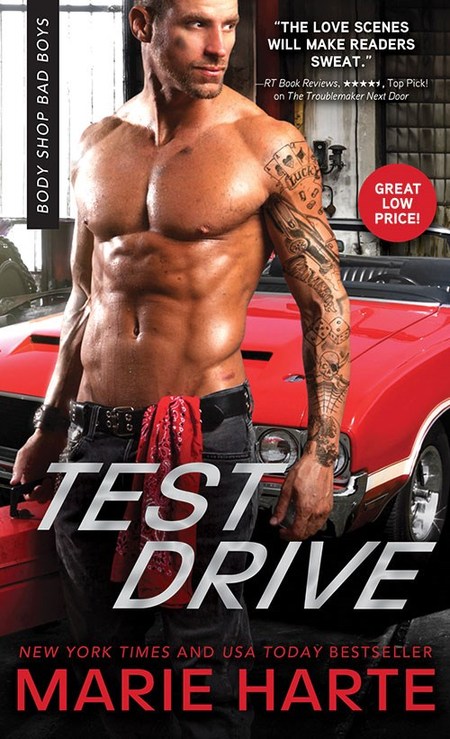 Test Drive
#1.0
Amazon.com | BN.com | Apple Books | Kobo | Google Play
Comments
19 comments posted.
Re: Collision Course

Ooh sounds good!
(Colleen Conklin 9:11pm January 2, 2018)
Number three is a hoot! Love Marie's books. Thanks.
(Kathleen Bylsma 4:28pm January 3, 2018)
If think it's great!
(Racquelle Robinson 5:01pm January 3, 2018)
great and can't wait to read . LOVE the cover!!!
(Jennifer Beck 7:23pm January 3, 2018)
Lou sounds like he's got a great game plan, can't wait to find out how it works out for him!
(Anita H 4:15am January 4, 2018)
It is wonderful.
(Sharon Berger 11:18am January 4, 2018)
Still snickering over number three! Great plan, otherwise!
(Kathleen Bylsma 3:10pm January 4, 2018)
Love it! Definitely laughed at#3!
(Tori Valenzuela 4:33pm January 4, 2018)
I really enjoyed reading the plan and chuckled through it.
But it was the trying to think of how to work into
conversation #4 that really captured my imagination.
(G. Bisbjerg 11:13pm January 4, 2018)
Perfect! I especially like number 4.
(Anna Speed 12:26pm January 5, 2018)
A checklist! That's what my game's been missing.
(Richard Brandt 2:45am January 6, 2018)
Sounds really good. I like his approach
(Joy Isley 12:47pm January 6, 2018)
It sounds like he's not going to have to do much to win this lady over!
(Nancy Marcho 10:07am January 7, 2018)
I think having a list is great. Everyone needs a checklist
and his is pretty straight forward and I think it will work
:)
(Jeannie Platt 1:12pm January 7, 2018)
Great! Every man should learn his game plan!
(Sally Baldwin 1:36pm January 7, 2018)
He has a good start.The smile part is good too.
(Nancy Luebke 4:44pm January 7, 2018)
Now I am ready to reach the rest!
(Vickie Gallo 6:06pm January 7, 2018)
It's a good plan. But he has to just be himself or it will all fall apart.
(Melanie Rosen 6:37pm January 7, 2018)
What a lovely review. Thanks. Especially the heads up re
kiddo.
(Kathleen Bylsma 3:47pm January 9, 2018)
Registered users may leave comments.
Log in or register now!