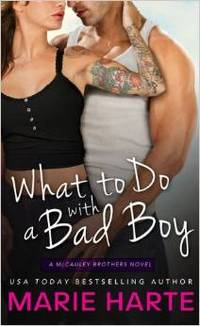 Purchase
What To Do With A Bad Boy
Marie Harte
McCauley Brothers #4
Sourcebooks Casablanca
November 2014
On Sale: November 4, 2014
Featuring: Mike McCauley; Delilah Webster
384 pages
ISBN: 1402287437
EAN: 9781402287435
Kindle: B00MX6298K
Paperback / e-Book
Add to Wish List

WHAT IS WITH MIKE McCAULEY?
Every time Delilah Webster runs into Mike McCauley, he practically bites her head off. The rough-and-tumble contractor clearly has baggage. Del has her own emotional scars and knows she's better off keeping her distance, but Mike's temptation in jeans and a T-shirt and she's always been good with her hands...
There's something about the strong-willed mechanic that sets Mike's motor running-and scares the hell out of him. Mike has loved and lost and will never hurt like that again, even if that means walking away from a woman who makes him feel alive for the first time in years.
When a simple kiss turns hot and heavy, Mike discovers he can't stay away, no matter how certain he is they're destined to crash and burn...
McCauley Brothers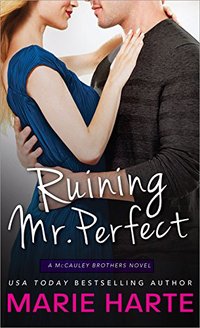 Ruining Mr. Perfect
#3.0
Amazon.com | BN.com | | |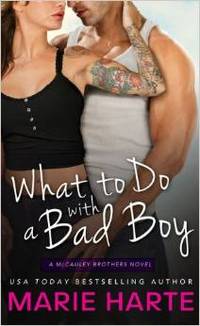 What To Do With A Bad Boy
#4.0
Amazon.com | BN.com | | |
Comments
19 comments posted.
I also like Nora Roberts 3 sisters, my all time FAVORITE
series is by Diana Gabaldon OUTLANDER. For Outlander I
started that when it first came out and I thought it was
great it included my Favorite things Scotland and time
travel and I just kept on reading them when she came out
with new ones.. they are full of emotion, you feel as if you
are right there. I am always looking and trying new books
and finding them just by trying new authors. I have alot
more of single books that I like than actual series..
(Lisa Zimmerman 12:24pm November 4, 2014)
I would add:

Jillian Hunter's Boscastle family

Marie Force Green Mountain series

Debbie Macomber's Cedar Cove and Hard Luck Alaska series

Jill Shalvis' Lucky Harbor series

Susan Wiggs' Lakeshore Chronicles series

Bella Andre's Sullivan family

Kate Hoffmann's Quinn family series

Julia Quinn's The Bridgerton family

Karen Hawkins' Hurst/MacLean family series

Nora's Donovan family series, The Bride Quartet

Lisa Kleypas' Seasons series

Carly Phillips' Hot Zone series

Robin Carr's Virgin River series

As you can see I follow a lot of authors and their series.
(Laurie Gommermann 6:25am November 4, 2014)
You already listed my favourite (Nalini Singh's
Psy/Changeling). I also love G A Aiken's Dragon Kin series and
Marjorie M Liu's Dirk and Steele series.
(Jen Barnard 9:41am November 4, 2014)
I have to look into some of those series... loved Jayne Ann Krentz's Eclipse Bay trilogy, big fan of Nora Roberts' books... wishing you a happy b-day!
(Colleen Conklin 12:11pm November 4, 2014)
Loved Linda Howard's Rescues series for Silhouette:
Midnight Rainbow
Diamond Bay
Heartbreaker
White Lies
(G. Bisbjerg 12:23pm November 4, 2014)
J.R. Ward's BDB Series

Jaye Wells' Sabina Kane series

DEFINITELY Nalini Singh's Psy/Changeling series and her Guild Hunter series

Patricia Briggs' Mercy Thompson series

I could go on and on and on! LOL
(Felicia Ciaudelli 12:40pm November 4, 2014)
Jill Shalvis - Lucky Harbor and Animal Magnetism series
Susan Mallery - Fool's Gold series
Laura Kaye - Hard Ink series
(Marcy Shuler 6:45pm November 4, 2014)
I have many favorite authors, love them all.
(Wilma Frana 8:49pm November 4, 2014)
i have a lot writers i read.
Joanna Wylde-reapers series
Patrica Briggs-thompson series
Bayou Heat series
Maya Banks any of her series
Brandy Rivers series
Lora Leigh breeds series
I hope you had a great Birthday!!
(Jennifer Beck 6:48pm November 5, 2014)
I Loved Nora Roberts' Three Sisters Island Trilogy. Also, her Inn Boonesboro Trilogy. I've read many of her books. The In Death series. Sherryl Woods' Rosewood Cottage Trilogy about 3 sisters led me to look up more of her books/series. Robyn Carr's Virgin River series was fascinating. I had picked up a book from the middle of the list, not knowing it was from a series. I was hooked & had to read them all, in order. There are so many great writers out there. Thanks for sharing your talents with us.
(Kathleen Giannone 9:54pm November 5, 2014)
I love Nora Roberts' Gallaghers of Ardmore Trilogy and Born In Trilogy. I love the
family interactions and characters in both series and the Irish settings.
(Abby Thorne 10:59pm November 5, 2014)
I would like to Wish You a Happy Belated Birthday! All the Best,in the Year!
I really like the sounds of the Book,"What To Do With a Bad Boy!"
(Elizabeth Calligan 12:34pm November 6, 2014)
Never read any of the series you listed. Though I am a fan of series reading. Done well, it can be awesome.
Favorites?
Contemporary romance- Jill Shalvis. The original Lucky Harbor
Contemp Suspense-- Lori Foster-Men Who walk the Edge of Honor. The final one being a favorite story of mine.
Historical romance--The Slightly series with the Bedwyns. The Duke of Bewcastles story was fabulous.
(Lisa Hutson 12:48pm November 6, 2014)
I love Robyn Carr's virgin river series
(Debbie Rudder 1:47am November 6, 2014)
I would recommend Kathleen Brooks Bluegrass
State of Mind series. Or Ruth Cardello, Legacy
Collection.
(Hillary Kaltenbach 7:09am November 6, 2014)
I think everyone has already mentioned my favorites, but I am
currently reading a steampunk series by Beth Ciotta called The
Glorious Victorious Darcys and I like her Cupcake Lover's
series as well.
(Mary McCoy 8:55am November 6, 2014)
I loved Nora Robert's Bride Quartet
Any of Carly Phillip's series
Roxanne St. Claire's Barefoot Bay series
Alannah Lynne's Heat Wave series
Sabrina Jeffries Hellions of Hallstead series and The Duke's Men series.
K. A. Linde's Record series
K. Bromberg's Driven series
Sylvia Day's Crossfire series
Any of Sawyer Bennett's series
(Sue Galuska 10:36am November 6, 2014)
Love the title of the book. Can't think of any that haven't
already been mentioned.
(Denise Austin 1:29pm November 6, 2014)
There are so many great series out there but I absolutely love Jill Shalvis' Lucky Harbor, Julie Anne Long's PennyRoyal, Carly Phillips' Serendipity, Rachel Gibson's Chinooks and Nora Robert's Bride Quartet.
(Anita H 6:19am November 15, 2014)
Registered users may leave comments.
Log in or register now!