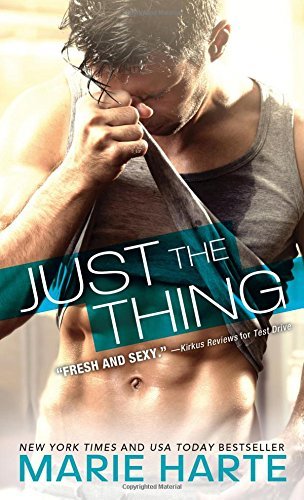 Purchase
Donnigans #2
Sourcebooks Casablanca
July 2017
On Sale: July 1, 2017
Featuring: Zoe York; Gavin Donnigan
352 pages
ISBN: 1492631884
EAN: 9781492631880
Kindle: B01ND1KNSS
Paperback / e-Book
Add to Wish List

Romance Erotica Sensual | Romance Contemporary
A FLING MIGHT BE JUST THE THING...
Gavin Donnigan left the Marine Corps a shell of a man, hounded by guilt for deaths he couldn't prevent. But teaching a self-defense class at the local gym brings some stability to his life―along with a gorgeous leggy woman who won't give him the time of day.
Zoe York lost her twin sister to a freak car accident a few months ago. She's been struggling to bury her grief, but it isn't until she signs up for a self-defense class with its distractingly hot instructor that she begins to come out of her shell again. With the memory of her sister telling her to live a little, Zoe decides a fling with buns-of-steel Gavin Donnigan might be just the thing.
Soon they're sparring both in and out of the gym. And for the first time in a long time, each is looking forward to tomorrow.
Donnigans
Comments
17 comments posted.
Re: Just The Thing

It doesn't have to be in every one but it is nice for a
change up.
(Tammy VanScoy 3:18pm July 12, 2017)
I think that there needs to be some sort of conflict or angst in a story to
keep it interesting.
(Leanna Hiner 4:20pm July 12, 2017)
yes, angst is an important component and adds to the emotions
and the story.
(Sharon Berger 5:22pm July 12, 2017)
I like variety in my romances and yes having to deal with things whether mentally or physically adds to the storyline for me.
(Colleen Conklin 6:21pm July 12, 2017)
I think angst is important because it tests the relationship
and they become stronger as a couple.
(Kv H 2:21am July 13, 2017)
Some angst is necessary for some stories to advance. As long
as it's not the entire story, it's fine. BTW, as a mother of
twins, this book rings a bell.
(Kathleen Bylsma 5:54pm July 13, 2017)
If not angst, then danger, conflict or something equally
interesting.
(Nancy Krueger 6:15pm July 14, 2017)
How good would the story be if everything was perfect?
There's got to be angst or some obstacle to overcome to
make the story interesting.
(Tanja Dancy 10:46pm July 14, 2017)
Not really. Too much takes you back to HS.
(Samantha Tennant 11:24pm July 14, 2017)
There needs to be some conflict but not too much that it
takes away from the story.
(Debra Guyette 5:42am July 15, 2017)
A story like life can not be perfect.
(Ron Frampton 2:07pm July 16, 2017)
Love never comes easy!
(Jane Cavanaugh 2:59pm July 16, 2017)
I don't like drama and just want everyone to get along. I
dislike all the arguing. Not a fan of the A word.
(Nicole Davis 9:19pm July 16, 2017)
I don't think it's necessary in all romances - even though
there is a lot of it in real life
(Glenda Martillotti 10:47pm July 16, 2017)
I don't think angst is needed in every romance but a bit of conflict to reflect real life makes the stories more interesting.
(Anita H 4:24am July 17, 2017)
I think a small amount of angst in a romance can add to the story, but don't like it in my own life.
(Anna Speed 12:17pm July 17, 2017)
Even in the funniest books, there is a little conflict. Not necessarily angst.
(Phyllis Lamken 12:45pm July 17, 2017)
Registered users may leave comments.
Log in or register now!