A Top 10 Marie Harte Like List
GIVEAWAY: A copy of A SURE THING

November 9, 2016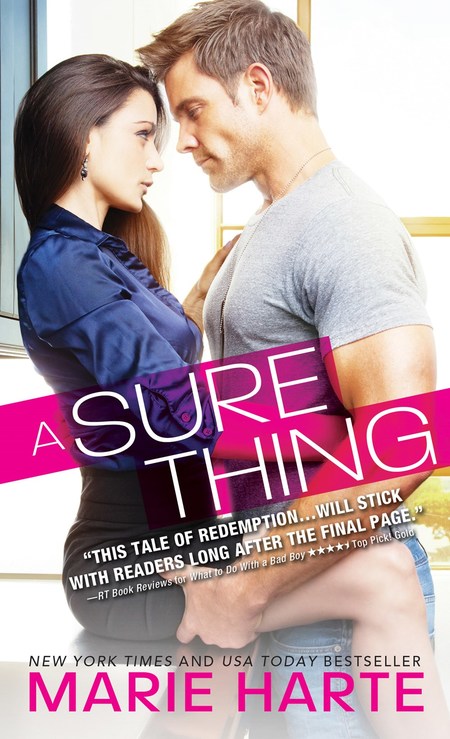 AVAILABLE
Donnigans #1

November 2016
On Sale: November 1, 2016
Featuring: Ava Rosenthal; Landon Donnigan
352 pages
ISBN: 149263185X
EAN: 9781492631859
Kindle: B01HN3X3EG
Paperback / e-Book
Add to Wish List

Also by Marie Harte:
Turn Up the Heat, April 2022
Hot for You, January 2022
Burning Desire, September 2021
Make Me Burn, June 2021

Hi! I'm Marie Harte, a book lover, romance novelist, mother to two boys, caretaker of a puppy and cat (who rules the house), and was lucky enough to hit the USA Today and New York Times bestseller lists in my career. Oh, and I'm a coffee addict.
I thought I'd share some of my recent favorite things, a Top Ten Marie Harte Like List, if you will. Do any of these float your boat?
Strange, the movie. LOVED IT! Amazing movie even if you'd never read the comics or heard of this character. And the movie stars Benedict Cumberbatch. So there's that.
Coffee. Coffee.
Chocolate, but of course. Not the cheap crap either, but a nice, flavorful truffle. Milk chocolate, preferably.
Movie trailers. I could watch them all day. I absolutely love getting a sneak peak at what's coming. Same for book blurbs.
My new DVR. Yes, I went for years without one. Now I'm not glued to my TV. I love that I can fast forward through commercials too.
Nothing better than taking a walk through red and yellow leaves fluttering past on the sidewalk. Or seeing snowcapped mountains in the distance, hearing the crackle the fire in the fireplace, or sipping hot cocoa while it's cold outside.
Fuzzy socks. No explanation needed.
Finding a new romance series to love and reread, over and over.
Getting that extra hour during Daylight Savings Time. And yes, I slept in.
Release day for a new book I wrote. That never gets old.
And of those strike a chord?
I just celebrated a release day last week, November 1st. A SURE THING is my latest book and the start of The Donnigans series. This series is a concept I had five years ago, the first of the McCauley cousins to get a happily ever after. It took a while to get my McCauley Brothers published, so by default, the cousins had to wait a bit. The first cousin I'd planned on writing about will be in the third book instead. Landon, the oldest, just had to go first. :-)
Thanks for having me, Fresh Fiction!
Marie
GIVEAWAY
Win a copy of A SURE THING, just tell us below what you "like"!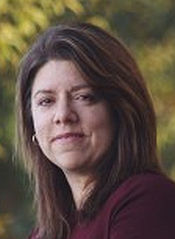 Caffeine addict, boy referee, and romance aficionado, USA Today bestselling author Marie Harte has over 100 books published with more constantly on the way. Writing romance, and in particular erotic romance, across the genres, she's created stories set on other worlds, among paranormal creatures, and between normal men and women seeking true love.
Marie is a confessed bibliophile and devotee of action movies. Whether hiking in Central Oregon, biking around town, or hanging at the local tea shop, she's constantly plotting to give everyone a happily ever after. Visit her website and fall in love.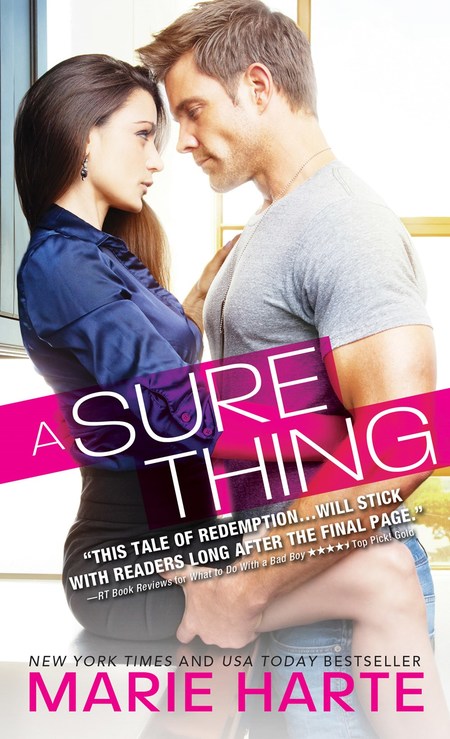 Meet the Donnigans
With the eldest Donnigan brothers adjusting to civilian life, their younger sister constantly in trouble, and their little brother clueless about life in general, falling in love is the last thing on anyone's mind...

Can this Bossy Badass Marine...
The Marine Corps was everything Landon Donnigan ever wanted in life...until a bullet sent him home with a medical discharge. Teaching a self-defense class at the gym is old-hat for a marine, but when he meets sexy Ava Rosenthal, his combat skills are useless for protecting his heart.

Be her Mr. Right?
Ava can take care of herself and likes quiet, bookish men-not muscular warriors who think women need to be coddled. But Landon is more than he seems, and when they come together, the results are explosive.
Romance Contemporary [Sourcebooks Casablanca, On Sale: November 1, 2016, Paperback / e-Book, ISBN: 9781492631859 / eISBN: 9781492631866]
Comments
20 comments posted.
Re: A Top 10 Marie Harte Like List

A few :D
I'm coffee addict :D
Also,I love,love chocoalte,love to watch Movie
Trailers,Fuzzy Socks,New Romances Books :)
Thank you for the lovely post :)
(Bube Petreska 1:58pm November 9, 2016)
Like you: Good coffee and Good chocolate....caps intentional! Good books and new releases by fav authors! Seeing my children and grandchildren and what the heck...the rest of my family's smiling faces!
(Kathleen Bylsma 2:53pm November 9, 2016)
I love that I get to watch my granddaughter for my daughter while she works. I love
to sit in my oversized glider rocker and read a good book with a cup of chi tea.
(Valerie Miller 3:18pm November 9, 2016)
I like Anime, flavored diet sodas, horses, and peanut M&Ms.
(Colleen Conklin 8:04pm November 9, 2016)
I like having no plans for the weekend and I get to sit and read all day.
Those are rare but I love it when it happens. I love your books and
discovering new authors.
(Eileen Roth 8:29pm November 9, 2016)
6) I love taking walks through the beautiful fall leaves. I actually try to walk every day. It doesn't matter if it's along a beach, mountains, woods, I enjoy the view.

8) New romances YES! I rarely have time to reread.

10) Best of luck with the release of your latest book, A SURE THING!

3) I start my day with a little chocolate pick me up treat.
(Laurie Gommermann 5:43am November 10, 2016)
Tea and a walk in the sunshine.
(Sharon Berger 10:49am November 10, 2016)
I love chocolate! But reading is favorite!! I love being with my grandchildren and laughing right along with them!
(Bonnie Capuano 10:08am November 11, 2016)
watching tv, eating chocolate, and reading, and hot weather and sunshine
(Jeri Dickinson 3:54pm November 11, 2016)
I like when my neighborhood is all lit up with Christmas
lights, games, good books, my family (most days..LOL),
puzzles. I like warm/sunny weather, but I also like snow
and colorful Fall leaves. I like stupid jokes.
(Shannon Murphy 5:46pm November 11, 2016)
I like doing crafts with my mom and baking
(Krys Barton 11:10pm November 11, 2016)
#2, #3, #7, #8, and half of #6. Not sure of #9, it is a
love/hate one for me.
(Ela Raymundo 9:00pm November 12, 2016)
I'm with you on the DVR thing too. It can be addictive too.
Like when it something that's not recorded. You can't go
back to check something out. Something my hubby likes to
do.
I tend to not reread, although I do sometimes. So little
time and so much to read.
(Nancy Luebke 3:45pm November 13, 2016)
I love any kind of hot buttery bread with coffee. English muffins, bagels, toast - love them all!
(Nancy Marcho 4:05pm November 13, 2016)
Love coffee in the mornings, chocolate especially Lindt Truffles (yum!), fall colors with the maples trees and the blue sky, fuzzy socks when the weather gets nippy, and a new series of romance stories (or favorites to re-read).
(Linda Harrison 9:22pm November 13, 2016)
Coffee and wine are my guilty pleasures.
(Linda Knowles 10:03pm November 13, 2016)
I like coffee, good books, all the seasons of the year,
vegetables from my garden, home made mint iced tea in the
summer, hot chocolate in winter, fuzzy slippers, spending
time with my son and grandchildren and I love horses.
(Irene Menge 3:01am November 14, 2016)
I enjoy a cup of hot tea, a banana and a good book. If a book is very good, I will pull it off the shelf at a later date and read it again. Nothing beats having my family around me.
(Anna Speed 12:07pm November 14, 2016)
I actually have quiet a few things on my list that is
similar to you. I love Chocolate and Fuzzy Socks. I have
so many pairs of fuzzy socks. Mostly in one form of pink
or another. I also love Tea (loose leaf tea) i can spend
hours in the tea shop i go to. Those boys make some
awesome custom teas. If it is a cold fall/winter day you
will find me in my chair with a book, tea, fuzzy socks
and normally chocolate around somewhere.
(Jeannie Platt 4:34pm November 14, 2016)
I like dark chocolate, romance stories with an HEA, going to
the beach when it's not too hot ...
(Diane Sallans 7:35pm November 14, 2016)
Registered users may leave comments.
Log in or register now!