J.T. Ellison | The Joys of the Mass Market Paperback

November 23, 2015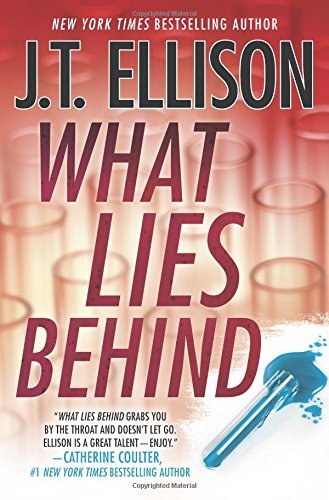 AVAILABLE
Samantha Owens #4

November 2015
On Sale: November 24, 2015
Featuring: Xander Whitfield; Darren Fletcher; Samantha Owens
400 pages
ISBN: 0778317641
EAN: 9780778317647
Kindle: B00QXP7K2C
Mass Market Paperback / e-Book (reprint)
Add to Wish List

Also by J.T. Ellison:
Infinity, March 2023
It's One of Us, March 2023
Her Dark Lies, March 2021
Good Girls Lie, August 2020

Long before I was a writer, I was a reader (I'm sure this comes as a shock to you all). But I was a reader on a serious budget. Though I have always been a library hound, I also love, LOVE paperbacks. Using my meager funds, I'd stand in the book aisle in the grocery store or drugstore (remember them?) and decide what I was going to buy that week. Though I read like a fiend, I could only afford to get one. So I used a time-honored decision making process: I bought the thickest ones I could find.
I discovered so many incredible authors this way. Tami Hoag, Nelson DeMille, John Connolly, Stephen White, Erica Spindler, Alex Kava, Mo Hayder, Karen Harper, Catherine Coulter, Lee Child, Allison Brennan, Jeff Abbott, Harlan Coben . . . I could go on and on and on. It was a special, private joy for me, this buying of paperbacks. I adore books, and I simply couldn't afford more than the mass market at the time. The library didn't cut it—I wanted the tangible proof in my house. My husband became alarmed at one point and said, "Honey, you gotta stop, we can't have bookshelves in every room." Imagine my shock at this outrageous statement! "Of course we can," I replied with a huff. "As a matter of fact, I was thinking . . . since we rarely use the dining room, why don't we make it into a library?" Cue horrified silence from my better half.
Well, we didn't do that, but I will say, proudly, that there are bookshelves in four rooms now. They are (mostly) contained, and there are more hardcovers than paperbacks, but my book buying has not, and will never, abate. I still grab a nice thick paperback when I go to the store. And though I now recognize most of the names, I'm always looking for a new-to-me author who has a wad of backlist titles, and off on the merry-go-round I go.
When I got my first deal, I was incredibly excited when they told me I'd be mass market original. Imagine going from buying these books to having one of my own on the drugstore shelf! I had six books release in mass market before I was moved to trade paperback, and now I'm in hardcover. One of the cool things about hardcover, I've discovered, is I also get to have a paperback. Hurrah!
In those early days, I never knew the difference between hardcover, mass market, trade, all that jargon. All I knew was I wanted a book I could afford, that had a cool cover and a great story, and if I liked the author, I went back for more and more, regardless of format.
Well, WHAT LIES BEHIND, my 4th Samantha Owens novel, is coming out in paperback November 24. It does have a cool cover, and an awesome story. I hope many of you who haven't read my Sam Owens series will pick up the paperback and give her a shot. Sam is a fabulous character to write: she is a lapsed medical examiner who teaches forensic pathology at Georgetown, a consultant with the FBI, and has overcome grave difficulties in her life. She's funny and smart and kind, and when faced with evil, will do anything in her power to eradicate it. If you've read my Taylor Jackson series, you will recognize the name. Sam's a changed woman now, and I hope you'll get to know her.
Giveaway
Tell me, who have you discovered through paperbacks? Leave a comment below for a chance to win a copy of first book in the Samantha Owens series, A DEEPER DARKNESS. 3 winners; US shipping only.
J.T. Ellison is the New York Times bestselling and award-winning author of fourteen critically acclaimed thrillers and is the co-author of the Nicholas Drummond series with #1 New York Times bestselling author Catherine Coulter. With over a million books in print, Ellison's work has been published in twenty-five countries and thirteen languages. She is also the co-host of A Word on Words, Nashville's premier literary TV series, which airs on Nashville Public Television.
She lives with her husband and twin kittens in Nashville.
Website | Facebook | Twitter | Goodreads | Blog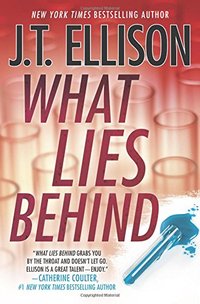 Critically acclaimed New York Times bestselling author J. T. Ellison delivers another riveting novel featuring the incomparable Dr. Samantha Owens
Waking to sirens in the night is hardly unusual for Samantha Owens. No longer a medical examiner, she doesn't lose sleep over them, but a routine police investigation in her neighborhood has her curious. When her homicide detective friend, Darren Fletcher, invites her to look over the evidence, she jumps at the chance and immediately realizes the crime scene has been staged. What seems to be a clear case of murder/suicide-a crime of passion-is anything but. The discovery of toxic substances in hidden vials indicates that something much more sinister is at play.…
As Fletch and Sam try to understand what and who they are dealing with, they are summoned to a meeting at the State Department. High- level officials are interested in what they know and seem to be keeping secrets of their own. It's up to Sam and Fletch to uncover what lies behind the deception as the threat of bioterrorism is exposed, and her boyfriend, Xander Whitfield, may be in the line of fire.
Unsure who to trust, Sam and Fletch find themselves up against very powerful people at every stage in the investigation. No one is who they appear to be and with every minute that passes, the danger escalates. It's Sam's most complex case yet and the terrifying reality is beyond anything she could have imagined.
Comments
22 comments posted.
Re: J.T. Ellison | The Joys of the Mass Market Paperback

Different places
(Marissa Yip-Young 6:43am November 23, 2015)
There are so many Authors that I've read, since most of them
have been by paperback as of late. The few that come to mind
are: Sandra Brown, Gerald Kubicki, Anne Girard, Cym Lowell,
and Cristianne Serruya. I'm looking forward to reading your
latest book as well. It sounds like a real page-turner!!
I've already put it on my TBR list. I hope that you have a
very Happy Thanksgiving!!
(Peggy Roberson 10:10am November 23, 2015)
Oh good grief, I couldn't list them all but some are Susan
Elizabeth Phillips, Kay Hooper, Lee Child..
(G. Bisbjerg 1:22pm November 23, 2015)
This is going back 20-30 years.... Diana Palmer, Tami Hoag,
Iris Johansen, Debbie Macomber, Joan Hoal, Catherine Coulter,
Nora Roberts...the list is endless
(Kimberley Coover 2:44pm November 23, 2015)
I have discovered the majority of authors through paperbacks. It's only the special few authors (you included) that I purchase the hard cover versions. Some of the authors I've found via paperback are J.D. Robb, Margaret Maron, Harlan Coben, Deborah Crombie, and all of the Harlequin authors for the past eon :)
(Sheri Jesse 5:18pm November 23, 2015)
Mofino, Burrowes, Tami Hoag and many more.
(Sharon Berger 5:20pm November 23, 2015)
I think my favorite so far, who I discovered through paperback, Is J.A. Jance and her J.P Beaumont series, but then there's Susan Wittig Albert and her China Bayles series, and Stuart Woods and his Stone Barrington....I MUST stop....so many! So nice meeting you!
(Kathleen Bylsma 6:04pm November 23, 2015)
Two writers I've read for a long time, and discovered in
paperback are Iris Johansen and John Sanford. They are still
automatic buys for me when one of their new books come out.
(Trude Vandine 6:28pm November 23, 2015)
I have discovered Sandra Brown ,James Patterson ,Nora Roberts , Danielle Steel and all the great authors that are on Fresh Fiction . Too many to mention . Thanks for this giveaway and I hope you all have a wonderful Thanksgiving .
(Joan Thrasher 7:06pm November 23, 2015)
I have discovered so many authors. I love Sandra Brown & Danielle Steel too. I love discovering new authors.
(Lourie Staib 10:27pm November 23, 2015)
John Grisham was the first author I discovered through paperbacks. I take more risks with paperbacks. Books that I might not like.
(Pam Howell 9:50am November 24, 2015)
Dean Koontz
(Kimberly Miller 12:45pm November 24, 2015)
I loved Where All The Dead Lie
(Barbara Semeraro 1:30pm November 24, 2015)
Stephen King
(Jean Benedict 3:22pm November 24, 2015)
only be reading for a few years. Robyn Carr Virgin river
books
(Emily Stemp 9:15pm November 24, 2015)
I've discovered the works of YA authors C.C. Hunter, Cate Teirnan and Julie Anne Peters through paperback, as well as Jade Lee, yourself, and Nora Roberts. (Thanks to my Mother for that last one, she has almost every one of her books)
(Asher Dane 10:37am November 25, 2015)
You, Sharon Sala, Cheryl Woods and many more!
(Shirley Cochran 4:35pm November 25, 2015)
I mostly read paperbacks (they are so much easier to hold
while reading in bed) - here's a few authors I'v read more
recently for the first time: Hope Ramsay, Rhys Bowen, Nancy
Thayer - long time favorites are Nora Roberts, Catherine
Coulter, Elizabeth Lowell
(Diane Sallans 11:54am November 26, 2015)
Paperbacks have taken me to so many interesting places and, through the background given in them, I've learned about many things that I had never thought about before. It amazing how much the authors include that extends my knowledge of the world.
(Anna Speed 2:49pm November 26, 2015)
Can't wait to get this book and find out what is happening with Sam now. Thanks for the great books to read.
(Christy Sipes 6:15pm November 26, 2015)
So many authors I can't even begin to list them all. I love
mysteries so Gemma Halliday, Addison Kline, Mary Ann Edwards. I
would love to read yours have not had a chance.
(Denise Austin 7:00pm November 26, 2015)
I am a maniac reader. I usually have 3 to 5 books going at
the same time. One on the porch, one upstairs, one in the
bathroom and so on. I get confused about the authors names
but I can tell them after the first few pages. Like meeting
an old friend. Thank all of you for keeping my life
interesting and versatile.
(Dagmar Finch 10:25pm November 26, 2015)
Registered users may leave comments.
Log in or register now!