Heather Long | My Favorite Breakout Characters

October 29, 2015
Single Wicked Wolf
Heather Long
AVAILABLE
Wolves of Willow Bend #7.5

October 2015
On Sale: October 5, 2015
Featuring: Murphy DeWitt; Giovanni Conti
78 pages
ISBN: 0151158398
EAN: 2940151158398
Kindle: B0163QKK0O
e-Book
Add to Wish List

Also by Heather Long:
Wolf Unleashed, January 2020
Outlaw Wolves, July 2019
Bitten Under Fire, June 2018
Semper Fi Cowboy, July 2017

One of the best parts of writing a series is when a supporting character becomes an outstanding lead in their own right. It's happened several times to me over the years, and I think it's my favorite part of writing a series. Supporting characters give us a window into our leads. They don't have to fit the tropes or the molds, or be heroic. In fact, they can be just about anything, because their part isn't to succeed or to fail, but to merely give us another glimpse at the strengths and flaws of hero or heroine.
Wolves of Willow Bend has proven to be rich, fertile storytelling ground for supporting characters for me. I love meeting them and getting to know them, then watching them shine as they step up to be heroes and heroines. When I introduced Giovanni in ROGUE WOLF, the Centurion added some levity and friendship for the powerful Alpha Salvatore. I adored him, and wanted to see more of him—hence SINGLE WICKED WOLF. In light of that love, I wanted to share with you some of my favorite breakout characters from other series and programs:
1. Riley (Psy- Changeling series by Nalini Singh) – We actually met Riley in SLAVE TO SENSATION. He is the brother of Brenna and Drew, and second in command to his Alpha Hawke. He's a tough bastard and he's in so much pain wanting to know what happened to his sister. He's mentioned a few times over later books, and he shines brilliantly when he gets to headline his own book BRANDED BY FIRE to become one of my all-time favorite heroes in this series. You could make this argument for many of the supporting characters in this series—they rotate from supporting, to lead to supporting again. It's perfect.
2. Wolverine – Would it surprise you to know that Wolverine actually got his start as a villain? Then later he becomes a supporting character in the X-Men? That's just in the comics. Of course, in the films, he's a pivotal member of the team and a breakout star who was given his own films and, while it's also due to Hugh Jackman's portrayal, Wolverine is arguably one of the most pivotal characters in the Marvel universe.
3. Phil Coulson – Speaking of the Marvel film universe, Phil Coulson played by the delightful Clark Gregg was the supporting character who tied the films together leading up to the Avengers. His death in the first Avengers film united the fractious team to face off against Loki and the invaders. Coulson's personality and strengths, however, were too vital and his "resurrection" to lead on Agents of SHIELD is a damn good show of it.
4. Castiel on Supernatural – Misha Collins portrays this fantastic character who came in as a supporting player for a short-term ARC in the fourth season of the long- running monster hunting show and he returned again and again. While the Winchesters remain the leads, Castiel has his own fans and is a lead in his own tales, too.
5. Spike on Buffy the Vampire Slayer – Love's original bitch showed up as a villain in the second season and, even then, he was supposed to be second fiddle to Angelus. By the series end, he was not only a leading man who'd turned a Slayer's head (with love instead of a neck twist to break her neck) and a hero who helped save them all.
Giveaway
Breakout supporting characters are the best! Do you have a favorite? Leave a comment below for a chance for to receive your choice of an eBook from my backlist. 3 winners; Open internationally.
National bestselling author, Heather Long, likes long walks in the park, science fiction, superheroes, Marines, and men who aren't douche bags. Her books are filled with heroes and heroines tangled in romance as hot as Texas summertime. From paranormal historical westerns to contemporary military romance, Heather might switch genres, but one thing is true in all of her stories—her characters drive the books. When she's not wrangling her menagerie of animals, she devotes her time to family and friends she considers family. She believes if you like your heroes so real you could lick the grit off their chest, and your heroines so likable, you're sure you've been friends with women just like them, you'll enjoy her worlds as much as she does.
Website | Facebook | Twitter | Goodreads | Blog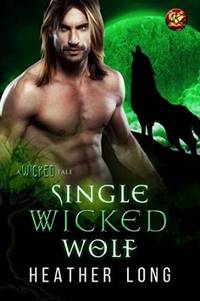 He's single, wicked, and a perfect pretend boyfriend...but exactly who is she fooling?
Murphy DeWitt enjoyed two years touring American consulates in Europe as an assistant to a diplomatic attaché. It was a dream come true, and a hell of a learning experience. A master of languages, she knows how to get her point across. Romance, however, proves to be a tongue twister. Now en route to Willow Bend for a friend's wedding--without the make- believe boyfriend she created for her family--she debates how to confess her deception. Luckily, her flight includes a fantastically hot wolf that leaves her breathless and contemplating all kinds of naughty things.
Giovanni Conti thrives on protecting others. As a Centurion for the Seven Hills pack in Italy, it's his pleasure to serve his Alpha wherever he is needed. Dispatched ahead in preparation for the Alpha pair's trip to Willow Bend, he has no problem entertaining the sexy wolf he encounters in the airport. The last thing the playboy wolf expects, however, is to find in Murphy the most captivating chase of his life...
Comments
21 comments posted.
Re: Heather Long | My Favorite Breakout Characters

I don't have a favorite.
(Cynthia Cook 12:23pm October 29, 2015)
I love stories that have you on the edge of your seat waiting to see what is going to happen next. I will be looking into your books to see what they are like.
(Elizabeth Deyoung 3:44am October 29, 2015)
I love the idea of supporting characters becoming main characters themselves - I feel like I really know them already. I, too, love Riley from Nalini Singh's Psy-Changeling series! He is awesome!
(Felicia Ciaudelli 11:42am October 29, 2015)
I love characters that round out a story very nicely... seeing them again in their own story even better!
(Colleen Conklin 12:45pm October 29, 2015)
No I don't.
(Marissa Yip-Young 5:09pm October 29, 2015)
I don't have a favorite but I love when a supporting character in one book becomes a main character in the next. I feel like I already know them and the bond is already there.
(Bonnie Capuano 8:46am October 30, 2015)
Spike is definitely the best breakout character I can think of.
(Pam Howell 10:06am October 30, 2015)
Wolverine is the best but I do love Castiel or my two.
(Jennifer Beck 12:27pm October 30, 2015)
I don't have a favorite either.
(Tracee Imai 3:26pm October 30, 2015)
I don't have a favorite, but I enjoy when a supporting
character end up the main character in his own story. It
is always nice to see the development of a character in
his own right.
(Irene Menge 8:29pm October 30, 2015)
I'd add Vasic from psy/changelings, Loki from the Avengers
and Matt McCall from your Always a Marine series. I figured
him to always be in the bacground but his story blew me
away.
(Donna Antonio 8:59am October 31, 2015)
Cat from the novel The Windflower by Laura London. It's been over 20 years But I still remember Cat.
(Blanche Nixon 12:31pm October 31, 2015)
No real favs...
(Nancy Ludvik 5:34pm October 31, 2015)
I can think of two that an author promised to write about
but never did...Connor MacKinnon and Ian Delamere from
Christina Skye's historical romances. I would dearly love
for her to finish her "Delamere" trilogy and to bring
Connor's story to light too!
(Cynthia Powers 11:00pm October 31, 2015)
I love break out characters, they're always a surprise. But
at the moment, I really do not have favorite.
(Marcia Berbeza 11:38pm October 31, 2015)
I agree with you about Spike, my favorite breakout character.
(Mary McCoy 11:12am November 1, 2015)
I also love Riley and other supporting characters from Nalini Singh's Psy-Changeling series - as well as the Guild Hunters series - SO cool!
(Felicia Ciaudelli 12:23pm November 1, 2015)
Sorry, No I Don't Have A Favorite Either.
(Carolyn Rhodes 4:31pm November 1, 2015)
I can't really say that I have a favorite Breakout character.
(Sharon Cook 5:03pm November 1, 2015)
Robin...from Batman & Robin
(Fred Holmes 9:33pm November 1, 2015)
angel
(Ann Unger 11:08pm November 1, 2015)
Registered users may leave comments.
Log in or register now!