Gaelen Foley | Good Guys versus Bad Boys: Two Kinds of Heroes and Why We Love Them Both

October 21, 2015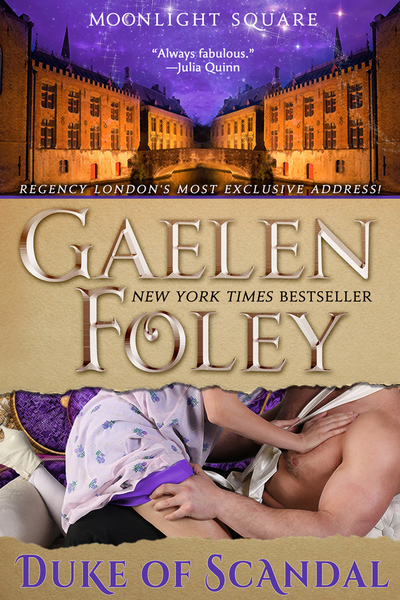 AVAILABLE
Moonlight Square #1

October 2015
On Sale: October 13, 2015
Featuring: Felicity Carvel; Jason Hawthorne
245 pages
ISBN: 0151042926
EAN: 2940151042925
Kindle: B012LFQFV4
e-Book
Add to Wish List

Also by Gaelen Foley:
Duke of Scandal, October 2015
Duke of Scandal, October 2015
One Moonlit Night, September 2015
Paladin's Prize, July 2015

Everybody knows we love our bad boys in romance land, but what about the classic, knight-in- shining-armor, always-does-the-right-thing type of good guy? Recently, I had the fun challenge of creating both of these hero types back-to-back when I wrote, first, PALADIN'S PRIZE (Age of Heroes, Book 1) followed by DUKE OF SCANDAL ( Moonlight Square, Book 1).
Here's a look at what I learned! (Keep in mind that all stories are different—these are generalities for the sake of discussion.)
BIG GUYS, BIG GOALS
In storytelling as in life, it's our actions that define us, and a good guy hero tends to stride onto the page already in pursuit of some big, noble goal. If not, he will accept the "call to adventure" readily.
In facing off against the baddies, good guys like Sir Thaydor in my July medieval fantasy romance, PALADIN'S PRIZE, is usually the first to volunteer, all while the bad boy is heckling him from a sensible position of safety, telling him it's a doomed cause.
Of course, bad boys like rakehell duke Jason in my new Regency historical, DUKE OF SCANDAL, tend to roll their eyes at noble causes. Yet they always come through in the crunch, charging in to save the day just when it looks like all hope is lost. They enjoy being difficult like that.
THE BIGGER THEY ARE, THE HARDER THEY FALL
In love, a good guy is more of a grownup than the bad boy has any wish to be. When the good guy makes his decision to start something with the heroine, he has a firm grasp of the seriousness of what he's doing and where it all could lead. He's a family-minded man who would never play with a woman's emotions or resort to idle seduction. Good guys follow the rules. Then there's the bad boy.
ROGUE
A bad boy makes no secret of the fact that he's only after one thing.
His kind invariably start out wanting no part of a real relationship. Ah, but when he meets the heroine, there's just something about that particular woman that he can't resist.
The bad boy has a larger character arc than the good guy. They're interesting to read about because they have farther to travel emotionally than good guys, generally speaking.
SO HOW DID THEY GET LIKE THIS?
Humans, both real and fictional, can be powerfully shaped by their environments, especially in childhood.
In Thaydor's case, he was a kid when his mom died and he promised her on her deathbed that he would "always be good" and do what was right. Thus the path was set for what sort of adult he'd grow up to be.
As royal champion for the kingdom in a wild-and-woolly medieval environment, he strives to be a chivalrous example for the other knights, and he doesn't hesitate to bash some heads when they get too barbarous around the fair demoiselles.
Likewise, Naughty Netherford is also a product of his environment. Growing up aristocrat, our bad boy duke was raised more by servants than by his parents. Inside the lavish walls of the family castle, it was cold, stiff, and loveless home, with parents who had wed by an arranged marriage and could hardly stand to be in the same room.
As heir to a dukedom, his whole life was laid out for him from the day he was born, and while most would envy his position, he often feels like it's a prison. So he just tries to stay amused.
A few more fun differences I noticed:
SENSE OF HUMOR
Bad boy – sardonic, sarcastic, use humor to deflect, make wisecracks about others, never mind that he himself is pretty much a mess.
Good guy – more serious in general, often needs to lighten up. Prefers to make fun of himself rather than making fun of others.
FALLING IN LOVE
Bad boy – fights tooth and nail against his growing feelings for the heroine, but once he decides to go for it, his commitment is total.
Good guy – realizes the heroine was the one thing missing from his well-ordered existence, but now he can't be happy without her.
CONCLUSION
In the choice between good guys and bad boys, we win either way!
GIVEAWAY
What's your preference, ladies – bad boys or good guys? Which type would you rather marry, and which would you rather (ahem) date? Leave a comment below and be entered for a chance to win a copy of PALADIN'S PRIZE and DUKE OF SCANDAL. Winner's choice of ebook or paperback. International winners will receive ebook prizes.
Noted for her "complex, subtly shaded characters, richly sensual love scenes, and elegantly fluid prose" (Booklist), Gaelen Foley is the New York Times, USA Today, and Publisher's Weekly bestselling author of twenty historical romances from Random House/Ballantine and HarperCollins. Her award-winning novels are available worldwide in seventeen languages, with millions of copies sold. Gaelen holds a BA in English Literature and lives in Pennsylvania with her husband, Eric, with whom she also co-writes family- friendly "PG-Rated" fantasy adventure novels for kids and adults under the penname E.G. Foley. (Book One in their Gryphon Chronicles series, THE LOST HEIR, has been optioned for a movie!)
If you'd like to receive an email alert when her next book is available, please sign up for the Gaelen Foley Mailing List. As a thank you, you'll receive her famous Regency Glossary—a free 52-page booklet (PDF) chock full of fun little historical tidbits to enhance your Regency reading pleasure. Gaelen also holds occasional sweepstakes exclusively for subscribers, so there might be a prize in your future if you're one of her lucky winners. For more information, visit her website.
Website | Facebook | YouTube | Goodreads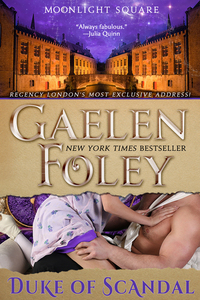 Romance is in the air at Moonlight Square ~ Regency London's most exclusive address!
Jason Hawthorne, the Duke of Netherford, made it clear to the young, lovesick Felicity Carvel long ago that nothing could ever happen between them. He has earned his reputation as the Duke of Scandal--and she's his best friend's little sister. For honor's sake, he vows to stay away from the lovely innocent. But six years of the wealthy libertine's life have left Jason empty and exhausted, while Felicity has blossomed into a strong, beautiful woman, ripe for love and marriage.
When a sudden windfall makes her one of the most sought-after heiresses in London, chased all over Town by fortune-hunters, Jason knows he must keep the rogues at bay until her brother returns from his dangerous mission abroad. Unfortunately, the scandalous attraction between them has only grown to a searing intensity. Deep down, Felicity still wants Jason for her own. But after getting her heart broken once before by Naughty Netherford, does she dare attempt to play with fire again--and this time, can Jason resist?
Comments
57 comments posted.
Re: Gaelen Foley | Good Guys versus Bad Boys: Two Kinds of Heroes and Why We Love Them Both

Bad boys
(Marissa Yip-Young 6:12am October 21, 2015)
I like them both - as long as the story has a great tale to tell.
(Nancy Reynolds 10:08am October 21, 2015)
I like reading about the bad boys, but I would rather marry a good guy.
(Bonnie H 11:02am October 21, 2015)
Both bad boys and good guys have their purpose. I appreciate
the way you laid both ideas and philosophies out, Gaelen. I
don't have a preference either way, it depends on the story.
(Edward Washington 11:04am October 21, 2015)
I like both, but probably would want the good guy more.
(Colleen Conklin 12:54pm October 21, 2015)
I love a bad boy, a man with flaws. And in Jason's case,
the bad boy can become just good enough that I could be
happy with him. If the good guy were too good, he wouldn't
be able to tolerate my flaws, and I wouldn't want to have
to change.
(Katina Fragakis 1:19pm October 21, 2015)
I love reading about bad boy Dukes who fall deeply in love. But I like them both but I married a good guy.
(Sandra Stipins 2:04pm October 21, 2015)
I enjoy reading about bad boys but married a good guy.
(Sharon Berger 2:19pm October 21, 2015)
In my books, I like a somewhat bad boy, probably because they
are more interesting to read about. In real life, though, I
always go for the good guys.
(Janie McGaugh 3:57pm October 21, 2015)
In life...good boys....in books....bad boys!!! Can't help it!
(Bonnie Capuano 8:23pm October 21, 2015)
Date the bad boy & marry the good guy!
(Sharlene Wegner 1:19am October 22, 2015)
I would like a good guy who can be sexy knotty.
(Cecilia Rodriguez 11:52am October 22, 2015)
The good guys always always winners in my book.
(Julienne Brandt 1:54pm October 22, 2015)
The good guys are the winners in my book.
(Julienne Brandt 1:56pm October 22, 2015)
Can I choose both? LOL - a bit of both always works for me!
(Felicia Ciaudelli 2:16pm October 22, 2015)
Hey, as I ask the ladies, "What do you really want, a bad
boy or a good man?"
(Richard Brandt 2:41pm October 22, 2015)
A bit of both.
(Sonia Weible 2:53pm October 22, 2015)
We love both becausethe bad boy adds the spark of excitement but still
want the good guy to win
(Celeste Gelinas 4:17pm October 22, 2015)
Good Guys to marry and date
(Yaritza Santana 4:27pm October 22, 2015)
I like reading both. What makes them interesting is the capability for character growth, and each type can have that. As for marrying--a good guy, definitely.
(G S Moch 4:32pm October 22, 2015)
I like a redeemable bad boy who can be good sometimes. I will marry a little of both kinds.
(Sylvia Leija 4:50pm October 22, 2015)
I think date the good boy and marry the good boy!
(Marguerite Guinn 5:15pm October 22, 2015)
It's interesting to read about bad boys but they're too likely to break your heart in real life, so I'd go for the good boy!
(Lesley Walsh 5:32pm October 22, 2015)
I love a good BAD boy! Does that count? I married the good
boy, but he can bad when needed! LOL
(Terry Trahan 7:53pm October 22, 2015)
Have been waiting for this one for a long time! So love
fictional 'bad' boys.
(Sue Peterson 8:04pm October 22, 2015)
I LOVE BAD BOYS!
(Marsha Baurns 8:42pm October 22, 2015)
Bad boys are nice to read but I would love a good guy for life!
(Tracey Lee 8:48pm October 22, 2015)
I can fall for either, but I tend to look for the bad boy stories. ;)
(Tara Stearns 9:06pm October 22, 2015)
Nothing can compare to a very good bad boy.
(B Tritt 9:34pm October 22, 2015)
I like the bad boys for a certain amount of time , then when necessary they need to turn to good boys . OR Visa VERSA .
(Joan Thrasher 9:41pm October 22, 2015)
I love the good men; I married mine almost 52 years ago.
(Margaret Transue 10:37pm October 22, 2015)
I like stories with the bad boy redeem and good guys that are knights to the rescue whether historical or contemporary.
(Melinda Marks 11:07pm October 22, 2015)

(Dale Kirk 12:02pm October 23, 2015)
Good Guys are all well and good. They make good heroes. But Bad Boys are much more interesting. It's more exciting to see how the heroine will cause them to change into Good Guys. What's the rule------Reformed Rakes make the best husbands!
(Dale Kirk 12:05pm October 23, 2015)
I need a good guy to marry and date.
(G. Bisbjerg 2:09am October 23, 2015)
I married a Bad Boy.
(Linda Chesick 5:41am October 23, 2015)
I married a BAD BOY ( just like my DIL) and we will be married 50 years, JULY 29, 2016. Sometimes a bad boy can be tamed. To me, he is STILL handsome and sexy.!!
(Ruth Chesick 5:58am October 23, 2015)
Why are we drawn to bad boys? Mystery, excitement-then they
move on. I will marry a good guy though-he is in it for the
long haul.
(Annette Cunningham 9:01am October 23, 2015)
I would marry the bad boy because not all of them are
always bad. Some of them make the best husbands/fathers and
I there'd always be that spice. Of course, I wouldn't say
no to a good guy either, as long as he had a bad side for
me ;)
(Tina Hairston 1:06pm October 23, 2015)
Good boys for each!
(Lindsey Andronak 1:10pm October 23, 2015)
I like to read about bad boys, that are shown the right
path by "the little woman"!
(Therese Abdali 4:32pm October 23, 2015)
I prefer the good boys. I've had bad luck with the bad boys,
but I like reading about the bad boys.
(Doreen Walling 6:06pm October 23, 2015)
The bad boys make fascinating reading, but in real life, I prefer the good one.
(Anna Speed 7:33pm October 23, 2015)
A healthy mix of both :)
(Lori Harvey 10:20pm October 23, 2015)
good guys or of course bad boys who grew up to be good guys :)
(Dianne McVetty 11:52pm October 23, 2015)
I prefer the good guy but we all love to read about the bad guy.
(Pam Howell 10:18am October 24, 2015)
I have married both, and the good guy turned into a bad boy.
That was why I left him. I've been married to the bad boy
for 33+ years now. If, God forbid, I were to date again, I
would probably be drawn to a bad boy, because they lead a
more exciting life, and you do more with them, than you do a
good boy, who tends to be a homebody. Your book sounds like
a fun read, and I'm looking forward to reading it.
Congratulations on your latest book, and I'm sure it's going
to do well!!
(Peggy Roberson 10:22am October 24, 2015)
Bad boys! Who doesn't want a bad boy that will change his ways to keep you? :)
(Jolene Allcock 12:26pm October 24, 2015)
Bad boys!
(Jean Patton 4:22pm October 24, 2015)
Definitely a good guy!
(Diane Sallans 8:10pm October 24, 2015)
I don't know. I but my brother in charge of finding the love of my life ten or
so years ago and I am still waiting for a first date.
(Laura Gullickson 8:32pm October 24, 2015)
Good guy for me!
(Suzie Johnson 8:59pm October 24, 2015)
I would rather date and marry a good guy
(Marcia White 9:04pm October 24, 2015)
Good guy!
(Gail Rasmussen 9:14pm October 24, 2015)
As long as they loved me for me, it wouldn't matter which
one.
(Joanne Balinski 9:37pm October 24, 2015)
Marry: The good guy (boring but reliable)
to date: The bad boy, for obvious reasons.
(Susan Scheelk 2:27pm October 25, 2015)
I like a "bad boy" with a heart of gold ;)
(Liz Digman 7:42pm October 27, 2015)
Registered users may leave comments.
Log in or register now!