At the heart of my novel COME AND TAKE IT: Search for the Treasure of the Alamo is an unusual love story between Nat Travis, the protagonist, and his former sister-in-law, Renee. To many, any relationship between a man and his brother's former wife crosses into the land of the forbidden. The question is—should it?
Fate brings Nat and Renee together twenty years after her divorce from Nat's brother, Joseph. A lifetime has passed since they knew each other in a "family" setting and their lives have grown worlds apart. Renee is now a successful single mother of two grown children in Atlanta, teaching history at Emory University, and Nat, a winning high school football coach in Brewton, Alabama. But the pair finds a common interest in researching the mystery surrounding the murder of Nat's grandfather, a man they both loved very much. In the process of following clues about the old man's death, the couple learn they have one other common bond—a healthy skepticism, maybe even a dislike, for Renee's former husband, Joseph.
Because of Joseph, Renee and Nat fight the uncomfortable feelings they develop for each other; however, even as they pull apart, destiny binds them together. A secret they learn that Nat's grandfather covered up his whole life connects Nat's family to a slave many generations back. This unlocks a mystery of epic proportions, one that Renee finds irresistible as a scholar and that Nat needs her help to resolve. On the road to a long lost treasure, chasing clues wherever they lead, Nat and Renee become possessed by the ancient secret of the Alamo.
Should Nat stay away from a romantic relationship with his brother's ex-wife no matter the circumstances? Is family history all that Nat and Renee should ever share? COME AND TAKE IT: Search for the Treasure of the Alamo is a historical mystery about lost treasure from the Alamo, but perhaps the larger story is on a smaller scale. The real search for Nat and Renee may be in answering questions buried deep in their lives and psyches. Will they be able to overcome the forces and inhibitions that keep them apart?
GIVEAWAY
Readers, what are your favorite "forbidden love" stories? Leave a comment below for a chance to win a copy of COME AND TAKE IT: Search for the Treasure of the Alamo.
Landon Wallace is a native Texan and trial attorney who can tell a story both in and out of the courtroom. He lives in North Texas with his wife and family. Come and Take It is his second novel.
Website | Facebook | Twitter | Google+ | Goodreads | YouTube | Pinterest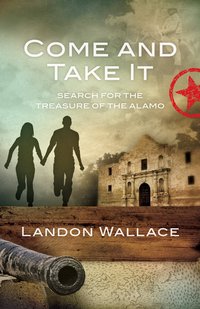 In the early morning of March 6, 1836, the Mexican army storms the Alamo and kills every one of the defenders except William Barret Travis's young black slave named Joe. Although General Santa Anna vows to keep him alive, a fearful Joe escapes away in the night carrying a prize far more valuable than anything inside the creaky Spanish mission.
Fast forward to September 2013. Joe's modern descendant, a 93-year-old World War II veteran living alone in Brewton, Alabama is dying after being attacked by intruders. With his last breath, the old man defiantly shouts, "Come and take it!" And with his death, the last living person who knows about Joe's prize is gone forever.
While investigating the old man's death, grandson Nat uncovers clues about a long-hidden secret dating back to the Alamo. With the help of a beautiful history professor named Renee, Nat begins to unravel the mystery of his grandfather's murder, and in the process discovers another mystery of far greater scale--the long lost treasure of the Alamo.
11 comments posted.
I like the off-limits ex, like in this story. Also, I like when there's a connection
between two people who are supposed to be "enemies" or rivals.
(Nikki Fournier 5:53am June 15, 2015)
I too like the enemy or rival forbidden love. I haven't read a well written step-sibling story, but would like to read one.
(Joanne Hicks 11:00pm June 15, 2015)
I don't have any stories to tell , but I do love to read the stories of forbidden love between rivals . This book sounds very much like an all night read . I'm going to keep my fingers crossed . Thanks for this chance .
(Joan Thrasher 10:08am June 16, 2015)