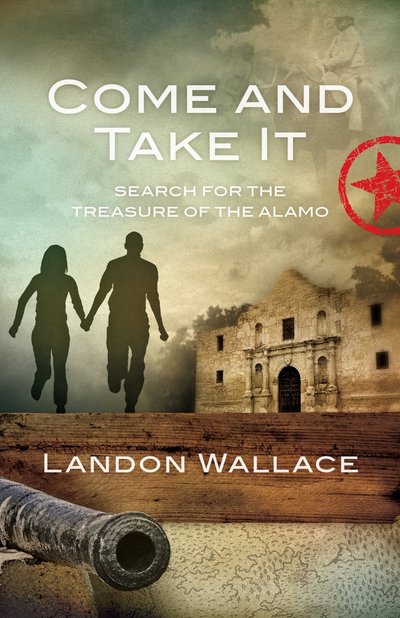 Purchase
Come and Take It: Search for the Treasure of the Alamo
Landon Wallace
Author Self-Published
April 2015
On Sale: April 7, 2015
294 pages
ISBN: 098617310X
EAN: 9780986173103
Kindle: B00XW2TCP2
Paperback / e-Book
Add to Wish List

In the early morning of March 6, 1836, the Mexican army storms the Alamo and kills every one of the defenders except William Barret Travis's young black slave named Joe. Although General Santa Anna vows to keep him alive, a fearful Joe escapes away in the night carrying a prize far more valuable than anything inside the creaky Spanish mission.
Fast forward to September 2013. Joe's modern descendant, a 93-year-old World War II veteran living alone in Brewton, Alabama is dying after being attacked by intruders. With his last breath, the old man defiantly shouts, "Come and take it!" And with his death, the last living person who knows about Joe's prize is gone forever.
While investigating the old man's death, grandson Nat uncovers clues about a long-hidden secret dating back to the Alamo. With the help of a beautiful history professor named Renee, Nat begins to unravel the mystery of his grandfather's murder, and in the process discovers another mystery of far greater scale--the long lost treasure of the Alamo.
Comments
11 comments posted.
Re: Come and Take It: Search for the Treasure of the Alamo

I don't have any - that's not a very common subject.
(Dagmar Finch 4:07am June 15, 2015)
I like the off-limits ex, like in this story. Also, I like when there's a connection
between two people who are supposed to be "enemies" or rivals.
(Nikki Fournier 5:53am June 15, 2015)
Forbidden love between close cousins whose relationship is
meaningful and misunderstood.
(Sharon Berger 10:56am June 15, 2015)
I do not have any forbidden love stories--I love them all
(Shirley Younger 12:33pm June 15, 2015)
I love them all .Makes a great story
(Jean Benedict 1:12pm June 15, 2015)
Step siblings.
(Marissa Yip-Young 1:44pm June 15, 2015)
I too like the enemy or rival forbidden love. I haven't read a well written step-sibling story, but would like to read one.
(Joanne Hicks 11:00pm June 15, 2015)
I don't have any stories to tell , but I do love to read the stories of forbidden love between rivals . This book sounds very much like an all night read . I'm going to keep my fingers crossed . Thanks for this chance .
(Joan Thrasher 10:08am June 16, 2015)
Long Lost treasure will pull me in right away.
(Nancy Luebke 5:20pm June 17, 2015)
I like love stories between rivals or between aristocrat
and commoner or rich and poor.
(Irene Menge 9:04pm June 17, 2015)
I've read some about step siblings falling in love.
(Linda Harrison 8:49am June 18, 2015)
Registered users may leave comments.
Log in or register now!