There's always lots going on leading up to the big day, especially in the Town of Christmas, Colorado.
- 1. The Penalty Box. The bachelor party is held at the Penalty Box.
- 2. The bachelorette party. The bachelorette party is typically hosted by one of the bridesmaids. In WEDDING BELLS IN CHRISTMAS, at Nell McBride and Sophia Dane's urging, the women break with tradition and end up at a biker bar.
- 3. Nell Mcbride's "help." It wouldn't be a wedding in Christmas without Nell McBride's involvement. She gets the whole town involved by asking them to pick the wedding cake on the town's facebook page. The Superman and Lois Lane cake received the most votes, but was vetoed by the bride-to-be. Grace Flaherty, owner of the Sugar Plum Bakery, is the baker of choice for the brides of Christmas.
- 4. Autumn Dane's Sugar and Spice. For wedding favors, the citizens of Christmas look no further than Autumn Dane. She owns Sugar and Spice and created special chocolates for the couple in this book.
- 5. A song from Annie McBride. Having Annie McBride, Gage and Madison's daughter, sing at the wedding has become a tradition. In WEDDING BELLS IN CHRISTMAS, Annie's about to begin singing Train's "Marry Me" when Nell McBride jumps to her feet and says, "Stop the wedding! Stop the music!"
You'll have to read Wedding Bells in Christmas to find out why!
Giveaway
Visit
Rafflecopter
for your chance to win a copy of
WEDDING BELLS IN CHRISTMAS
.
Debbie Mason is the bestselling author of the Christmas, Colorado series. Her books have been praised for their "likable characters, clever dialogue and juicy plots" (RT Book Reviews). She also writes historical paranormals as Debbie Mazzuca. Her MacLeod series has received several nominations for best paranormal as well as a Holt Medallion Award of Merit. When she isn't writing or reading, Debbie enjoys spending time with her very own real- life hero, their four wonderful children, an adorable grandbaby, and a yappy Yorkie named Bella.
AuthorDebbieMason.com | Facebook | Twitter | Debbie on Goodreads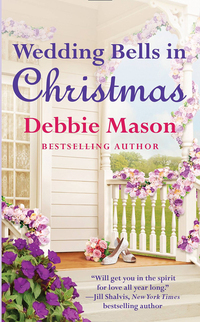 Wedding bells are ringing in the charming town of Christmas, but not for Vivian Westfield. She's just had her heart trampled under the cowboy boots of Chance McBride and lost her dream job at a big-city newspaper. But when she returns for a wedding, she stumbles on a story that could resurrect her career. First, though, she'll have to deal with the handsome man standing in her way . . . and a still-burning flame that's too hot to ignore.
Chance recognizes trouble when he sees it. He just didn't expect to find it in the first-class cabin on the flight home for his father's wedding. Yet there she is, as gorgeous as ever. Vivi dared Chance to want things he knew he could never have. It's why he left her. But Christmas's meddling matchmakers have them firmly in their sights. So if they want to survive the next week, they'll have to play the part of an adoring couple-an irresistible charade that may give them a second chance at the real thing . . .
His eyes narrowed, and he let go of her hand. "You buy your own ticket?"
"My plane ticket?"
He nodded.
"No, if I did, I wouldn't be sitting in first class." She didn't add "beside you." Her eyes widened as she realized why he'd ask. "Did you buy yours?"
"No," he clipped out.
She pressed her fingers to her temple. So this was what Skye had been talking about. Nell's plan had nothing to do with getting Vivi to move to Christmas. She was up to her matchmaking tricks again. Vivi drowned out the little voice in her head that cheered Nell on with a forced laugh. "Your aunt is deluded if she thinks she can get us together."
"I know that and you know that, but it won't matter what we say."
His answer wasn't a surprise. She knew how he felt about her, but to hear him so casually dismiss any chance . . . Good God, she really wasn't over him, was she?
Obviously the twinge of pain in the vicinity of her heart was reflected in her face, because he patted her thigh. "Don't worry about it. I'll figure something out."
"Good luck with that. She's three for three. The woman thinks she's . . ." She trailed off as the flight attendant began the safety briefing. "Three for three? Who—"
She held up a hand and retrieved the illustrated card from the pouch in front of her. She caught the amused expression on Chance's face as he watched her. She ignored him, focusing instead on the flight attendant. When the woman turned to the person in the emergency exit seat, Vivi raised herself up as much as the seat belt allowed. "There is no way that guy will be able to throw the door." She cast a sidelong and slightly covetous glance at Chance's corded forearms and bulging biceps. "You should change seats with him."
"Slick, we're not going to crash. If you want to worry about something, worry about Nell and what she has planned for us."
Vivi dragged her gaze from his amazing biceps to . . . dammit, his equally amazing face. His eyebrows raised at what she belatedly realized had been her very thorough perusal of all his amazingness. Her face, along with a certain body part— one that had been piteously ignored for the last eighteen months—got warm and tingly. She fanned herself with the informational card, then realized what she was doing. She stuffed it back in the pouch. "Leave Nell to me. I'll talk to her and set her straight," she said with perhaps more feeling than was warranted.
"Trust me, I know my aunt better than you do, and trying to reason with her will do as much good as waving a red flag in front of a bull."
"So what do you suggest we do?"
"Simple. We'll tell her we're together, and she'll leave us alone."
Her and Chance . . . together. It was like her fantasy come true. Only it wasn't. She cleared what she imagined was a look of longing and hope from her face. "Are you crazy?"
"No. Think about it. If we don't cut her off at the pass, she'll drive us nuts. She won't let up, and she'll get her buddies in on the action. What's the big deal? It's only for a week. And it's not as if anyone will expect us to spend much time together. I'll be busy with my dad's wedding."
Vivi didn't think Nell and Christmas's matchmakers were that big a problem. Sure, they'd be annoying and no doubt drive them slightly insane. But pretending to be Chance's girlfriend? That would be a problem. All those soft, romantic feelings would come back to bite her in the butt. She opened her mouth to . . . What? If she didn't agree to his plan, he'd wonder why. He obviously had no qualms about pretending to be in love with her. She felt like bonking her head on the seat in front of her, but instead said, "Okay, fine. We'll pretend we're dating. But we end our fake relationship before we head out of town. Publicly. And this time, I'm the one who does the ending." Good God, did she just say that? It was exactly what she wanted to do, but she didn't mean to tell him! And she'd been doing so well playing it cool up until now.
He rubbed his jaw, then looked at her. And that's when she saw it—pity. He felt sorry for her. "Vivi, I never meant to hurt you. I—"
"Hurt me? Whatever gave you that idea? Come on, it's not like we had a relationship or anything. We had some laughs together, good times in bed, and—"
His brow lifted. "Good times in bed?"
Typical. Of course he'd hone in on that. Did he actually expect her to stroke his ego after he'd lied to her and left her without an explanation? As if she were going to tell him he was a sex god and had ruined her for mere mortal men.
"Yeah, good times. It was fun while it lasted. But I knew what I was getting myself into. I might not have known your real name, but it was obvious you were a player."
"I am not a player."
"Right. And your name's James Harris."
"Look, I couldn't risk blowing my cover. My assignment was dangerous. I didn't want you to get—"
"It doesn't matter. No harm, no foul. I'll go along with your plan."
His eyes roamed her face, then he nodded. "If it'll make you feel better, you can break up with me in front of the whole damn town for all I care."
"Consider it a public service for the trail of broken hearts you've left in your wake."
"You saying I broke your heart, Slick?" His voice was low and gruff, an unreadable emotion in his eyes.
"Get over yourself, McBride. I already told you . . ."
Vivi eyes widened as the 757 started to shake. She dug her fingernails into the armrest. Oh, God, oh, God. When the plane took a stomach-turning drop, she screamed, throwing herself into the arms of the man she wanted to smack only a few seconds ago. "Do something! You—"
He sighed, lowering his head to smother her panicked cries with a deep, soul-searing kiss.
2 comments posted.