Elizabeth Heiter | Taking Down a Predator

March 30, 2015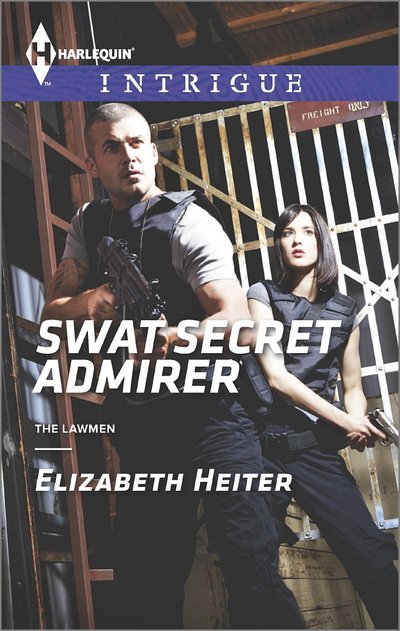 SWAT Secret Admirer
Elizabeth Heiter
AVAILABLE
Lawmen #3

April 2015
On Sale: March 17, 2015
Featuring: Maggie Delacorte; Grant Larkin
224 pages
ISBN: 0373698275
EAN: 9780373698271
Kindle: B00OYBW4QY
Paperback / e-Book
Add to Wish List

Also by Elizabeth Heiter:
K-9 Hideout, July 2021
Add to review list
K-9 Cold Case, April 2021
Add to review list
Alaska Mountain Rescue, January 2021
Valiant Tracker, August 2020

The heroine of my latest romantic suspense, SWAT SECRET ADMIRER (Book 3 in The Lawmen series), is a fighter. When Maggie Delacorte was just a young college student, she was the first victim of the Fishhook Rapist. She could have let that event destroy her, but she didn't. Instead, she made it her mission to stop things like that from happening to others. After that horrible day a decade ago, Maggie made some hard choices:
1. Drop everything and join the FBI.
After violence tore apart her life, Maggie made a decision. Instead of staying on her current path to a safe, normal job, she opted to join the FBI. She made a pact with her older brother Scott and their best friend Ella to apply, and now they're all Special Agents.
2. Don't stop there – try out for SWAT.
If the FBI alone wasn't enough (getting through the applications and the Academy and working on a Civil Rights squad where she investigates things like hate crimes and human trafficking), Maggie decided to go out for a SWAT team. Now, she's a toned, trained FBI SWAT agent whose hands are as dangerous as a gun.
3. Make a difference.
Maggie didn't join the FBI for revenge, and she didn't do it to prove she was stronger than her attacker. She joined to make a difference. And every day, on her Civil Rights squad and her extra duty as a SWAT agent, she works hard to help the victims she sees in her cases.
4. Don't let the past define you.
Maggie tries to keep what happened to her in the past to herself, because she doesn't want it to impact how anyone sees her – especially not fellow SWAT agent Grant Larkin. He makes her dream of a future beyond the team, and she's finally ready to take a chance on him. But when the Fishhook Rapist – who's chosen a new victim every year for the past decade – sends her a note saying he's coming back for Maggie this time, everything changes.
5. Never let the bad guy win.
Just the thought of facing down the man who'd hurt her makes Maggie's hands sweat and her trigger finger shake. But she's not about to leave his capture to anyone else, no matter what FBI procedure dictates. She's determined to find the Fishhook Rapist before he finds her, and just like when she decided to join the FBI, she refuses to let anything stop her.
Giveaway
Readers, which hard choice are you most excited to read about? Leave a comment on below for your chance to win a signed copy of SWAT SECRET ADMIRER.
ABOUT SWAT SECRET ADMIRER (an RT Top Pick!)
A predator is no match for her protector...
It's been ten years since the attack that drove Maggie Delacorte to become an FBI SWAT agent. She's an elite fighter now—and when the Fishhook Rapist sends her a letter saying he's coming back for her, she knows she has to find him first. Her teammate Grant Larkin is assigned to the case, and he's determined to protect Maggie, even if it damages the connection that's been growing between them. And even if her attacker has decided that the way to get to Maggie is by targeting the people she cares about. Her feelings for Grant could get him killed, but she needs him—and his love—to make it through the worst danger yet...
About the Author
ELIZABETH HEITER likes her suspense to feature strong heroines, chilling villains, psychological twists, and a little bit (or a lot!) of romance. Her research for her Profiler series (psychological suspense with MIRA) and her Lawmen series (romantic suspense with Harlequin Intrigue) has taken her into the minds of serial killers, through murder investigations, and onto the FBI Academy's shooting range.
Comments
33 comments posted.
Re: Elizabeth Heiter | Taking Down a Predator

Of course, I'm looking forward to reading about Maggie
facing down the person who originally hurt her, and started
her on the path in life that she took!! Your latest book
sounds so interesting right from the start, and I'm sure
it's going to be filled with a lot of unexpected twists!!
Congratulations on your latest book, which I'm sure is going
to do very well!! It has all of the elements to make it a
big seller!!
(Peggy Roberson 11:27am March 30, 2015)
Thanks very much, Peggy! It was a lot of fun to wrap up the
storyline that's been in the background for the first two
books in the series! I hope you enjoy it! :)
(Elizabeth Heiter 12:48pm March 30, 2015)
Oh I am definitely interested to see Maggie's story! Congrats on book 3!
(Colleen Conklin 2:17pm March 30, 2015)
Happy Easter weekend
(Emily Stemp 2:18pm March 30, 2015)
Thanks so much, Colleen and Emily! Happy Easter weekend to
you as well (I can't believe how soon that is)! :)
(Elizabeth Heiter 2:20pm March 30, 2015)
giving up a relationship only to rekindle it later
(Angela Parrish 4:56pm March 30, 2015)
Falling in love with your "enemy" is always a great plot.
(Elizabeth Neal 5:42pm March 30, 2015)
Never let the bad guy win is an excellent reason to continue with your life. Making yourself stronger in every way is a good thing to do and a sure way to survive.
(Sharon Mitchell 2:29am March 31, 2015)
Well, Elizabeth I had to go to your website to check out all the books in The Lawmen series and I've marked them on my Wish List. Thank you for the chance and Good luck to all who have entered. Happy Easter to you and to everyone
(Holly Loch 4:47am March 31, 2015)
Go Maggie! I love that she is making a difference in her life and so many other victims as well. This sounds like a very exciting life and I can't wait to read all about it. Thanks for the chance to win this book. Happy Easter to all.
(Joan Thrasher 11:30am March 31, 2015)
This looks like a great read.
(Pam Howell 11:56am March 31, 2015)
Both of those themes are really fun, Angela and
Elizabeth!

Thank you so much, Elaine, Pam, Joan and Holly - I hope
you enjoy Maggie's book!

Sharon, I agree! It's one of the things I really loved
about creating Maggie! :)
(Elizabeth Heiter 12:34pm March 31, 2015)
This book sounds great. I'm looking forward to reading it!
(Patricia Cochran 9:35pm March 31, 2015)
I think that not letting the past define you is the hardest choice to make, all of the other options stem from there, so I am excited to read about that. Sounds like a great story, thank you for sharing and good luck with the release!
(E Felder 9:58pm March 31, 2015)
It sounds like a good book. A person that I used to work
with
like Maggie. She was abused but went on to achieve her
dreams. She graduated from college. She has a family and a
good job.
(Cynthia Cook 9:59pm March 31, 2015)
Yes, I totally agree with No. 4 and No. 5. Don't let the
past define you and Never let the bad guy win. No matter
what happens we need to put God First in our lives and rise
above all the ugly stuff that comes our way. Congrats on
your new book: SWAT SECRET ADMIRER. This book sounds like a
fantastic book to read and I would love to win it and read
it this year. Thank You so much. Cecilia Dunbar Hernandez
CECE
(Cecilia Dunbar Hernandez 10:49pm March 31, 2015)
I love when the heroine faces down a bad guy that wants to hurt her.
(Seanna Yeager 9:44am April 1, 2015)
What an awesome story and sounds like a great read. What
kind of research did you do to come up with this character?
What about the FBI information...you an inside guy or gal?
This book is going on my TBR list.
(Mary Roya 11:50am April 1, 2015)
I love when old romances come to life again!!!!
(Bonnie Capuano 12:29pm April 1, 2015)
Happy Easter friends
(Emily Stemp 1:13pm April 1, 2015)
Don't let the past define you.....
(Ann Chapatte 8:25pm April 1, 2015)
Looks like an exciting read!
(Mary Ann Hislop 8:39pm April 1, 2015)
Go Maggie!
(Sally Lincoln 8:57pm April 1, 2015)
Definitely I am most excited to read about the hard choice:
5. Never let the bad guy win. It may not be the most
'acceptable' idea, but if I ran a country; I'd have a 3
strikes law. After the 3rd offense of the same crime the
offender would lose whatever appendage they used to commit
the crime. Sometimes it feels like the 'bad guys' win far
too often and never get the punishment one feels they
deserve. I'm all for not letting the 'bad guys' win. They
might commit a crime against you; but it's up to you whether
they 'truly' win. Ok I babbled enough. Sorry! :) Have a
wonderful rest of your week! :D
(Sabrina(Mippy) Templin 12:16pm April 2, 2015)
This book sounds an amazing read. I love these types of stories, action,
suspense, romance, keeps you antsy all through reading. Thank you for
writing them.
(Tiana Cameron 1:44am April 2, 2015)
A great post thank you. This sounds exciting.
(Mary Preston 5:44am April 2, 2015)
I love Harq books
(Susan Gannon 7:32am April 2, 2015)
I like the idea that Maggie refused to let the past define her. It took a lot of courage. This sounds like a great read, one that I would enjoy.
(Anna Speed 12:11pm April 2, 2015)
This sounds like a great book. Would love to win.
(Denise Austin 12:16pm April 2, 2015)
I like stories like this..I will download a sample on my kindle
soon. Thanks so much!
(Tracy Simms 3:10pm April 2, 2015)
thank you for the giveaway
(Brenda Hook 4:12pm April 2, 2015)
I want to see what trying out for swat brings to the story.
(Rachel Collings 7:20pm April 2, 2015)
Happy Easter weekend frineds
(Emily Stemp 7:56pm April 2, 2015)
Registered users may leave comments.
Log in or register now!