Tina Ann Forkner | My Summer of Romance Novels

December 5, 2014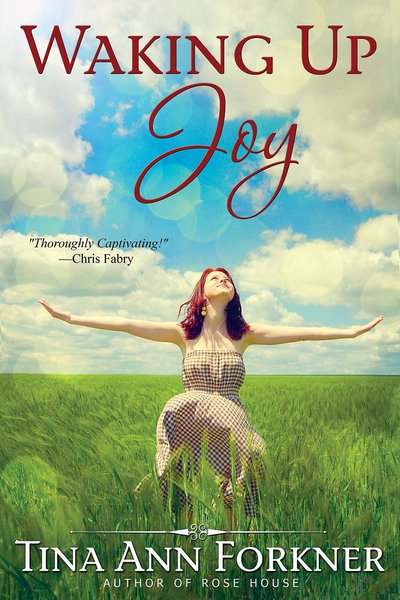 Waking Up Joy
Tina Ann Forkner
AVAILABLE

October 2014
On Sale: October 9, 2014
Featuring: Joy
336 pages
ISBN: 1940296722
EAN: 9781940296722
Kindle: B00NW0NJ4E
Paperback / e-Book
Add to Wish List

Also by Tina Ann Forkner:
The Real Thing, April 2016
Waking Up Joy, October 2014
Rose House, May 2009
Ruby Among Us, June 2008

One summer when I was about sixteen and out of books to read, I happened across a heavy brown paper bag full of books. I knew they were my mom's romance novels and that she sat on the sofa reading them every night while the family watched television. Once, when I asked her if they were any good, she told me they were, but that I was too young to read them. With a sigh I'd gone back to reading the teen paperback novels that I constantly swapped with my friends.
The problem was, I had read all of the books my friends gave me that summer. I'd also read through all of the books my grandma had on her little shelf, and to make matters worse, the school library was closed and our small rural town didn't have a public one at that time. I was out of luck, or so it seemed.
This was how the school break always went for me, but when I ran out of books that 16th summer, I thought of my mom's bag of romance novels. I decided for myself that I was old enough to read them. Of course, I wasn't brave enough to ask her permission. What if she said no? I would be left with nothing to read, and we all know that would have been a teenage tragedy. Instead of taking that risk, I started sneaking those romance novels out of the bag one at a time. I only read the ones I'd already seen mom read and I was always careful to put them back before she noticed they were gone.
About four years later when I found myself living overseas and again in need of good books to read, I found a friend who, just like my mom, had bags and bags of romance novels. The best part was, she loaned them out freely. We did have a tiny library there with a very small selection, but I found it was easier to "check out" books from this friend who literally had bags and bags of them. Plus, she was a writer like me and hoped to write a book herself someday, so we always had lots to talk about as we traded books back and forth. Sadly, I've lost touch with my book-loving friend over the years and I don't know if she ever wrote a book, but I did.
It was these memories of book-addicted women and their bags of romance novels, and me sneaking them away from my mom as a teenager, that inspired me to give Joy, my main character in WAKING UP JOY, a romance novel addiction. When Joy finds out that her niece, Ruthie, also has an affinity for romance novels and has been sneaking them off to read, it only makes her Aunt Joy smile. I got the same reaction from my mom when I finally confessed my book-snatching problem to her just a few months ago. She didn't mind, and in fact she loved that my summer of snatching her romance novels helped inspired parts of WAKING UP JOY.
*** Are you addicted to romance novels, too? Leave a comment below to be entered win a copy of WAKING UP JOY to satisfy your cravings.
Comments
21 comments posted.
Re: Tina Ann Forkner | My Summer of Romance Novels

I was permitted to read my mom's True Romance magazines, which were risqué for the fifties. I was fifteen at the time and felt so grown up reading these short stories, but found a passion in reading adult romance. Romance novels are more steamy in content these days and in description a truer type of reading evolves. I will never give up my enjoyment of reading romance novels. Waking Up Joy sounds really good.
(Rosemary Simm 12:53pm December 5, 2014)
My mom read those Danielle Steele's. To this day, when I
see them it makes me think of her. I love romance novels
of all kinds. I must admit to having a full on book
addiction!
Tina - have you considered trying to find that friend via
social media? I bet you could track her down. Maybe she
is on Goodreads... or even has a book out too. Wouldn't
it be great to trade books with her - your own?!?
(Vanessa Primer 1:22am December 5, 2014)
Absolutely addicted. I read at night to go to sleep, but
get so wrapped up in the stories that I ending staying
awake to finish the book.
(Jenny Ford 2:03am December 5, 2014)
I'm not addicted to just Romance novels. I'm addicted to
reading, period!! Depending on the mood that I'm in at the
time, pretty much determines what type of book I'll choose
to read next, since my reading habits run the gamut from
mysteries, to humor, to Romance!!! I'm sure that your
books are very good, since you started to read Romances at a
young age, and all Women have that "Romance gene" instilled
in them anyway. It will make for good reading this upcoming
Winter, when I am holed-up in my apartment, once the snow
flies!! I love the cover to your book as well.
Congratulations on your latest book!!
(Peggy Roberson 9:17am December 5, 2014)
Thanks, everyone. And Peggy, I think I read more books in Winter than
Summer!
(Tina Forkner 11:10pm December 5, 2014)
I love the comment about how amazing it would be to trade
books with your former private librarian! My aunt is the
room full of romance & mystery paperback lover in the family
but unlike your mom she was always pushing them onto all of
us -- the tamer stuff but looking back we were probably all
to young to be reading them!
(Tava H 4:12am December 6, 2014)
I used to read all of my much older sisters romance novels.
I loved them then & now.
(Mary Preston 5:00am December 6, 2014)
I loved that comment too, Tava. I looked on social media a
few times Vanessa. I don't think she's on social media yet,
but I'll keep looking. :)
(Tina Forkner 9:12am December 6, 2014)
I love romance books...have read them since i was about 12
and am now 67.
(Mary Hay 9:21am December 6, 2014)
My mom only read her Sunday school lesson and the newspaper. No books to sneak from her and my friends read like one book a year. No romance. I always loved books and read mostly the classics until I was about 40. I won a romance novel and have been addicted since. I also like books with cats and recipes. I still enjoy the classics but I get a kick and have more fun with romance and cozy mysteries.
(Sandra Dickey 11:31am December 6, 2014)
I must be addicted! I am always reading them! Always
looking for the next one to read.
(Ashley C 12:21pm December 6, 2014)
I love your story/testimony Tina. I remember sneaking one of my mom's Romance Novel when I was 12 years old called, "Gentle Savage" by: Kathleen Drymon. As a matter of fact I still have that book. Then I started reading my Auntie's stockpile of V.C. Andrews books. However, like one of the commenters stated I'm not just addicted to reading Romance Novels I'm addicted to reading period. Best to all who have entered
(Holly Loch 1:21pm December 6, 2014)
I am an avid reader from when I was very young. Reading is my
entertainment, my escape and my enjoyment,
(Sharon Berger 8:58pm December 6, 2014)
I do not know if I am addicted, but I am always reading around three books at any one time. I usually prefer regency (historical), but I also like contemporary or mystery.
(Susan Jang 11:23pm December 6, 2014)
I am addicted but my mother had this magazine which told of
real life romance stories. In retrospect, I am sure they are
not real life.
(Debra Guyette 11:11am December 7, 2014)
Yes I am addicted to romance novels but honestly I am addicted
to books in general!
(Denise Austin 12:07pm December 7, 2014)
I am addicted to reading novels, romance and anything that includes romance. I'm a little groggy today because I didn't stop reading until 4 a.m. At that time, I had to force myself to put the book aside and I plan on finishing it today.
(Anna Speed 1:06pm December 7, 2014)
I am so addicted to romance novels that I have so many romance books to read and not enough time to do it.
(Kai Wong 5:06pm December 7, 2014)
I used to borrow my mom's romance novels, then she started
buying me the teen versions or she let me read the ones she
had from the 60s--mostly about nurses
(Denise Holcomb 7:57pm December 7, 2014)
I started reading romance in seventh grade. HARLEQUINS. Then
Danielle Steele. I still love romance novels. Think I always
will.
(Suzy F. 8:21am December 8, 2014)
My mother read Zane Grey, Louis L'Amore and any Western she
could. I like the Gothics and Historical. I read most any book
except the eroticia because I just don't like them.
(Leona Olson 7:36pm December 8, 2014)
Registered users may leave comments.
Log in or register now!