Christi Caldwell | Always a Rogue, Forever Her Love

September 17, 2014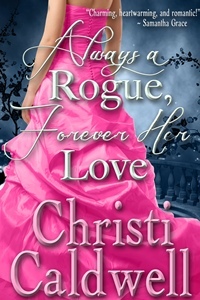 Always a Rogue, Forever Her Love
Christi Caldwell
AVAILABLE
Scandalous Season #4

September 2014
On Sale: September 15, 2014
Featuring: Jonathan Tidemore, 5th Earl of Sinclair; Juliet Marshville
ISBN: 0150458177
EAN: 2940150458178
Kindle: B00MTACTLM
e-Book
Add to Wish List

Also by Christi Caldwell:
Mistletoe Christmas, October 2021
Along Came a Lady, September 2021
The Importance of Being Wanton, July 2021
Someone Wanton His Way Comes, April 2021

Love historical romance? Check out this excerpt from Christi Caldwell's latest installment in her Scandalous Season series, ALWAYS A ROGUE, FOREVER HER LOVE!
Over the years he'd become a rather apt read of character. It had saved him from title-grasping misses attempting to trap him into marriage for no other reason than their desire for the title of countess. The lovely, if defiant Miss Marshville had affected a rather masterful showing of antipathy where he was concerned.

Jonathan leaned ever-closer so a mere breadth of a hand separated them and lowered his head toward hers. "Perhaps I should be more direct, Miss Marshville. I'd not have kissed you, unless you wanted it."

Her mouth opened and closed like a poor trout just snagged from his well-stocked lakes. The spirited Miss Marshville might condescend to him with her very eyes and the subtle nuances of her speech, but her heightened color told an entirely different story. One that told her body's awareness of him.

Ahh, you are not as indifferent toward me as you'd have me believe, sweet. He lowered his voice to a near whisper. "And you may be assured, Miss Marshville, you would want it." He trailed his eyes over her face. "I would kiss the proper from you. I would kiss the frown from your lips. Kiss you until your knees knocked together with weakness and your hands," he snared one of those hands in his and raised the trembling fingers to his lips. Her mouth quivered, as he kissed the tips of her middle three fingers. "And your hands would not be capable of anything but twining about my neck, with your desire for more." His gaze fell to the creamy white skin of her neck, to where the pulse throbbed wildly there.

"Y-you are wrong," she whispered.

Her hand still delicately clasped in his, Jonathan moved the tip of her fingers to that hard, pounding just below her jawbone. "Perhaps I am. But I don't think so." He released her suddenly and she sat there at the edge of her seat blinking wildly up at him.
Ready to read? Comment below to be entered to win your own copy of ALWAYS A ROGUE, FOREVER HER LOVE!
Miss Juliet Marshville is spitting mad. With one guardian missing, and the other singularly uninterested in her fate, she is at the mercy of her wastrel brother who loses her beloved childhood home to a man known as Sin. Determined to reclaim control of Rosecliff Cottage and her own fate, Juliet arranges a meeting with the notorious rogue and demands the return of her property.
Jonathan Tidemore, 5th Earl of Sinclair, known to the ton as Sin, is exceptionally lucky in life and at the gaming tables. He has just one problem. Well…four, really. His incorrigible sisters have driven off yet another governess. This time, however, his mother demands he find an appropriate replacement.
When Miss Juliet Marshville boldly demands the return of her precious cottage, he takes advantage of his sudden good fortune and puts an offer to her; turn his sisters into proper English ladies, and he'll return Rosecliff Cottage to Juliet's possession.
Jonathan comes to appreciate Juliet's spirit, courage, and clever wit, and decides to claim the fiery beauty as his mistress. Juliet, however, will be mistress for no man. Nor could she ever love a man who callously stole her home in a game of cards. As Jonathan begins to see Juliet as more than a spirited beauty to warm his bed, he realizes she could be a lady he could love the rest of his life, if only he can convince the proud Juliet that he's worthy of her hand and heart.
Christi Caldwell is the bestselling author of historical romance novels set in the Regency era. Christi blames Judith McNaught's Whitney, My Love for luring her into the world of historical romance. While sitting in her graduate school apartment at the University of Connecticut, Christi decided to set aside her notes and try her hand at writing romance. She believes the most perfect heroes and heroines have imperfections and rather enjoys tormenting them before crafting a well-deserved happily ever after!
When Christi isn't writing the stories of flawed heroes and heroines, she can be found in her Southern Connecticut home chasing around her feisty five-year-old son, and caring for twin princesses-in-training!
Visit her website to learn more about what Christi is working on, or join her on Facebook at Christi Caldwell Author, and Twitter @ChristiCaldwell
Comments
22 comments posted.
Re: Christi Caldwell | Always a Rogue, Forever Her Love

I love historical romances and this sounds like one hat I would love to read. Thanks for the chance!!
(Bonnie Capuano 10:34am September 17, 2014)
The excerpt you provided left me wanting more!!! The cover
of your book is exceptional - I loved the dress the woman is
wearing on the cover!! The ruffles are so beautiful!! I've
always been taken in for ruffles, but never had a dress like
that. This is one book I know that I can curl up with, and
truly enjoy. The synopsis is very good, and I love how it's
going to play out!! Congratulations on what I'm sure will
be a good seller!!
(Peggy Roberson 11:31am September 17, 2014)
This sounds really good I love the cover. Great blog today thanks for being here
Penney
(Penney Wilfort 12:10pm September 17, 2014)
From reading the blog this book sounds like something I would
enjoy! I'm going to put it on my TBR list!
(Sharon Shearouse 12:17pm September 17, 2014)
Thanks so much, Bonnie and Sharon that is incredibly sweet! And Penney...one of
the troublesome charges in "Always a Rogue, Forever Her Love" is in fact, a
Penny! : )
(Christi Caldwell 12:28pm September 17, 2014)
Oh this sounds like my kinda read... love historicals!
(Colleen Conklin 2:12pm September 17, 2014)
Intriguing
(Susan Jang 5:56pm September 17, 2014)
Would love to win!
(Karen Mikusak 6:26pm September 17, 2014)
Claim Juliet as his mistress? Ohh ho! Is he in trouble ! I can't wait.
(Debbie Kelly 7:20pm September 17, 2014)
I enjoyed the excerpt and look forward to reading this.
(Janie McGaugh 9:13pm September 17, 2014)
I love historical romances, especially those set in Regency England. Your story sounds delightful!
(Cheryl Castings 12:02pm September 18, 2014)
Ooh, Historical, Romance, Set in the Regency Era. Ahh. Love a chance to win and best to all who have entered :)
(Holly Loch 12:55pm September 18, 2014)
this sound like a great book!
(Ann Unger 2:59pm September 18, 2014)
My kind of book. I just love Historical and that excerpt is
something else. And that cover... lovely! Thank you for the
chance!
(Joanna Moreno 5:35pm September 18, 2014)
Thanks! I would love to win it.
(Anna Speed 8:20pm September 18, 2014)
Great little excerpt! Your books are all on my wish list
Christi!
(Glenda Martillotti 11:37pm September 18, 2014)
I loved te excerpt and am looking forward to reading the boo!
(Marcy Shuler 12:28pm September 19, 2014)
Sheesh. That would be THE and BOOK. :D
(Marcy Shuler 12:29pm September 19, 2014)
Wow. Love the excerpt and can't wait to red more
(Pam Howell 6:32am September 19, 2014)
Would love to win!
(Denise Austin 3:47pm September 19, 2014)
would love to read this book. it sounds like a winner
(Angela Parrish 5:44pm September 19, 2014)
I do love Historical romance and I love to be introduced to
authors I haven't read before!
(Diane Sallans 7:35pm September 19, 2014)
Registered users may leave comments.
Log in or register now!