Alexandra Ivy and Laura Wright | Working As A Team

April 13, 2013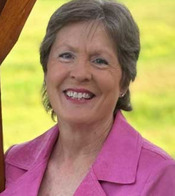 It all started with a phone call.
How many times have you been talking with a friend and thrown out those words:
You know, we should...
99 % of the time they come to nothing.  They're forgotten by the end of the conversation.  And truly it's often for the best :-)  I've had a lot of ideas that were best left rattling around in my brain.  I should get a tattoo of a unicorn.  I should go on a hiking vacation instead of a cruise.  I should have my colon cleansed...well, you get where I'm going.
But every once in a while, a scrap of conversation becomes a full-blown idea.  That's what happened when Laura and I were chatting one morning.  We are both overwhelmed by our individual series that we write, but we'd recently discovered that we both loved the new short erotic bites that were being electronically published.  They're hot, they're short enough to devour in one sitting, and they have remarkably compelling storylines.  Oh, did I say they were hot :-)
We said the fateful words "You know, we should..." and suddenly we were plotting and scheming and Bayou Heat was born.
Being a writer usually means working in solitude, well, unless you count all those pesky voices in your head J so collaborating with someone is a whole new ballgame.  There are a few things you should consider before trying a partnership.
First, a writer is in complete control of the world and characters that you're creating, so it's important for a writer to know whether they can accept sharing their very private creation.  I'm actually a control freak, so I wasn't sure if Laura would be able to stand my need to protect my characters.  So far she hasn't tried to kill me, but then again, we live a thousand miles apart :-).
There's also need to weave together of two very separate voices.   A writer's voice is the one distinct thing they find impossible to alter, so a partnership must mesh on a very fundamental level.  I tend to write lighter, with some humor and a lot of action.  Laura prefers dark with an intensity on the relationship.  Whether it works together or not is subjective for every reader, but so far we've had wonderful feedback.
It wouldn't work for everyone.
But for those who can, it's a remarkable experience.  Being able to share ideas, cheer one another on, and to keep each other on task is so inspiring.  And in the end, there's nothing more important to any writer.
One commenter will win their choice of a Bayou Heat e-book. Winner's choice of Raphael/Parish or Bayon/Jean-Baptiste.
Comments
29 comments posted.
Re: Alexandra Ivy and Laura Wright | Working As A Team

The mind boggles at the thought of 2authors collaborating. Meshing
different writing techniques and voices, sharing your story. That is some
feat! Congratulations!!!
(Chris Coulson 8:32am April 13, 2013)
I love both of these authors and can't wait to read bayou #2
(Michelle Ruelland 9:46am April 13, 2013)
Loved the first one and can´t wait for my chance to take a
bite of Bayon & Jean-Baptiste.
Happy Saturday!
(Linda Larsson 9:47am April 13, 2013)
can't wait
(Ashley C 9:51am April 13, 2013)
I am SO glad these two friends decided to team up to write these FANTASTIC books! Book 1 was amazing, and I can't wait to get my hands on Book 2!
(Brenda Tetreault 10:00am April 13, 2013)
I got the fist book in this series last night for my Kindle
and loved it. My kids would love for me to have lots of
energy today and the other half is glad he works away, as I
didn't go to sleep till after 4 because I couldn't put the
book down, just needed to finish it. Now I have I can't wait
for the next two books. Thank you for the great and very
exciting books.
(Michelle Wilcox 10:09am April 13, 2013)
I have loved several series that were collaborations. The
Belador series by Sherrilyn Kenyon and Dianna Love is one of
my favorites! I like the stories of both Laura and Alexandra,
so I'd love to try their collaboration.
(Karin Anderson 10:25am April 13, 2013)
I would like to know what made them decide to co write.
Not that I'm complaining and i hope there is more to these
books? :)
(Jackie Woodland 11:17am April 13, 2013)
It would be really hard to co write. Mostly because writing seems so personal and so unique that I would find it hard to mold the two voices together.
(Pam Howell 11:42am April 13, 2013)
I enjoy series books and I've always thought it was amazing that different authors could work on the same series and tie it together so well. I can't wait to read Bayou Heat.
(Linda Henderson 11:50am April 13, 2013)
Loved the first one, and can't wait to get started on #2, thank you for such a good read....
(Rose Ann Glazebrook 12:14pm April 13, 2013)
I absolutely loved the first one and cant wait to dig into the second! The
two of you are amazing individually and together you are just as
fabulous!
(Tamara Peterson 12:24pm April 13, 2013)
Bought this yesterday! Can not wait to get into it tonight!
Great new series!!! Thanks so much for the wonderful reads.
You all have been killing me on facebook with the pics of Jean
and Bayon. Jean..be still my heart!
(Jennifer Sines 12:50pm April 13, 2013)
Absolutely LOVE the series! Can't wait for more. Thank you for all the
stories you give to your fans.
(Debbie Lippy 1:02pm April 13, 2013)
Oooh sounds wonderful and love those book covers! Thanks for introducing this series to me!
(Colleen Conklin 3:35pm April 13, 2013)
Absolutely LOVED Raphael and Parish. It is amazing that 2
phenomenal authors have created such a killer series!!! This
is one of 4 series I actually have release dates on my
calendar, my assistant thinks I am nuts!! LOL! Yep! I am
addicted! THANKS LADIES!!!
(Julia Mills 5:44pm April 13, 2013)
Reading Bayon and Jean Baptiste's stories and its awesome 2 great
authors work so well teamed up to create such a great series
(Sue Hargreaves 6:00pm April 13, 2013)
Looks really really great
(Kent Cook 6:54pm April 13, 2013)
i have never read any thing by ya but i love what you wrote .and the covers are great..thanks for the chance
(Jennifer Beck 7:07pm April 13, 2013)
I love both of these authors! The covers are amazing and I can't wait to read
Bayou Heat #2!
(Becca Luman 7:18pm April 13, 2013)
I would love to read these books, as both of you have written books that I enjoyed, these would have to be great. If the covers are any indication ... wow!
(Annetta Sweetko 7:47pm April 13, 2013)
No idea how you write so well together. :) Such great series!
(May Pau 9:17pm April 13, 2013)
Enjoyed reading your account of writing these works, and the covers are gorgeous. Well done on the teamwork!
(Clare O'Beara 3:23pm April 14, 2013)
It's great that for this projects both of you can combine the different style of writing. I do love it when authors are able to synergize their abilities to work on the series together. Thanks for the stories.
(Kai Wong 7:56pm April 14, 2013)
I think it's brilliant when writers collaborate. You must so
in tune with each other.
(Mary Preston 9:18pm April 14, 2013)
I HAVE NOT READ THESE BOOKS BUT HAVE READ SOME OF YOUR OTHER BOOKS.I WOULD LIKE TO TRY THEM!
(Shelley Summers 1:44am April 15, 2013)
This sounds so intriguing...I can't wait to start reading it!
I've gotten another series that's a 2 writer collaboration but
I haven't read it yet. Short stories seem like a good place to
start such an adventure 8-).
(Lenna Hendershott 8:16pm April 15, 2013)
I have written with another person. We sat side by side and would say
things like If she said, what if he.... I can't fathom how people do it from a
distance or trading chapters. As long as it works for the writers involved!!!
(Penny Mettert 8:22pm April 15, 2013)
What exciting books! Would really love to win a copy.
(Bonnie H 11:20am April 18, 2013)
Registered users may leave comments.
Log in or register now!