Stephanie Rowe | Writing in Different Genres

January 26, 2012
Hold Me If You Can
Stephanie Rowe
AVAILABLE
He is her dark and very glorious prize
Soulfire #3

January 2012
On Sale: January 1, 2012
Featuring: Nigel Aquarian; Natalie Fleming
416 pages
ISBN: 1402241976
EAN: 9781402241970
Kindle: B00608Q15O
Paperback / e-Book
Add to Wish List

Also by Stephanie Rowe:
Darkness Awakened: Reimagined, November 2020
Hunt the Darkness, February 2017
A Real Cowboy Rides a Motorcycle, September 2015
A Real Cowboy Knows How to Kiss, August 2015

What do the following all have in common?
SATIRICAL FUN: The Soulfire Series (HOLD ME IF YOU CAN, Jan 2012): A satirical, outrageously fun paranormal romance series in which a group of delectable warriors have been tortured for 150 years by Death's grandma in the Den of Womanly pursuits. During their hellacious incarceration, they were tortured into becoming the "perfect" mates: deadly enough to take down a posse of demons while finishing their latest cross-stitching sampler and writing poetry (much to their dismay).
EMOTIONAL SUSPENSE: The Alaska Heat series (ICE, Jan 2012): An emotional, high-octane romantic suspense series in which a rugged Alaskan bush pilot with a yen for high octane and a past that still haunts him teams up with a reluctant accountant from Seattle in a dangerous flight through the Alaska wilds to escape a madman.
DARK PASSION: The ORDER OF THE BLADE (March 2012): A dark and sexy paranormal romance series in which an elite group of ancient warriors with a mission to save the world from members of their own race when they go rogue. Each Calydon is destined to meet his mate and bond with her, but the moment the bond is complete, both will die and destroy everyone one they care about, unless the Order of the Blade kills them first. No warrior can afford to bond, and yet it is their destiny to do so. It's dark. It's passionate. It's dangerous.
REAL-LIFE COPING: THE FEEL GOOD LIFE (Dec 2011): A collection of funny, heartfelt and insightful essays about getting through the tough times in life.
FIRST LOVE: The Girlfriend's Guide to Boys series (PUTTING BOYS ON THE LEDGE, Nov 2011): A teen romance "girl power" series where first kisses, best friends and high school are the place where you find out who you really are.
HE MAGIC OF WISHES: PENELOPE MOONSWOGGLE, THE GIRL WHO COULD NOT RIDE A DRAGON (Nov 2011):  A whimsical pre-teen fantasy adventure about following your dreams.
At first glance, the six different stories listed above may seem to be a random collection of different types of fiction. Oh, sure, there's a common thread of romance running through most of them, but how that romance is delivered is different in each story. Toss in the non-fiction, the pre-teen adventure and what do you have?
You have six different ways to touch the human soul.
All of those series are mine, and people often ask about why and how I write in different genres. In my mind, those series aren't all that different. Why? Because when I write, my goal is to reach inside my soul and that of my characters, and to share a story of courage, of triumph, of facing the darkest and the worst that life has to offer, and to somehow, someway, pull through it and come on top, wiser, happier and a more complete (albeit possibly scarred!) person. The forum may differ, the tone may vary, the age of the target audience may shift, but in the end, every single one of my books delivers the same thing: a story of struggle that ends in hope and triumph. This is a message that I think everyone needs to hear, a victory that everyone needs to believe for themselves, for their loved ones, for their friends.
For example, in my
Soulfire series
, my goal is to take the expected and the traditional of both paranormal romance and society in general, and then twist it on its head. It's a satirical look at the assumptions we all have, and it will keep the reader on her toes trying to keep up. At first glance, it's an outrageous and fun series about very sexy badass warriors with a penchant for their softer side, be it cross-stitching, knitting or painting. On a deeper level, however, it's the poignant story about people were lost, who have been thrust into their worst nightmare for a hundred and fifty years, who are now struggling to overcome that past and find their equilibrium. These guys do it with courage, with loyalty, and with the help of the one woman who can get past their emotional shields and teach them to love.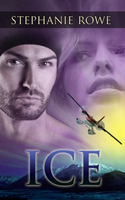 Likewise, my Alaska Heat series is a dark, dangerous adventure in the wilds of Alaska with a very scary bad guy, guns, and dead bodies, but it's rich with the emotional journey of two ordinary people with tragic pasts that still haunt them. Two courageous souls struggling to find out who they are, and to come out of the darkness into a place of peace. It's their shared journey, their finding of a soulmate, that helps push them to face their worst nightmares and finally find the relief and love that they've struggling to find for so long.
They could be you. They could be me. They could be any of us who wake up in the morning wishing for more. The characters in my stories find their happy endings because they don't give up, because they have courage, because they let love into their lives, and it's my hope that sharing their journeys will be hope and joy and peace into my reader's lives as well. Never give up on a happier life. Never give up that things can get better. It can. Truly. I know it, I've lived it, and I want to give that hope to others who are struggling the way I did for so long.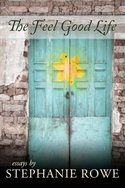 You can read directly about my journey in my non-fiction book, THE FEEL GOOD LIFE, but in truth, all my books take that same path of tapping into the depths of the human soul, of touching up on that anguish, that loneliness, those though times, and using love, romance and dreams to bring that uplifting happy ending that helps us look at the world with a smile that's just a little brighter.
BIO: Four-time RITA® Award nominee and Golden Heart® Award winner Stephanie Rowe is the nationally bestselling author of more than twenty-five books. Stephanie writes romance (paranormal, contemporary and suspense), teen fiction, middle grade fiction and inspirational non-fiction. Stephanie's next projects include a re-release of her sexy Alaska Heat romantic suspense ICE (Jan '12) and CHILL (Feb '12) and the March '12 launch of her new dark paranormal series The Order of the Blade. The next Soulfire book, SEIZE WITH YOUR KISS, will be out in Summer 2012. Visit www.stephanierowe.com for more info.
Comment to win a copy of HOLD ME IF YOU CAN from Sourcebooks, US / Canada only
Comments
16 comments posted.
Re: Stephanie Rowe | Writing in Different Genres

I have not had the pleasure of reading your books yet... looks like I need to change that!
(Colleen Conklin 12:51pm January 26, 2012)
There has to be a reason why you were chosen to write your posting today. You couldn't have had a better time to come here and talk about your books. Although I've heard your name before, I can't say that I'm familiar with your books, and I'm sorry, until today. There are reasons, known only to me, that I've chosen to look up your books. I think that they have been selected for me to be read at this particular time of my life. There is a lot of junk swirling around me, and I think that reading your books will give me some added peace. Thank you for sharing your thoughts today, and I'm going to be sure to look your books up!!
(Peggy Roberson 12:52pm January 26, 2012)
I think romance and love is a great theme. The
overcoming of obstacles, the Soulfire series
looks amazing. I can't wait to read.
(Carla Carlson 12:53pm January 26, 2012)
I read Kiss At Your Own Risk and loved it. Can't wait to read
the next two books in the series.

e.balinski(at)att(dot)net
(Joanne Balinski 12:53pm January 26, 2012)
I'm sorry to hear that the hero's were tortured into becoming the "perfect" mates. But I quess anyway you can get them will do.
(Kathleen Bianchi 2:05pm January 26, 2012)
Hi Stephanie,
I have not read any of your books but all of them sound great especially the Soul Fire Series. I love the covers :) Can't wait to add them to my TBR pile.
Lori
(lorih824@yahoo.com)
(Lori Harvey 2:33pm January 26, 2012)
You have a wicked fun/funny imagination and i absolutely love your paranormal romances! Wish you wrote faster! :)
(Kathy Erb 3:42pm January 26, 2012)
It's always the characters that make the book a good one for me. I have to be interested in them.
(Maureen Emmons 3:46pm January 26, 2012)
Your Soulfire Series with the humor added in, having tortured warriors doing cross-stitching, crocheting, poetry, etc., leads me to believe you're a bit of a comedian, besides being an author (what an imagination)! I have not read this series, but definitely want to with a twist like this in the characters becoming perfect mates. I'm ready for a good laugh!
(Linda Luinstra 4:53pm January 26, 2012)
I can't wait to read Hold Me If You Can!
(Natasha Donohoo 5:31pm January 26, 2012)
Thanks for a great post! I've heard such wonderful things
about your series, hope I get a chance to read it :)
(Erin Fender 5:39pm January 26, 2012)
I have not had the pleasure of reading any of your work but I love the way you described the Soulfire Series and how you try to keep the reader on their toes. I love books that keep you guessing what is going to happen next.
(Kristin Bingham 6:08pm January 26, 2012)
Sounds intriguing! I'm really tempted...
(Jenny Schwartzberg 7:05pm January 26, 2012)
i have not read any of your books but i love this cover and it sounds like a great read!!
(Jennifer Beck 10:33pm January 26, 2012)
I love your Soulfire series, they are funny and have some amazing characters. I
am very happy you have more plans for the rest of the guys =)
I havn't checked out your Alaska Heat series but it sounds like I will love that too!
Can't wait to get my hands on them!
(Lexi Hansen 10:45pm January 26, 2012)
I hope I win because I already have "Kiss at Your Own Risk". I am fascinated by your stories!

Thank you for writing! What a gift!
(Laurie Murray 12:59pm January 27, 2012)
Registered users may leave comments.
Log in or register now!