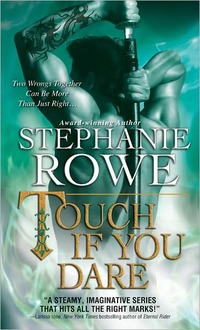 Purchase
Soulfire #2
Sourcebooks Casablanca
July 2011
On Sale: July 1, 2011
Featuring: Reina Fleming; Jarvis Swain
384 pages
ISBN: 1402241968
EAN: 9781402241963
Paperback
Add to Wish List

"Rowe is a paranormal star!" -JR Ward, #1 New York Times bestselling author of Black Dagger Brotherhood Series
He's just about the hottest warrior she's ever seen...
Reina Fleming really appreciates a man who's on a mission-especially when he's a badass warrior doing his best to impress her. And Jarvis is charmed by the way Reina's magic touch can soothe his dark side.
But when Jarvis's attention puts her job, her home, and her family in danger, Reina has to decide whether love is worth the price...
Enter the nonstop, action-packed world of Stephanie Rowe's love stories-you'll never think of the manly arts in the same way again.
"Rowe carves out her very own niche-call it paranormal romance adventure comedy." -Publishers Weekly
Soulfire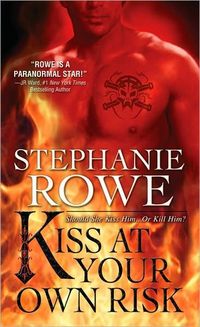 Kiss At Your Own Risk
#1.0
Amazon.com | BN.com | | |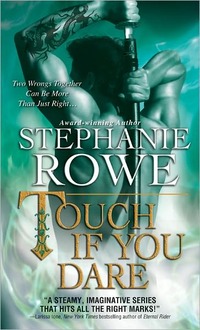 Touch If You Dare
#2.0
Amazon.com | BN.com | | |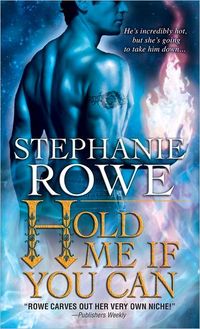 Hold Me If You Can
#3.0
Amazon.com | BN.com | | |
Comments
77 comments posted.
I really have my tongue hangning out. My husband always asked to brush my hair and I always told him no. After your description above, I am soooo sorry I cut it so short. I am letting it grow out just so I can ask him to play with it.
:)
Great post. I am definately putting this on my to read list.
(Patti Paonessa 3:10pm July 20, 2011)
A wonderful post. 5) He can't knit. - my favorite. I CAN knit, so we complement each other.
(Mary Preston 1:28am July 21, 2011)
You had me at the cover and I have officially added a sexy tattoo to my wish-list of what I want in a man. Yumm-o!

Good luck and happy writing!
(Tracie Travis 1:42am July 21, 2011)
so love the cover
(Tami Bates 1:42am July 21, 2011)
Oh, the cover alone makes it a read. Can hardly wait!
(Constance Biller 1:51am July 21, 2011)
Sounds interesting, very entertaining.
Would like to read these books.
One does not have to worry about having
a bad hair day when Jarvis is around.
(Dayle Butler 1:51am July 21, 2011)
#'s 6, 7 and 8 are all I need in a hero!!! The rest is just a
bonus!
(Michele Powell 2:06am July 21, 2011)
Hi Stephanie!
Such wonderful reasons to fall in love with Jarvis, not that I needed any convinving. I'm about to swoon as is. My favourite reason is #2. There is only one woman for him. Got to love a man whose greatest weakness is his love, but ironically if he can embrace that love it can also be his strength.

I have so many heroes I've fallen in love with but I currently adore Barrons from Karen Marie Moning's Fever series and Zsadist from J.R. Ward's Black Dagger Brotherhood series. Zsadist's story really touched me, underneath his fearful facade, he's a sweetheart and truly needed saving.
(Na S 2:14am July 21, 2011)
Jarvis sounds yummy! My favorite reason would definitely be #2. But each of them just make you fall for him more.
(June A, Manning 2:26am July 21, 2011)
Most heros have one or more traits that just keep them off the swoon-worthy list for me. I like a man that is faithful and honest. These two traits are not particularly sexy. Jarvis sounds great and a little bit dangerous.
(Kathleen Yohanna 3:52am July 21, 2011)
Wow! You have definitely convinced me. My maiden name is Jarvis; that made me initially caught my eye. After reading all those hot traits I cannot wait to read this book!
(Jody Hollenbeck 5:43am July 21, 2011)
Jarvis Swain, I will watch for him!!!!!
Blessings,
Maarjorie
(Marjorie Carmony 6:55am July 21, 2011)
Jarvis is obviously a total male content in his own skin. I love that he likes to
knit. I think many men are very good at it yet still feel a bit shy about
"coming out of the closet" to do it. Just saw a sign in a knitting store the
other day that the men's knitting group is held on such-and-such a night.
Three cheers, Guys! Sounds like a really good read. Sigh..I think I'm falling in
love with Jarvis! ;)
Connie Fischer
[email protected]
(Connie Fischer 8:15am July 21, 2011)
Wow. I really like your top 10 list. Much better than Letterman.
(Pam Howell 8:24am July 21, 2011)
Woo Hoo...Sounds great!
(Leanna Morris 8:25am July 21, 2011)
I wish I was his one and only!
(Barbara Hanson 8:29am July 21, 2011)
Recent hero that I have read..Dare Macintosh...strong, smart, loyal and gorgeous!!!!
(Dawn Staniszeski 9:01am July 21, 2011)
I love the heroes (four of them) of Jennifer Cole's "A Delicious Taboo" and "A Delicious Taboo Plus Two." Imagine four wonderful lusty men to see to all your needs. *Sigh*
(Deidre Durance 9:25am July 21, 2011)
This sounds like a great book! Cant wait to read, I love the strong warrior types
(Julie Parrish 9:41am July 21, 2011)
I also think you should add GREAT body!! OMG is he ripped!
(Vickie Hightower 10:13am July 21, 2011)
This sounds like a great book, I'd love to read it.
(Wilma Frana 10:23am July 21, 2011)
Sounds like a good book.
(Sandy Giden 10:28am July 21, 2011)
I wouldn't want a man filled with hate, well bottled up in him, but the rest doesn't sound too bad. Broad shoulders, etc. Yeah, sounds good to me!!
(Vicki Hancock 10:37am July 21, 2011)
Excellent post. I need a new hero to drool over. (will someone hand me a fan?) I can't wait to read this!
Thanks!
(Theresa Dunlap 10:39am July 21, 2011)
Jackson Savor is the most recent hero I've fallen in love with. And it's because he
is fantastic in a fight, but stil so sweet and caring with the woman he loves.

Although, it appears that Jarvis may be soon taking his place.
(Cory Williams 10:57am July 21, 2011)
Hi Patti, LOL on the hair cut. It might be time to grow it out!

Mary, I think you would be the perfect complement to Jarvis. He's yours. 

Tracie, isn't the cover marvelous? I love it! And yes, a fabulous tattoo for sure!

I agree, Constance!

LOL, Dayle! Or maybe we could hope for a bad hair day so Jarvis could fit is…

Michele, 6, 7, & 8 are amazing, I agree. They are the core of who he is.

HI Na, thanks for sharing. I loved Zsadist as well. He was awesome. I haven't read the KMM book, but I will check that out.

June Ann, #2 is a very good reason! I think that kind of loyalty from a man is something that all women yearn for.

You know, Kathleen, I think faithful and honest are very sexy. The window dressing only matters if he is wonderful underneath.

Thanks, Marjorie!

Oh, Connie, I would have love to sneak into that men's knitting group! Total heart-melting!

Thanks, Pam!

Thanks, Leanna!

Me too, Barbara!

Hi Dawn, what book was Dare Macintosh in? I'd love to read it!

Oh…great recommendation, Deidre! I will check them out.

Me too, Julie!

LOL, Vickie. He is ripped, isn't he? Yummy!

Thanks, Wilma & Sandy! Good luck in the contest!

You might be surprised, Vicki. The hate doesn't make him hate. He's like the vessel that contains it so it doesn't contaminate the world. He's the ultimate guardian to be able to guard it but not let it taint him.

Oh, he's so drool-worthy, Theresa!

LOL, Cory. What book is Jackson Savor in? I want to go read about him!
(Stephanie Rowe 11:12am July 21, 2011)
Hell yeah there really is nothing more sexy than a hero
trying to hide is "mushy" side. Thanks for the giveaway!!
Would love to win, read & drool.
(Saskia Kanstinger 11:18am July 21, 2011)
Heroes come in all shapes and sizes. I know most people in life have at least one in their life, and they hold onto them forever.
(Cheryl English 11:22am July 21, 2011)
I don't know if I can top your character, but I just got done reading Smokin Seventeen by Janet Evanovich. Although the book isn't as deep as yours is, I do get a kick out of the character Ranger. He's dark, mysterious, quite the lover, has anything you could ever need, and is the type of character you want to know more about. He pops in and out of the book repeatedly enough to get your heartrate up. His apartment sounds pretty special, although he's a bit of a health nut, but I could learn to live with it. I am waiting with baited breath to read your new book, since I still have some baited breath left from Janet's book. Congratulations on your latest offering!!
(Peggy Roberson 11:27am July 21, 2011)
The cover spells out everything and tells it all. Thanks for the easy on the eyes look and the list of 10 which makes me giggle.
(Alyson Widen 11:28am July 21, 2011)
Your list of 10 sounds great and Please enter me in your great contest on freshfiction.com too. Thanks very much and I love winning contests on Fresh Fiction too. Best of Luck and Success to Writers like YOU too. Thank YOU, CECILIA
(Cecilia Dunbar Hernandez 11:42am July 21, 2011)
MMMM hot cover! And who doesn't love a guy who can do hair? My husband youtubed how to french braid so he could do my hair! Love that man! Oh and the book sounds wonderful!
(Candy Gorcsi 12:31pm July 21, 2011)
As I can knit and love having my hair done where can I get my
hands on him?

Seriously though I love the sound of this book and I want that
cover on my shelf soonest :D
(Ilona Fenton 12:58pm July 21, 2011)
Great top 10 reasons! Loving the cover... You have caught my interest... adding this book to my list!
(Colleen Conklin 12:58pm July 21, 2011)
turn on the AC...I want Jarvis! Love the cover!!
(Deborah Rudd 1:10pm July 21, 2011)
the book cover is great and will stand out of most book it make you want to touch the guy wow it great brurb
(Desiree Reilly 1:22pm July 21, 2011)
All those other brooding heroes think they have problems, controlling hate--
now that's a problem!!!!
(Sandra Spilecki 1:33pm July 21, 2011)
My favorite hero depends upon the book I am reading at the time. Love them all! Jarvis sounds like a man one can love and respect. Loved the knitting and hair stylist along with his great love for only one woman. I want him right now!
(Cathy Phillips 2:11pm July 21, 2011)
Jarvis is definitely swoon worthy,Stephanie. I have lots of favorite heroes, so go with the latest that I adored. It was Malachi in Joey w Hill's, Vampire Instinct. He is a not so ordinary vampire, with honor, a good heart, patience, sexual chemistry and even has a sense of humor.
(Cathy MacDonald 3:34pm July 21, 2011)
He definitely does have a great cover!
(Maureen Emmons 4:08pm July 21, 2011)
Sounds like a great book. I love the cover.
(Sherry Strode 4:20pm July 21, 2011)
My hero brave,strong ,and a man's man, but loves the ladies. Heart of the Highland Wolf ,by Terry Spear,has a hero named Ian MacNeill, that's interesting
(Deb Pelletier 4:22pm July 21, 2011)
I have read all kinds of books with hero's that was my
favorite. Your book sounds good
(Lynn Lanzon 4:43pm July 21, 2011)
Uber Macho! Gotta love a man in leather....toss in a sword and pant pant...
(Marcelle Cole 4:55pm July 21, 2011)
Your top ten make me want to read your books. They look wonderful.
(Maude Allen 4:59pm July 21, 2011)
SOUNDS GREAT...I AM IN IT TO WIN IT!
(Silvana Moscato 5:25pm July 21, 2011)
I agree, Saskia! A soft side in a man is sooo appealing!

Ooh… Peggy. Thanks for sharing. I've never read Janet's books, but I have heard about Ranger. You just made him tempting enough that I might have to go track myself down a copy!

LOL, Alyson! That cover is amazing, isn't it? Totally deliciousness.

Thanks for stopping by Cecilia, and good luck in the contest!

Oh, Candy, he sounds like a keeper! The question is: did he master the French braiding?

LOL, I want to get my hands on him too! Good luck in the contest!

Thanks, Colleen!!!

I don't think the A/C is going to help Deborah… 
(Stephanie Rowe 5:47pm July 21, 2011)
Thanks, Desiree

I agree, Sanda! But trust me, Jarvis is totally a match for it!

He's so worth it, Cathy P.!

Malachi sounds wonderful, Cathy M. I will go check him out. I do love a sexy vampire.

I agree, Maureen! Sourcebooks did a fantastic job with him.

Thank you, Sherry!

Oh…Ian MacNeill sounds great. I love Highland warriors. Thanks for the rec, Deb.
(Stephanie Rowe 5:48pm July 21, 2011)
Thanks, Lynn!

You're hilarious, Marcelle! Yes, I agree, a sword and leather are HOT.

That's great, Maude. Thanks!

Good luck in the contest, Moscato!
(Stephanie Rowe 5:48pm July 21, 2011)
I'm in the "my favorite is whichever hero I'm currently reading about" crowd, but my favorite out of those would have to be the ones who are bad A to the rest of the world but sweet and protective to their chosen ladies.
(Nicole Telhiard 5:59pm July 21, 2011)
He can do my hair. That did it! Bring it on Big Boy! I have what beauticians consider long hair and I have never learned what to do with it. So, it is either up in a clip or board straight.

Here lately I haven't read a hero that I've adored. Hmmm. Looks like Jarvis Swain has arrived just in time!
(Cynthia Netherton 6:06pm July 21, 2011)
Ben Lawson in Victoria Dahl's book TALK ME DOWN is swoon worthy! Hot, brooding Cop!
(Johanna Jochum 6:37pm July 21, 2011)
I enjoyed all the reasons you gave but the hair one is neat.I have short hair and that is for my husband, he actually prefers short hair so all he does is ruffle my hair.
(Diane Sadler 7:16pm July 21, 2011)
Your top 10 reasons sound awesome!!! ;-) I'm intrigued to read this book!!
Please enter me in this great giveaway!!!
(Tonya Fortier 7:46pm July 21, 2011)
I find most of those reasons compelling, but guys who knit are definitely sexy!!!
(Janet Martin 8:33pm July 21, 2011)
I agree with all these! Jarvis is puddle worthy.
(Sharon Stogner 9:10pm July 21, 2011)
Very HOT cover. Those 10 reasons work for me!
(Karen Cherubino 9:27pm July 21, 2011)
I'm with you, Nicole. When I'm writing a book, it's always that hero who melts my heart the most.

Cynthia, it sounds to me like you need Jarvis Swain pronto. Your hair is beckoning to him…

Thanks for the recommendation, Johanna. I will go chase that book down!

That is so sweet, Diana, how your husband ruffles your hair. Isn't it the most amazing feeling to have a man's hands in your hair? Big sigh…
(Stephanie Rowe 9:51pm July 21, 2011)
Thanks, Tonya! Good luck in the contest.

I agree, Janet! There's something about a big strong guy with needles and yarn that just it just a little bit heart-melty…

LOL, Sharon! Good to see you! Big smooches!

I'm so glad, Karen. Thanks for joining us!
(Stephanie Rowe 9:51pm July 21, 2011)
Vinter from Simple Need by Lissa Matthews made me melt. He just seemed to care so much about Elise. He fell hard and he fell fast and he was loyal to her and to his friends. just made me think warm fuzzy thoughts.
(Lisa Kendall 10:23pm July 21, 2011)
What great cover art! He's sexy as all get out and we don't really even see a face!
(MaryAnne Banks 11:03pm July 21, 2011)
Sounds like good reasons to me!
(Diane Sallans 11:09pm July 21, 2011)
My hero varies.. sometimes the bad boy, sometimes the dangerous, to
the one needing reform, to the one reformed. I change heros like
underwear, everyday :) But, seriously, its the story that catches me, the
character that keeps me reading. Your book sounds great.
(Carla Carlson 11:15pm July 21, 2011)
like the top ten lists and it sounds like a great book!!!!!!!!!!!!!!!!!!!!!!!!!!!!!!!!!
(Jennifer Beck 11:23pm July 21, 2011)
Just reread Gabaldon's "Outlander." Still a hot property at his 20 years publication anniversary...that young Jamie of the 1740s--courteous, loyal, strong, clever, well educated and traveled for his time, tall, handsome, and a strong, courteous lover and protector.....who loves one woman for all time, a woman of the mid-1900s.

Women worldwide of all ages fall in love with him and hope to encounter someone like him.
(Carla Schuller 11:41pm July 21, 2011)
Wow!!!
(Robin Daily 1:02am July 22, 2011)
no worries, I'll knit for him. his sword is mucb bigger
andfancier that mine. no fair.
p,ease enter me in your contest. thanks.
(Heather Pearson 9:22am July 22, 2011)
Oh, Lisa, Vinter sounds great! Thanks for the rec!

MaryAnne, sometimes I think not seeing the hero's face makes him more sexy and mysterious.

Thanks, Diane S!

Carla C., that's a great point. It's all in the story and who that particular hero is. There are a lot ways for a hero to melt your heart.
(Stephanie Rowe 9:46am July 22, 2011)
Thanks, Jennifer B!

Carla S, that is a great recommendation. I have to admit that I'm one of the only people left on the planet that hasn't read Outlander, but you have just put it on the top of my list!

LOL, Robin!

You're so funny, Heather P! Don't you want his sword to be big and fancy???
(Stephanie Rowe 9:47am July 22, 2011)
now that sounds like a good book. I'm looking forward to reading it....too bad we can't find someone like that in real life!
(Rowena Huser 9:54am July 22, 2011)
Loved Touch if You Dare. Can't wait for the next book!!!
(Chris Roberts 10:26am July 22, 2011)
I love your sense of humor. I love a hero that makes me laugh and cry. The latest one I've fallen in love with is Giles in Katheryne Kennedy's The Lady of the Storm. Your Jarvis sounds like someone just as enticing!
(Jeanne Sheats 12:40pm July 22, 2011)
So, true, Rowena!!! If only!

Thanks Chris R. You just made my day!

Ooohh... Jeanne... I will have to go investigate Giles. I need me an enticing hero!
(Stephanie Rowe 2:45pm July 22, 2011)
Good gravy this sounds awesome....
(Ivy Truitt 9:09pm July 22, 2011)
sorry, forgot the hero part..so carried away w/ what I'd read.
It all depends on the book I'm reading I guess. It's been a lot of UF so there's more focus on the kick butt heroine...I guess the last one that really stood out was JZB from Moning's Fever series..kinda anti-hero really....
(Ivy Truitt 9:13pm July 22, 2011)
A truly UNIQUE hero--at least, I've never heard of any even close to this one. I'll be looking for this one.
(Sigrun Schulz 12:54pm July 24, 2011)
A hero who can style women's hair. I need someone like that. Jarvis sounds like my kind of hero. I can't wait to read the book!

The one hero that makes me swoon is the Scarlet Pimpernel. There is none like him. He's dashing. Debonair. An action adventurer. A fop. A spy. A rescuer. And oh, so romantic!
(Vonnie Alto 1:46am July 24, 2011)
Registered users may leave comments.
Log in or register now!