1--What is the title of your latest release?
PHOEBE: Book 1 of The Bellamy Sisters
2--What's the "elevator pitch" for your new book?
Arrgh! I'm awful at elevator pitches. How about this: Phoebe will do anything to keep a roof over her family's head… even marry the devil himself.
3--How did you decide where your book was going to take place?
I write Regency Era romance, so I usually set the story in England somewhere. Although on occasion I'll venture out to "The Continent" to spin my yarn.
4--Would you hang out with your heroine in real life?
Absolutely! Phoebe is actually one of my favorite heroines because she is a "get the job done" type of gal. She is accustomed to picking up the slack for her very large family and I really appreciate her low-drama, no-nonsense approach to life. Of course, like all of us she has her not-so-sterling qualities and in Phoebe's case the particular quality is a tendency to judge first and ask questions later. This is something that will get her into trouble again and again with her hero, Paul.
5--What are three words that describe your hero?
Private, surprising, & driven
6--What's something you learned while writing this book?
The heroine has an attraction for butterflies and moths. I heard about this on some nature program or other—people who seem to attract certain kinds of animals—so I had fun with Phoebe and the butterflies and moths and learned a lot about the various types of each in Britain. I really, really want to see an elephant hawk moth "in person" as they are HOT PINK!
7--Do you edit as you draft or wait until you are totally done?
I do both. Every day I read the prior day's writing and shape it up a little before adding new writing.
8--What's your favorite foodie indulgence?
I'm a vegan, so I do a LOT of cooking as it isn't easy to eat out in a small town. Anyhow, that means I'm always on the lookout for recipes that are great "hacks" to mimic foods that I love but no longer eat. So I can make (great!) cheese out of cashews and fabulous donuts without animal products and tasty gyros meat out of gluten, etc. I guess the answer to your question is: my favorite foodie indulgence is my own cooking!
9--Describe your writing space/office!
I have the world's best office that looks out over my bird rescue which is backed by the Sangre de Cristo Mountains and tons of New Mexico blue sky.
10--Who is an author you admire?
This is a very hard question. I admire tons of authors. When it comes to an author whose writing style I admire (and envy!) I'd have to say Madeline Hunter. Her writing is so subtle and smart and tongue-in-cheek witty. Her stories have amazing depth, and she writes rich, "meaty" romances that are well-rounded.
11--Is there a book that changed your life?
I wouldn't say it changed my life, but Kurt Vonnegut's Breakfast of Champions kind of marked a change in the way I think. Before discovering Vonnegut, I was a much more innocent and trusting person, that's for sure.
12--Tell us about when you got "the call." (when you found out your book was going to be published)
I made a fool of myself by accusing the caller (Alicia Condon, who is now my editor at Kensington) of being another friend pulling a prank on me. I just couldn't believe I would be so lucky since the call came a mere 3 weeks after I'd sent the book off for the first time!
13--What's your favorite genre to read?
Romance of any kind
14--What's your favorite movie?
Bladerunner (WITH the voiceover!!)
15--What is your favorite season?
Winter because there are fewer outdoor chores.
16--How do you like to celebrate your birthday?
I eat lots of vegan junk food like Oreos, Ritz crackers, and Haagen Daaz ice cream.
17--What's a recent tv show/movie/book/podcast you highly recommend?
Wistig, which is a Norwegian crime drama.
18--What's your favorite type of cuisine?
Indian food
19--What do you do when you have free time?
I love to craft, and my current obsession is beading.
20--What can readers expect from you next?
This is a SUPER busy year for me and I have 4 more books and 1 novella on the way! I write Regency romance under Minerva Spencer and S.M. LaViolette and erotic historical romance under S.M. LaViolette and there are 2 books by each coming up in the second half of 2022.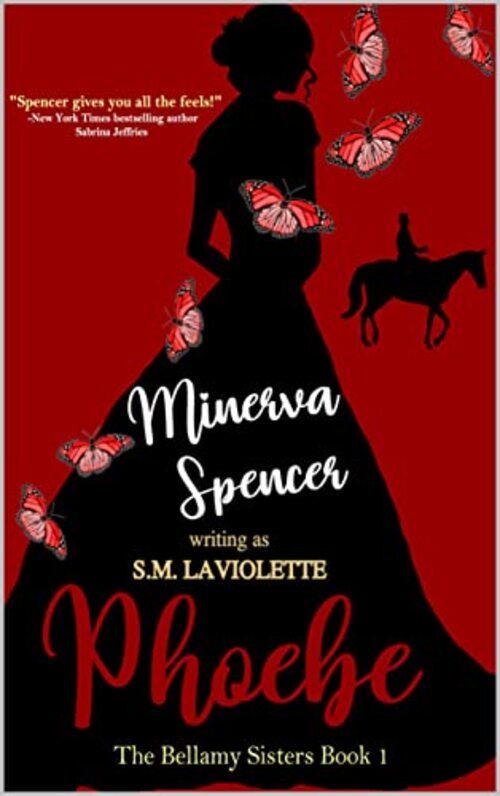 PHOEBE book 1 in THE BELLAMY SISTERS is a sensual, sexy, and heartwarming love story about the girl next door and the powerful, wealthy stranger who changes her world forever. Minerva Spencer's characters are witty and unforgettable and her romances are perfect for fans of Elizabeth Hoyt, Lisa Kleypas, and Meredith Duran.
Meet the Bellamy sisters, five young women who will do anything to save their siblings and keep the wolf from the door.
Lady Phoebe Bellamy will do anything to save her family estate—even marry the devil himself…
The Bellamy family has only four months before they'll lose the very roof over their heads. While Phoebe's older sisters venture out into the world to earn the necessary funds, Phoebe herself—plain, levelheaded, and responsible—stays home to care for her younger siblings and parents. But then she meets Viscount Needham, a fabulously wealthy, brand new peer, and everything changes.
When Phoebe learns that her father is determined to marry one of his daughters to Needham, she knows it's time to act. She certainly can't imagine saddling any of her beloved sisters with the brutally handsome upstart. So, she does the unthinkable and proposes to Viscount Needham herself…
Paul Needham attended the best schools, belongs to all the proper clubs, and can buy and sell half the House of Lords and still have money to spare. And yet the ton still treats him with disdain. Marrying one of their own is the fastest way to legitimize his place in society. But that doesn't mean that he has to like his bride. He certainly won't ever love her. Their marriage will be nothing but a mutually beneficial business arrangement.
Except it doesn't feel like a simple transaction when Phoebe is in his arms…
They are complete opposites with nothing in common. Class differences and prejudices divide them. Is love enough to bridge their two worlds—or are they destined for heartbreak?
PHOEBE is the wickedly witty and sensually steamy first book of a five-book series. Each story in THE BELLAMY SISTERS stands alone.
Romance Historical [Crooked Sixpence Press, On Sale: May 31, 2022, e-Book, / eISBN: 9798765573723]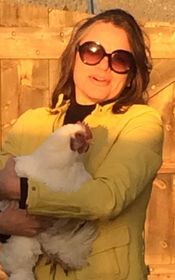 Minerva Spencer is the pen name of S.M. LaViolette.
S.M. is a Canadian transplant who now lives in the mountains of New Mexico. She began writing in 2013 after closing her 8-room bed and breakfast (a subject she will never write about. . . )
She's been a criminal prosecutor, college history professor, and bartender, among many other things.
She currently writes smart and sexy historical romance full-time and operates a small poultry rescue on her four-acre hobby farm, where she lives with her wonderful, tolerant husband and many animals.
When she isn't writing or editing she's playing with birds and dogs or doing a little DIY.
19 comments posted.
You have worn many hats...which one is your favorite I wonder. I daydreamed about running a B&B but after staying in several during our travels it opened my eyes to how much work is involved and not as many laughs as in the experience portrayed in Bob Newhart's TV show!
(Linda Gawthrop 9:05am June 8)
Loved the description of your book and intend to read it and the rest of the series when they come out. Thanks.
(Sharon Extine 6:45pm June 9)