Fall Recipe Potluck | SIMMER DOWN by Sarah Smith

September 9, 2020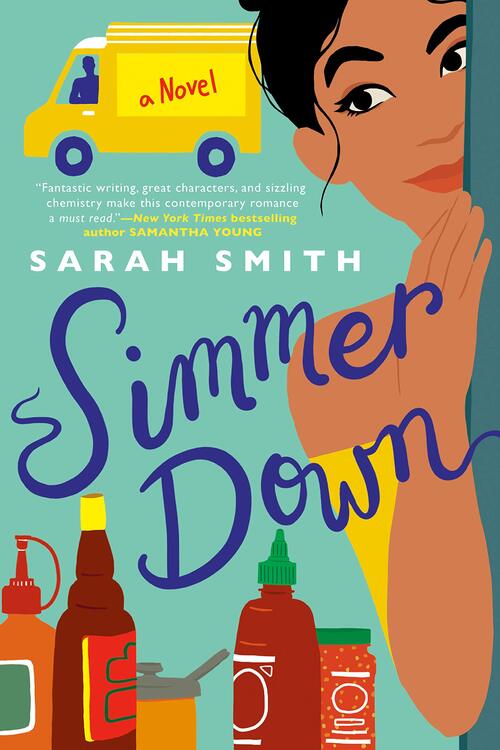 AVAILABLE

October 2020
On Sale: October 13, 2020
336 pages
ISBN: 1984805444
EAN: 9781984805447
Kindle: B0841P7HDY
Trade Size / e-Book
Add to Wish List
Add to review list

Also by Sarah Smith:
Simmer Down, October 2020
Add to review list
Faker, October 2019

We have MORE fabulous books and awesome recipes to share! We'll be here all week, LOL. Also, check out the other posts that have gone up so far and check out the giveaways:
Day 1: SECOND CHANCE ON CYPRESS LAND by Reese Ryan
Day 2: THE SECRET FRENCH RECIPES OF SOPHIE VALROUX by Samantha Verant
***
My new book Simmer Down is a rivals-to-lovers romance between two competing food truck owners Nikki and Callum, who are fighting over the same coveted parking spot near one of Maui's most beautiful beaches. After a whole lot of bickering and sabotaging, Nikki and Callum realize they have sizzling chemistry. Like in any good romance, they end up in bed together. A lot.
When they're not getting physical, these two are both capable of whipping up endless mouth-watering specialties. You can count on British hunk Callum to cook scrumptious English recipes, while Nikki has spent a lifetime perfecting her mom's delicious Filipino dishes.
Once these two finally get their happily ever after, they'll be spending loads of time in the bedroom, as any newly in-love couple would. But that doesn't mean cooking will be put on the backburner. Nikki would figure out a way to make her specialties—like chicken adobo--using every cook's secret weapon: a slow cooker. That way she and Callum could fit in plenty of fooling around time. Then when they're good and famished, they'll have a home-cooked meal ready for them to devour--and give them energy for round two.

Nikki's Slow Cooker Chicken Adobo
Ingredients:
4 chicken breasts cut into large chunks
4 chicken thighs
6 cloves of garlic, minced
1 yellow onion, chopped (optional)
1/2 cup of soy sauce
1 cup of water or low sodium chicken broth
1/2 to 1 cup (depending on how much you prefer) of regular vinegar (use apple cider vinegar if you like a bit of added sweetness)
4 bay leaves
1 to 2 tablespoons of pepper
Directions:
Place all ingredients in a slow cooker.
Turn the slow cooker on, set it to low, and cook for 6 to 7 hours. (You can also cook this on high for 3 to 4 hours).
Serve over steamed white rice or brown rice. Be sure to ladle extra sauce over the chicken and rice for added yumminess!
COMMENT TO WIN: SIMMER DOWN is set in Maui! If you could travel anywhere right now, where would you go and why? Tell us all about it in the comments and you'll be entered to win a copy of SIMMER DOWN by Sarah Smith (US and Canada only). Good luck!
--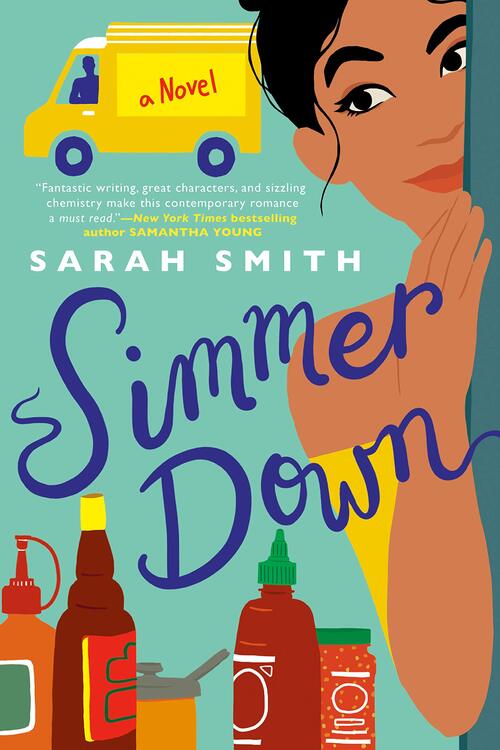 In this finger-licking good rom-com, two is the perfect number of cooks in the kitchen.

Nikki DiMarco knew life wouldn't be all sunshine and coconuts when she quit her dream job to help her mom serve up mouthwatering Filipino dishes to hungry beach goers, but she didn't expect the Maui food truck scene to be so eat-or-be-eaten—or the competition to be so smoking hot.
But Tiva's Filipina Kusina has faced bigger road bumps than the arrival of Callum James. Nikki doesn't care how delectable the British food truck owner is—he rudely set up shop next to her coveted beach parking spot. He's stealing her customers and fanning the flames of a public feud that makes her see sparks.
The solution? Let the upcoming Maui Food Festival decide their fate. Winner keeps the spot. Loser pounds sand. But the longer their rivalry simmers, the more Nikki starts to see a different side of Callum…a sweet, protective side. Is she brave enough to call a truce? Or will trusting Callum with her heart mean jumping from the frying pan into the fire?
Romance | Multicultural [Berkley, On Sale: October 13, 2020, Trade Size / e-Book, ISBN: 9781984805447 / eISBN: 9781984805454]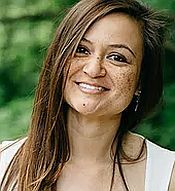 Sarah Smith is a copywriter-turned-author who wants to make the world a lovelier place, one kissing story at a time. Her love of romance began when she was eight and she discovered her auntie's stash of romance novels. She's been hooked ever since. When she's not writing, you can find her hiking, eating chocolate, and perfecting her lumpia recipe. She lives in Bend, Oregon, with her husband and adorable cat Salem.
Comments
33 comments posted.
Re: Fall Recipe Potluck | SIMMER DOWN by Sarah Smith

I would love to travel Europe and visit historical
locations.
(Meredith Winn 1:07am September 7)
I would love to see Iceland and visit the Blue Lagoon hot
springs.
(Abigail Gibson 3:28am September 7)
I would love to go to either Italy or Ireland to study my family roots.
(Cynthia St. Germain 4:45pm September 7)
We are really missing Jamaica! We had a trip scheduled
there this month and had to reschedule.
(Jessica Whitacre 6:34pm September 7)
I'm dying to take a trip to Alaska and eventually an Alaskan cruise!
(Tracy Urschler 9:34pm September 7)
I already went in August to my favorite place - Cape Cod. The
clam chowder was delicious and most everyone in Massachusetts
followed the rules with masks and social distancing.
(Alyson Widen 11:57pm September 7)
I love Filipino food. I spent 3 years there in the Peace
Corps. Loved the people, country, and food. There are many
places I would love to go right now, but COVID is keeping me
in the house. If the pandemic were not an issue, I would
love to go back to see how much the Philippines has changed
since I left. That was almost 50 years ago, so very few of
those I worked with would still be around. I make pancit
all the time and will add adobo, chicken or pork, next time.
(Patricia Barraclough 1:19am September 8)
So many places I'd love to go. But I think nowadays I'd
love to travel right around the U.S. and see all the
beautiful sites we have right here in our own country.
(Nancy Reynolds 9:47am September 8)
Charleston South Carolina because I love history.
(Sherry Haut 10:51am September 8)
AZ to see my daughter and grandkids.
(Melanie Rosen 11:09am September 8)
Ft. Worth, Texas to visit a granddaughter.
(Leona Olson 1:38pm September 8)
id like to go back to Hawaii
(Vickie Couturier 6:23pm September 8)
I would love to go back home to Colorado, I miss the Rocky
Mountains terribly.
(Robert Young 12:58pm September 9)
I would love to go to Hawaii it looks so beautiful and our
fall and winters are getting colder every year.
(Sandra Dufoe 9:16pm September 9)
Going to Ireland would be a blast!
(Rebecca Shields 7:45am September 10)
- back to Barcelona . .. ..for the fun & the food!
MMMMMmmmm..... . ....
(Martin Bodnar 9:44am September 12)
I would travel to Ireland again, I would actually love to live there. Thank
you so much for all the recipes!
(Kathleen Kelly 6:33pm September 12)
I would love to go to Australia always been on my bucket list
(Kellie Demarsh 6:44pm September 12)
I want to visit Switzerland and Austria. I worked with a woman from Switzerland. I fell in love with her pictures and her stories!
(Laurie Gommermann 8:23am September 13)
I have always wanted to walk beneath the majestic redwoods,
but right now I just want to see my grandson who lives in
New York City.
(Lisa Sabatini 10:59am September 13)
I would travel to Colorado to look for a house and place
where we could move to from Florida!
(Shannon Capelle 5:56pm September 13)
I'd love to see the northern lights. So, any of the countries I could finally see them. (It's a bucket list item.)
(Zarah Robinson 6:09pm September 13)
I would go to Florida because it's starting to be fall here
in Canada and I want more heat and summer.
(Jennifer L. 6:15pm September 13)
Iceland. I've been wanting to visit for a long time.
(Jana B 6:34pm September 13)
I think I would go to Hawaii with my family. I've never been but it looks like a
beautiful place and I want to just spend some time surrounded by beauty
with my family.
(Megan Gustafson 8:05pm September 13)
Florida because my brother just became a dive instructor and
promised to teach me to scuba!
(Katrina Dehart 11:16pm September 13)
I would go to Spain. We were supposed to go there this summer to visit my brother and his family who live there and see my niece and nephew. We had airplane tickets since last December but were able to cancel the tickets in April. Hopefully, we'll be able to go next year.
(Diana Hardt 12:33pm September 14)
I would go on a European cruise!
(Linda Herold 2:03am September 14)
I would visit Ireland - it's a lifelong dream!
(Lindsey Brown 8:05am September 14)
I'd love to go to Tahiti or Bali - somewhere with a beautiful beach!
(Qr Smith 9:22am September 14)
I would take my mom to Dodge City Kansas to see where her
favorite show Gunsmoke was filmed. Thanks for the chance.
(Lynn Brown 2:07pm September 14)
I would go to either Athens, Greece or Rome, Italy.
(Lynn Pallaske 6:13pm September 14)
I would love to go to the Maldives. It looks so beautiful there. I need a
bungalow over the ocean and a glass of wine with a good book. Maybe
then I could get my blood pressure under control.
(Renee Olichwier 12:08pm Saturday)
Registered users may leave comments.
Log in or register now!