Daryl Wood Gerber | Top 5 Reasons to Read A SPRINKLING OF MURDER + Giveaway!

July 20, 2020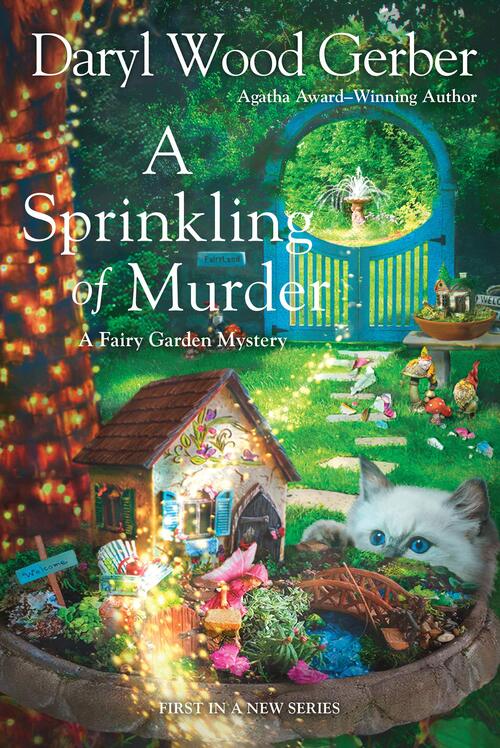 A Sprinkling of Murder
Daryl Wood Gerber
AVAILABLE
Fairy Garden #1

July 2020
On Sale: June 30, 2020
304 pages
ISBN: 1496726340
EAN: 9781496726346
Kindle: B07W8Y4D6R
Trade Size / e-Book
Add to Wish List
Add to review list

Also by Daryl Wood Gerber:
A Glimmer of a Clue, July 2021
Add to review list
A Sprinkling of Murder, July 2020
Add to review list
Shredding the Evidence, May 2020
Fan Mail, November 2019

Top 5 Reasons to Read A SPRINKLING OF MURDER, the first Fairy Garden Mystery
Have you heard of the Fairy Garden Mysteries? They're new. The first, A Sprinkling of Murder, is just out. It's set in Carmel-by-the-Sea, California, and features Courtney Kelly, a former landscaper who has taken a leap of faith and created her own fairy garden shop called Open Your Imagination. Courtney believes in inviting magic into one's life, but when uninvited trouble enters her shop, she'll need more than a sprinkling of her imagination to solve a murder . . .
There are a lot of reasons that readers are falling in love with the Fairy Garden Mysteries, but here are the top five.
Fiona, the righteous fairy. Fiona is a fairy-in-training. She should be a full-fledged fairy by now, but imp that she is, she did one too many pranks in fairy school, so the queen fairy has booted her out and subjected her to probation, during which time Fiona must get serious. By helping a human solve problems--that's what righteous fairies are good at--she could earn her way back into the ranks. Fiona is fun, whimsical, and earnest. A powerful combo.
Courtney Kelly, fairy garden shop owner. A week after her mother planted a fanciful garden filled with yarrow, lilac, and a host of herbs to attract butterflies, Courtney, age five, met a fairy. At the tender age of ten, however, when her mother died, she lost her ability to see them. No matter how hard she tried, no matter how much she rubbed the locket her mother had given her, she couldn't see another. In the ensuing years, she grew serious. After college graduation, she joined her father's thriving landscaping outfit in Carmel-by-the-Sea and dedicated herself to working the land: dig, plant, don't have fun, repeat. It wasn't until Courtney went to a Renaissance Faire and met a woman who made fairy gardens that she opened her heart to find more in life. She wants to share her joy of making these gardens with everyone. I don't know about you, but I'm pulling for Courtney to thrive.
Imagination is special. Do you believe in magic? Did you as a child? The tooth fairy? Santa Claus? Punxsutawney Phil? Why do even sober, thoughtful children believe so readily? Because imagination is required in order to learn about things we don't directly experience. Kids make up friends to play with; kids think about what they want to be when they grow up. Imagination helps if you want to open yourself to the fun in a "magical" mystery. Will you try?
Carmel-by-the-Sea. There are few places as beautiful as Carmel-by-the-Sea, California, also known as Carmel. It is blessed with Mediterranean-style temperatures, its renowned coast, and gorgeous cypress trees. After the 1906 earthquake in San Francisco, Carmel became a haven for artists and authors. By 1910, sixty percent of its citizens were known for devoting their lives to work connected to the aesthetic arts. Its village is packed with art galleries and adorable shops. And its many courtyards with secret entrances and fountains and staircases are a huge lure for tourists. There's a magical spirit to the town. Want to visit? Please do. I've shared many photos on my website, my Facebook page, and Pinterest to entice you.
Pixie and the rest of the characters. Yes, there is an adorable cat in this book. Pixie is a ragdoll kitten and yes, she can see Fiona, so their antics are fun. But there is also Courtney's best friend and total opposite, Meaghan Brownie, a gallery owner and harpist who adores brownies but can't see fairies yet; Courtney's assistant Joss Timberlake, an elfin woman who is a whiz at accounting and quite protective of Courtney; Courtney's father, a former cop who, after suffering a knee injury, went into his second love of landscaping. He can be tough and he doesn't believe in fairy nonsense, but he treasures his daughter. And there are more characters to enjoy. What's your pleasure? A handsome restaurateur? An adorable baker? A decent and dedicated homicide detective? A bitter spa owner who wants the fairy garden shop gone! A fellow courtyard tenant who wants Courtney gone! Yes, towns are populated with all sorts of people. Isn't that what makes mysteries fun to read?
These are just five reasons for reading the Fairy Garden Mysteries. Do you need more? Join Courtney and her friends as they do their best to keep Carmel safe while making the world a more beautiful place.
--
COMMENT TO WIN: Do you believe in magic? Tell us in the comments and you'll be entered to win a signed copy of A SPRINKLING OF MAGIC! US & Canada only, Good luck!!
--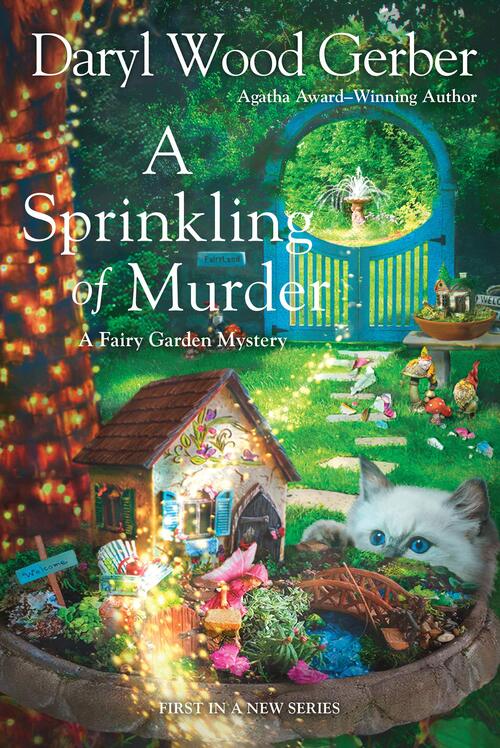 Fairy garden store owner Courtney Kelly believes in inviting magic into your life. But when uninvited trouble enters her shop, she'll need more than a sprinkling of her imagination to solve a murder . . .

Since childhood, Courtney has loved fairies. After her mother died when Courtney was ten, she lost touch with that feeling of magic. A year ago, at age twenty-nine, she rediscovered it when she left her father's landscaping business to spread her wings and start a fairy garden business and teashop in beautiful Carmel, California. At Open Your Imagination, she teaches garden design and sells everything from fairy figurines to tinkling wind chimes. Now she's starting a book club tea.
But the light of the magical world she's created inside her shop is darkened one night when she discovers neighboring dog-grooming business owner Mick Watkins dead beside her patio fountain. To make matters worse, the police suspect Courtney of the crime. To clear her name and find the real killer, Courtney will have to wing it. But she's about to get a little help from an unexpected source . . .
Mystery Cozy [Kensington, On Sale: June 30, 2020, Trade Size / e-Book, ISBN: 9781496726346 / eISBN: 9781496726353]
Fairies, murder, and intrigue
Agatha Award-winning author Daryl Wood Gerber writes the nationally bestselling Cookbook Nook Mysteries as well as the new Fairy Garden Mysteries. She also pens the French Bistro Mysteries, and as Avery Aames, the popular Cheese Shop Mysteries. In addition, Daryl writes the Aspen Adams novels of suspense as well as stand-alone suspense. Daryl loves to cook, fairy garden, and read, and she has a frisky Goldendoodle who keeps her in line!
Comments
30 comments posted.
Re: Daryl Wood Gerber | Top 5 Reasons to Read A SPRINKLING OF MURDER + Giveaway!

This sounds delightful. I believe there is magic in the
world. It may not be Fairies or Brownies or Elves, but the
sparkle of dew in the morning, the perfection of a blossom,
the feel of an infant snuggling on your shoulder are all
magical. They bring joy to the heart and peace to the soul.
What could be more magic than that.
(Patricia Barraclough 1:30am July 20)
Sounds like another great series from this author!!
(Anna Budziak 7:00am July 20)
I'm a believer!
(Martin Bodnar 11:01am July 20)
Oh my gosh it sounds so good! Yes I think there is magic everywhere if you
only open your eyes to look for it.
(Renee Olichwier 2:27pm July 20)
Yes I believe in magic, it just often goes unnoticed.
(Tracy Urschler 6:30pm July 20)
Yes I believe in magic, it comes in many forms.
(Cynthia St. Germain 8:46pm July 20)
I believe in magic! Would love to read this!! Hope my public
library gets it. Thanks for the contest!!!
(Teresa Ward 9:48pm July 20)
Yes, I believe in magic and clapped for Tinkerbelle to
have her light on. Plus I've learned that the tooth
fairy does different things in other cultures. Like in
Korea, they throw the baby teeth on the roof. I had fun
making up stories for my kids and excuses if the tooth
fairy forgot to come.
(Alyson Widen 11:45pm July 20)
Yes I believe in magic.
(Susan Clickner 10:32am July 21)
I believe in magic. Radio waves are magic, right? But,
seriously, we can tap into magic by giving of ourselves.
(Lisa Sabatini 10:58am July 21)
No, but it doesn't hurt to read about it.
(Jessica Whitacre 11:25am July 21)
I believe in everyday magic. I love books with magic. There
is magic in being a parent, and in cooking a great recipe.
(Heather Elliott 12:17pm July 21)
Of course I believe in majick. I'm a second degree Cabot priestess. Most people don't realize it but majick is all around us. Some witches do work with the fae but I have not.
(Margaret Rushton 1:01pm July 21)
I believe in my heart if not my mind. A wonderful escape. I love reading and
any book by DWG is magic!
(Kathy Ober 2:33pm July 21)
I do believe in magic - the magic of a kind word, a beautiful
smile, and a lovely, adorable cover like the one on your book.
(Nancy Reynolds 3:45pm July 21)
I absolutely believe in magic!!
(Jerrilynn Atherton 4:37pm July 21)
I do believe in magic. It is all around us, we just have to
look for it.
(Jen Mallette 4:45pm July 21)
I'm so glad to hear how many of you are excited about it and believe in magic. Yay!
~ Daryl
(Daryl Wood Gerber 6:02pm July 21)
Yes, I do believe in magic, we just don't recognize it.
Can't wait to read the book, it sounds magical and
delightful.
(Dianne Casey 8:12pm July 21)
Of course I believe in fairies, pixies,sprites, the fae,gnomes, and all the creatures big and small that dwell in this magical world. I have fairy gardens all around my yard & inside my house. What fun!!!
(Sheryl Sens Sens 8:54am July 22)
yes ,i believe in magic,i just wish it would happen to me
(Vickie Couturier 10:02am July 22)
OH my this books sounds like a fantastic read. Love the
book cover and would love to read and review your books
in print format.
Do I believe in magic? Yes. Here's why? I believe
everyone has to make their own magic daily and it's up to
them to create their own magic.
Hope I win.
(Crystal Stewart 11:31am July 22)
I can't wait to read this, it sounds so good, thank you for the review
Penney
(Penney Wilfort 11:36am July 22)
Yes I believe
Penney
(Penney Wilfort 11:37am July 22)
Yes I do believe in magic... look around! The Butterflies,
Bees, Hummingbirds, all the beautiful flowers and greenery-
it's magic!
(Kelly Braun 12:13pm July 22)
Everyone needs a little magic in their lives.
(Anna Speed 1:10pm July 22)
Yes I believe, if you believe anything is possible!
(B.J. Bernal 2:38pm July 22)
I believe in magic.
(Jana B 8:38pm July 22)
I believe. Looks and sounds so good!
(Rebecca Joiner 6:23am July 23)
very interesting!
(Essays Io 10:31am July 27)
Registered users may leave comments.
Log in or register now!