Fall Slow Cooker Recipe Potluck | A CHRISTMAS HOME by Marta Perry + Giveaway!

October 11, 2019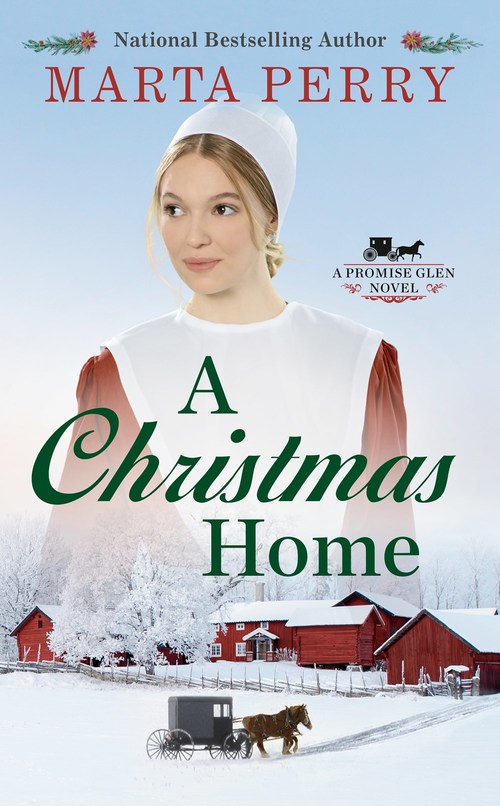 AVAILABLE
Promise Glen #1

October 2019
On Sale: October 8, 2019
304 pages
ISBN: 1984803190
EAN: 9781984803191
Kindle: B07M75QK8J
Mass Market Paperback / e-Book
Add to Wish List

Also by Marta Perry:
A Springtime Heart, July 2020
Add to review list
Amish Protector, April 2020
Add to review list
Susanna's Dream, March 2020
A Christmas Home, October 2019

It's the final day of our Fall Slow Cooker Recipe Potluck! We've enjoyed following along with all of these great authors, their new books, and delicious slow cooker recipes. Comment below for a chance to win yet another book! And be sure to take a look back at all of the fun we've had all week:
Day 1 with Elizabeth Goddard: http://freshfiction.com/page.php?id=10267
Day 2 with Soraya Lane: http://freshfiction.com/page.php?id=10269
Day 3 with Laura Lee Guhrke: http://freshfiction.com/page.php?id=10270
Day 4 with Jenn Burke: http://freshfiction.com/page.php?id=10275
***
Autumn: Time for Comfort Food
The mornings are crisp now in central Pennsylvania, and the mist hangs in the valleys for an hour or so after the sun makes its way over the mountain ridges. Leaves have begun to turn, orange pumpkins fill the roadside stands, and we bring in the last few tomatoes and winter squash from the garden. At a time like this, with winter not far off, my thoughts turn to comfort food. And for comfort food, what could be better than a slow cooker?
Comfort food forms a large part of any collection of Pennsylvania Dutch recipes. The farmers, both Amish and English, who settled in these fertile valleys felt the need for plenty of carbohydrates to keep going in vigorous outdoor work. And like it or not, those of us who are their descendants still have that taste for anything that involves potatoes, noodles, dried beans, dried corn, and calories!
The women in my new book, A CHRISTMAS HOME, all know the importance of food in creating a home, and although Sarah and her grandmother don't actually make my favorite recipe for Butterscotch Beans, they might well have. Lonely widower Noah, trying to make a home for his motherless twin boys, relies on friends and family to provide the tastes and aromas that make the farmhouse kitchen such a welcoming place and the kitchen table the gathering spot where everyone is loved, accepted, and fed.
So, in the spirit of my Pennsylvania Dutch grandmothers who were only happy when they were feeding someone, here's one of my favorites for potlucks, picnics, and sharing.
BUTTERSCOTCH BEANS
1 lb. dry baby lima beans
1 ½ sticks of butter or margarine
1 Tbsp. molasses
¾ cup brown sugar
½ tsp. salt
1 cup sour cream
Directions:
Soak lima beans as directed on the package, usually overnight.
Drain, then simmer in salted water until tender.
Drain and place in slow cooker. Stir in other ingredients.
Cook on low for about five hours; then enjoy.
***
For a chance to win a copy of A CHRISTMAS HOME by Marta Perry, tell us in the comments which of the slow cooker recipes shared this week you plan on making! Thanks for having fun with us this week!!
***
Promise Glen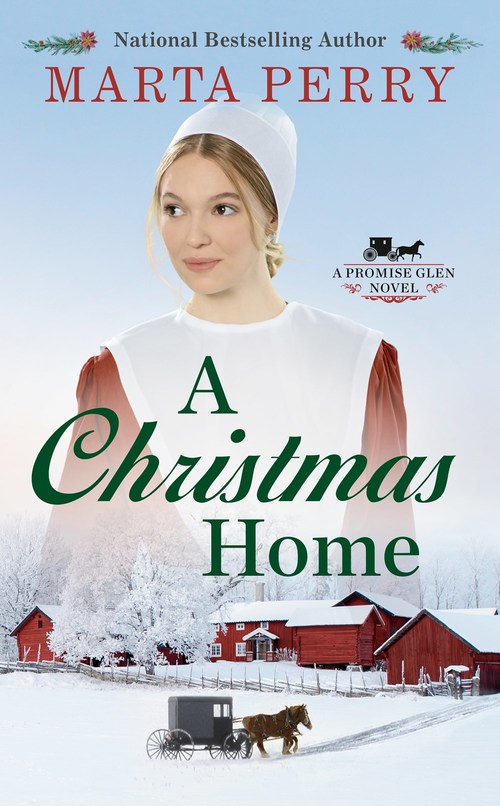 National bestselling author Marta Perry captures the spirit of Christmas in this first novel of her all new series set in the quaint Amish community of Promise Glen.
After ten years spent keeping house and raising her younger siblings, Sarah Yoder returns home to Promise Glen determined to make a fresh start. Her new job with neighbor Noah Raber's furniture business seems promising--until she and the woodworker clash over everything from the best way to reach new costumers to how to raise his mischievous six-year-old twin boys. Though Sarah longs for a home of her own, she fights the appeal of this ready-made family, resolved to maintain a professional distance.
But when she and Noah both agree to help with the school's annual Christmas program, Sarah finds her heart touched by the motherless boys and Noah's quiet strength. Thrown together at work and at the school, their feelings continue to grow, and Sarah struggles to keep Noah at arms' length. Loving Noah may seem impossible, but with faith, love, and a little help from their close-knit community, there may yet be a Christmas home for them both.
Holiday | Inspirational Amish | Romance Holiday [Berkley, On Sale: October 8, 2019, Mass Market Paperback / e-Book, ISBN: 9781984803191 / eISBN: 9781984803207]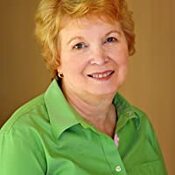 Marta Perry realized she wanted to be a writer at age eight, when she read her first Nancy Drew novel. Most girls reached the end of that book wanting to be Nancy. Marta wanted to be the person who created the story. The dream lay hidden for years while she pursued other career goals, but eventually it re-surfaced, and she began to write, beginning with short children's stories for Sunday school take-home papers. After seeing hundreds of her short stories published in a variety of magazines, Marta finally started work on the novel she'd always wanted to write. Thirty-some published novels later, she still feels the same excitement when she begins a new book. A lifetime spent in rural Pennsylvania and her own Pennsylvania Dutch roots led Marta to the books she writes now about the Amish. The Pleasant Valley Amish series from Berkley Books are longer, more complex emotional stories with Amish main characters, while her Love Inspired suspense stories are shorter, more adventure-filled books set in Pennsylvania Dutch country. She also writes a Love Inspired series, The Bodine Family, set on the South Carolina coast where she and her husband have a second home. Marta lives with her husband in a century-old farmhouse in the Pennsylvania countryside, but spends winters at their vacation home in South Carolina. When she's not writing, she's active in the life of her church and enjoys traveling and spending time with her three children and six beautiful grandchildren.
Comments
27 comments posted.
Re: Fall Slow Cooker Recipe Potluck | A CHRISTMAS HOME by Marta Perry + Giveaway!

I will definitely be trying Aromatic Beef Stew. Beef stew is a favorite
and adding a variation to the usual stew. They are all interesting and
sound good. I will likely try all of them at some time.
(Patricia Barraclough 1:12am October 11)
one of my favorite authors,,love reading your books
(Vickie Couturier 9:22am October 11)
I like them all and plan on trying them all out.
Thank you for the awesome giveaway
(Lynne Brigman 12:13pm October 11)
They are all great recipes. My family would enjoy the beef
stew, macaroni and cheese and the butterscotch beans the
most.
(Maryann Skaritka 1:25pm October 11)
I love the idea of making Mac & Cheese in a slow cooker. I didn't know that
was possible. My favorite slow cooker meal is beef stew. Soraya Lane's
Aromatic Beef Stew recipe looks really good! The Puerto Rican style pork
tacos from Laura Lee Guhrke sounds awesome. I loved this idea! So many
new recipes to try. Thanks to all the authors for sharing!
(Annette OMullan 2:09pm October 11)
the butterscotch beans sound really tasty and would be
great with the Slow Cooker Puerto Rican Style Pork Tacos
(Denise Holcomb 2:23pm October 11)
butterscotch beans (of course!)
(Martin Bodnar 4:17pm October 11)
The beef stew sounds so good and the macaroni and cheese sounds so
easy! I can't wait to try them!
(Jan Tomalis 6:25pm October 11)
I love Butterscotch so I think I will try the Butterscotch Beans.
(Jackie Wisherd 9:02pm October 11)
I love All of the recipes-can't decide!!
(Janet Johnson 10:20pm October 11)
Beef stew for sure
(Patty Wright 12:44pm October 12)
keep sharing those butterscotch beans!
(Martin Bodnar 10:23am October 12)
All I can say is Yum!!!
(Cynthia St. Germain 2:02pm October 12)
I am going to make Butterscotch Beans.
(Buddy Garrett 2:03pm October 12)
All of the recipes have been yummy, but I think my first
try will be Evelyn's Mac and Cheese!
(Susan Heim 2:18pm October 12)
It has to be Evelyn's Mac and cheese. My favorite.
(Lori Byrd 2:53pm October 12)
This sounds amazing, never heard of Butterscotch beans
before.
(Emily Heisler 6:40pm October 12)
Beef stew would be my favorite. Thanks
for the contest! I love reading your
books!!
(Teresa Ward 8:42pm October 12)
I have loved your books for years. No thanks on beans. God
bless. Would love to win
(Jane Squires 12:39pm October 13)
The beef stew!
(Katrina Dehart 1:31pm October 13)
Evelyn's mac and cheese
(Jaye Smith 1:47pm October 13)
Amish books are a favorite read for me.
(Robin Davis 1:50pm October 13)
I haven't decided yet.
(Kim Hansen 1:56pm October 13)
I'm just learning how to use a slow cooker, so I want to try several recipe. At this moment, I'm interested in the ones for the ribs and beef stew.
(Anna Speed 8:10pm October 13)
In case you are in mood to book an delighted Escorts in
Hyderabad who ready to serve the most excited romantic
feel on +91-9849092651 it is the best place where you can
have the most beautiful call girls in Hyderabad here is
the Sex House in Hyderabad free for you to book now. You
can monitor your all romantic days at one click.

http://www.missagirls.com
http://www.sanuredy.com
http://www.shahnazraza.com/
http://www.chennai-escort.com/hyderabad.html
http://www.jaipurescorts4u.com/hyderabad-escorts.html
http://www.aaliasekh.com/hyderabad-escorts.html
(Shahnaz Raza 3:19pm October 14)
https://www.popoffmarketing.com/jacksonville.html
https://g.page/popoff-marketing-jax?share
Thank you for sharing.
(Jacksonville Marketing 3:32am October 15)
I think I will be trying the Butterscotch Beans THANK YOU FOR THE CHANCE TO WIN THIS BOOK!
(Sarah Taylor 7:49pm October 23)
Registered users may leave comments.
Log in or register now!