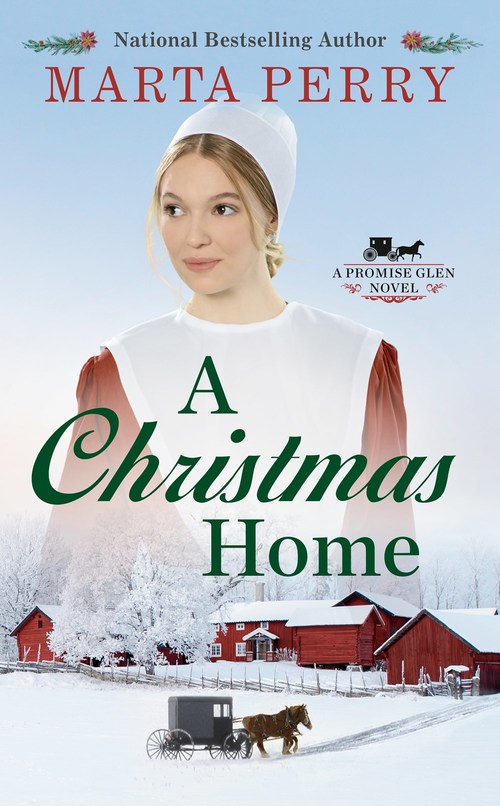 Purchase
Promise Glen #1
Berkley
October 2019
On Sale: October 8, 2019
304 pages
ISBN: 1984803190
EAN: 9781984803191
Kindle: B07M75QK8J
Mass Market Paperback / e-Book
Add to Wish List

Romance Holiday | Inspirational Amish | Holiday
National bestselling author Marta Perry captures the spirit of Christmas in this first novel of her all new series set in the quaint Amish community of Promise Glen.
After ten years spent keeping house and raising her younger siblings, Sarah Yoder returns home to Promise Glen determined to make a fresh start. Her new job with neighbor Noah Raber's furniture business seems promising—until she and the woodworker clash over everything from the best way to reach new costumers to how to raise his mischievous six-year-old twin boys. Though Sarah longs for a home of her own, she fights the appeal of this ready-made family, resolved to maintain a professional distance.
But when she and Noah both agree to help with the school's annual Christmas program, Sarah finds her heart touched by the motherless boys and Noah's quiet strength. Thrown together at work and at the school, their feelings continue to grow, and Sarah struggles to keep Noah at arms' length. Loving Noah may seem impossible, but with faith, love, and a little help from their close-knit community, there may yet be a Christmas home for them both.
Promise Glen
Comments
27 comments posted.
Re: A Christmas Home

I will definitely be trying Aromatic Beef Stew. Beef stew is a favorite
and adding a variation to the usual stew. They are all interesting and
sound good. I will likely try all of them at some time.
(Patricia Barraclough 1:12am October 11, 2019)
one of my favorite authors,,love reading your books
(Vickie Couturier 9:22am October 11, 2019)
I like them all and plan on trying them all out.
Thank you for the awesome giveaway
(Lynne Brigman 12:13pm October 11, 2019)
They are all great recipes. My family would enjoy the beef
stew, macaroni and cheese and the butterscotch beans the
most.
(Maryann Skaritka 1:25pm October 11, 2019)
I love the idea of making Mac & Cheese in a slow cooker. I didn't know that
was possible. My favorite slow cooker meal is beef stew. Soraya Lane's
Aromatic Beef Stew recipe looks really good! The Puerto Rican style pork
tacos from Laura Lee Guhrke sounds awesome. I loved this idea! So many
new recipes to try. Thanks to all the authors for sharing!
(Annette OMullan 2:09pm October 11, 2019)
the butterscotch beans sound really tasty and would be
great with the Slow Cooker Puerto Rican Style Pork Tacos
(Denise Holcomb 2:23pm October 11, 2019)
butterscotch beans (of course!)
(Martin Bodnar 4:17pm October 11, 2019)
The beef stew sounds so good and the macaroni and cheese sounds so
easy! I can't wait to try them!
(Jan Tomalis 6:25pm October 11, 2019)
I love Butterscotch so I think I will try the Butterscotch Beans.
(Jackie Wisherd 9:02pm October 11, 2019)
I love All of the recipes-can't decide!!
(Janet Johnson 10:20pm October 11, 2019)
Beef stew for sure
(Patty Wright 12:44pm October 12, 2019)
keep sharing those butterscotch beans!
(Martin Bodnar 10:23am October 12, 2019)
All I can say is Yum!!!
(Cynthia St. Germain 2:02pm October 12, 2019)
I am going to make Butterscotch Beans.
(Buddy Garrett 2:03pm October 12, 2019)
All of the recipes have been yummy, but I think my first
try will be Evelyn's Mac and Cheese!
(Susan Heim 2:18pm October 12, 2019)
It has to be Evelyn's Mac and cheese. My favorite.
(Lori Byrd 2:53pm October 12, 2019)
This sounds amazing, never heard of Butterscotch beans
before.
(Emily Heisler 6:40pm October 12, 2019)
Beef stew would be my favorite. Thanks
for the contest! I love reading your
books!!
(Teresa Ward 8:42pm October 12, 2019)
I have loved your books for years. No thanks on beans. God
bless. Would love to win
(Jane Squires 12:39pm October 13, 2019)
The beef stew!
(Katrina Dehart 1:31pm October 13, 2019)
Evelyn's mac and cheese
(Jaye Smith 1:47pm October 13, 2019)
Amish books are a favorite read for me.
(Robin Davis 1:50pm October 13, 2019)
I haven't decided yet.
(Kim Hansen 1:56pm October 13, 2019)
I'm just learning how to use a slow cooker, so I want to try several recipe. At this moment, I'm interested in the ones for the ribs and beef stew.
(Anna Speed 8:10pm October 13, 2019)
In case you are in mood to book an delighted Escorts in
Hyderabad who ready to serve the most excited romantic
feel on +91-9849092651 it is the best place where you can
have the most beautiful call girls in Hyderabad here is
the Sex House in Hyderabad free for you to book now. You
can monitor your all romantic days at one click.

http://www.missagirls.com
http://www.sanuredy.com
http://www.shahnazraza.com/
http://www.chennai-escort.com/hyderabad.html
http://www.jaipurescorts4u.com/hyderabad-escorts.html
http://www.aaliasekh.com/hyderabad-escorts.html
(Shahnaz Raza 3:19pm October 14, 2019)
https://www.popoffmarketing.com/jacksonville.html
https://g.page/popoff-marketing-jax?share
Thank you for sharing.
(Jacksonville Marketing 3:32am October 15, 2019)
I think I will be trying the Butterscotch Beans THANK YOU FOR THE CHANCE TO WIN THIS BOOK!
(Sarah Taylor 7:49pm October 23, 2019)
Registered users may leave comments.
Log in or register now!