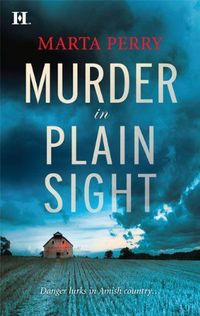 Purchase
Danger lurks in Amish country...
HQN Books
December 2010
On Sale: December 1, 2010
Featuring: Trey Morgan; Jessica Langdon
384 pages
ISBN: 0373774729
EAN: 9780373774722
Paperback
Add to Wish List

Did a sweet-faced Amish teenager brutally murder a young woman? To save her career, big-city lawyer Jessica Langdon is determined to defend him - against the community's bitter and even violent outrage. Yet without an understanding of Amish culture, Jessica must rely on arrogant businessman Trey Morgan, who has ties to the Amish community...and believes in the boy's guilt.
Jessica has threats coming from all sides: a local fanatic, stirred up by the biased publicity of the case; the dead girl's boyfriend; even from the person she's learned to trust the most, Trey Morgan. But just when Jessica fears she's placed her trust in the wrong man, Trey saves her life. And now they must both reach into a dangerous past to protect everyone's future - including their own.
Comments
34 comments posted.

(Linda Hall 1:39am December 18, 2010)
Your book sounds interesting,I would like to have a chance to read it. Happy Holidays to everyone.
(Linda Hall 1:41am December 18, 2010)
Hi Marta, your book sounds wonderful. What is the Amish Appeal? I think you are right the longing to go back to the simple things in life. I watch my son in his late 20's struggle to find heroes these days. He has never known what it was like not to have a computer, video games, microwaves that seemed like magic to me when they came out. Walter Cronkite is a name he knows but doesn't understand that as kids we watched the news and believed it. He looks the world where he sends out resume after resume and can't find a job. Or wonders why he is paying Social Security when he might never see it. The dream of having or owning a home seems impossible. I think though for me the idea of being Amish at times is just that..just to get away the stress and the have old time feel of a community again. But I think the reality of no computer or OMG no Tivo would put an end to that..lol. Or it could be as simple as wondering what it is like to go undercover in Witness with Harrison Ford & live like that for awhile. We all have our different generations and there were plenty of problems with all of them; but I have some great memories of the 60's and 70's. A bit like Cheers..small town where everyone knew your name.
Where we had milk men, and mom and pop stores. Only one grocery but markets for everything else..fruits and vegetables that had no wax on them..Went to a butcher for your meat. So in closing yes I think the appeal is the longing for simplicity and community that even though the population keeps growing we keep getting further away from it. If I have to talk to one more robot for 15 minutes to get to customer support I will scream:) I do remember being able to call the operator (for free) just to ask what time it was. Trying doing that now:)

Would love to read your book and win a contest for once..lol

But good luck Marta and Happy Holidays to you.

Cheers!
(Elizabeth Rose 3:41am December 18, 2010)
The Amish appeal to me is a curosity to learn more about Amish customs and lifestyles. Why do they believe in these customs? How about those who turn away from the Amish lifestyle? Reading books interwoven with the appeal of the Amish increases my knowledge and understanding of other people.
(Mary Mclain 6:12am December 18, 2010)
Hi, everyone. I'm happy to be here! Your comments are right on target, I think. And Mary raises a good point--what about those who turn away from the Amish lifestyle? From my observations, those who leave because of a longing for higher education usually move more quickly into the Englisch lifestyle, because the education is their focus. But those who leave because they want to participate more in the outside world often end up forming communities of former Amish which attempt to replicate the support they had as Amish.

I'll be in and out all day, so I hope you'll leave questions for me. Bear with me--I may have some problems with getting access, but I promise to come back! And if anyone would like to receive a signed bookmark and my free brochure of PA Dutch recipes, just email your address to: [email protected].
Best,
Marta
(Marta Perry 8:58am December 18, 2010)
I'm not sure what the Amish appeal is but I know it appeals to me. I love books with the Amish in them and certainly don't associate anything violent with this sect. So, a murder mystery sounds most intriguing. Maybe it's a simpler way of life and the fact that they all help each other so much that appeals to so many people. I read The Amish Cook in my local newspaper and it amazes me how they band together to do what is necessary and how they support one another.
(Karen Gervasi 9:31am December 18, 2010)
Sounds great. I would love to read it. I've visited PA a few times and always by Lancaster county
(Maria Antunes 10:04am December 18, 2010)
I would definitely love to read this book. All I know about the Amish is what I have read in books or seen in the movies.
(Kirsten Kimball 10:56am December 18, 2010)
sounds like a good read
(Debbi Shaw 11:24am December 18, 2010)
Sounds great!!
(Clio Teixeira 12:16pm December 18, 2010)
I grew up in Ohio near Amish settlements. They have such a quiet simple life that one could envy in this day of wants and desires. I can't imagine how this book would play out and look forward to reading it.
(Rosemary Simm 1:14pm December 18, 2010)
As a kid, my family used to take trips to PA... see the Amish and visit some of their markets... your book sounds like a wonderful addition to my list of books to read!
(Colleen Conklin 1:35pm December 18, 2010)
I love books when two different worlds collide. Each parties discover that they have same values but just a different way of obtaining them. It gives ground of a good stories when misunderstandings begin but at the end of the stories, the characters discover they are not too different from each others.
(Kai Wong 3:15pm December 18, 2010)
I think the appeal has to do with people wanting to know more about different communities. Murder In Plain Sight sounds like a fascinating story.
(Leni Kaye 3:18pm December 18, 2010)
I enjoy a good mystery
(Catherine Myers 3:55pm December 18, 2010)
The Amish lifestyle is fascinating to the average American because it is very different from the way most of us live. Much has been written about the Amish religious and moral values, about the close knit family units, yet, like all families, things are not always perfect. There can be problems just like in our own society, problems that are usually solved by the leaders in the Amish community. The murder in your book brings in others from outside the community and sounds fascinating.
(Anna Speed 4:28pm December 18, 2010)
This book sounds very interesting. WOuld love to read it too.
(Sophie Vad 4:30pm December 18, 2010)
It's certainly true that the two worlds colliding makes for a story with built-in conflict. I enjoy stories of this kind.

And things aren't perfect in the Amish community. They would be the first to admit that! That's one thing I've heard from them--don't make us look perfect!

Marta Perry
(Marta Perry 5:12pm December 18, 2010)
I have read many of your Love Inspired books and enjoy them very much. I, too, enjoy reading about the Amish. It is interesting to me to read about their lifestyle. Murder In Plain Sight sounds like it will be a very interesting book to read. I hope to win. Have a great weekend.
(Mary Christian 5:12pm December 18, 2010)
Marty! That sounds like a fabulous book! I'm putting it on my continually growing shopping list.

I think you are right about the appeal of the books having something to do with a longing for a simpler life. Lord knows, this past week with all the hustle and bustle of Christmas prep, I've longed for a simpler life!

susan meier
(Susan Meier 5:19pm December 18, 2010)
The Amish are a fascinating group of people, because basically they live such a private lifestyle, when you think about it. They live together on a large piece of property, instead of regular streets. It's amazing how the majority of them exist without electricity, telephones, and other conveniences that we take for granted. When you see an Amish person in their normal dress, you can't help but stop and take notice. Their Womens' handiwork with quilts is so beautiful, and their people take such pride in the work that they do. There are days that I sort of feel like one of them. Where I live, the tv reception is so bad, that I don't watch it most of the time. I recently had a phone put in, after not having one for 3 years. I only had a cell phone for emergencies. As for my computer, it's on dial-up service, so you know how slow that is!! It beats having nothing. If we lose our electricity, our water goes out as well, since it's on an electric pump. I've only been here a little over 3 years, but wouldn't change this life for the world!! I have also met an Amish man recently, and he was very polite, although shy. He will be doing some work out here, so it should be interesting to watch his work ethic.
(Peggy Roberson 6:40pm December 18, 2010)
I'm interested in your observations, Peggy. One thing I would add is that many Amish do live on regular streets since the farms can't support all the Amish. Many of them now have jobs in factories and in small industries, but those I have talked with about it regret the fact that this means families can no longer work together, as they would on a farm.

Blessings,
Marta
(Marta Perry 8:18pm December 18, 2010)
To me the appeal is like anything else I know little about. I love learning while reading for fun. Just because I like romance doesn't mean I don't want to come away from it with a bit of knowledge I didn't posess before. I've never been to Africa to see a tribe in the middle of nowhere, but I like watching them on National Geographic. Of course, I also wouldn't want to check out a church that handles snakes in person either. Just like a culture different than my own, I like seeing those differences. Change is what makes us unique.
(Christina Harrison 8:31pm December 18, 2010)
Hi - your book sounds very appealing to me, and I would agree that the Amish appeal is a longing for a simpler time and a simpler life. We are bombarded today with nonstop external stimulation, and never have time to listen to our inner voices and to nature.
(Sarah Jordan 9:02pm December 18, 2010)
Thanks, Susan! Enjoy!
(Marta Perry 9:16pm December 18, 2010)
This sounds like a really nice read!
(Joanne Mckeareany 10:28pm December 18, 2010)
Just looking at the cover of your book makes me want to read it! Living a simpler lifestyle does sound intriguing. I wish I had this book to read tonight!
(Susan Chase 11:03pm December 18, 2010)
When I think of the Amish I do think of a simpler life where a community comes together.
(Maureen Emmons 7:14am December 19, 2010)
I just wanted to leave another comment since the contest is still open. I think we can learn much from the Amish as we all need a much simplier life style. It is wonderful that Marta Perry has so much knowledge of the Amish to share with us readers. Thank you for sharing that knowledge with us. Everything is so fast paced these days but I love to take a little time each day just for me and read. I would like to win but if not Murder In Plain Sight will be added to my want list.
(Mary Christian 9:20am December 19, 2010)
Other than a simpler life style I think reading about something different is always
an attraction. There is also their strong faith--strong enough to be different in
plain sight. Many people have lost their "faith" and feel some reassurance
experiencing "living faith" or others.
(Sandra Spilecki 1:06pm December 20, 2010)
I think Amish books appeal to me because they have such a different life-style than mine and it's fun to read about someone so different, yet right here in the USA.
(Sue Farrell 2:19pm December 20, 2010)
The Amish Appeal draws us back to traditions long past that survive in a very modern world. Fascinating!!
(Mary Preston 4:18pm December 20, 2010)
This sounds like an interesting book. I agree that the appeal is because we are always curious about differences. But part of my own personal appeal is that I remember (and this ages me some) relatives that...even tho' not Amish...used some of the same tools and lived a similar lifestyle. Tho' the relatives did also enjoy almost all the "mod cons" that we all have. They were just raised that way and kept on that way. Sort of green before it was green in some ways.
(Penny Mettert 6:19am December 21, 2010)
The Amish lifestyle is intriguing since they tend to keep to their own kind except for auctions and working their handcrafted magic. Like Quakers, they have strong family traditions along with support from religion and neighbors.
(Alyson Widen 7:29pm December 27, 2010)
Registered users may leave comments.
Log in or register now!