Purchase
Keepers of the Promise #2
Penguin
June 2015
On Sale: June 2, 2015
Featuring: Judith Wegler; Mattie Lapp
338 pages
ISBN: 0425271420
EAN: 9780425271421
Kindle: B00OQSF6GK
Paperback / e-Book
Add to Wish List

Other Editions
Mass Market Paperback (February 2021)
As an Amish wife and mother struggles to hold her family together, a story from the past teaches her how to face her daily challenges with strength and love . . . In modern day central Pennsylvania, Judith Wegler tries to heal the growing rift between her husband, Isaac, and his teenage brother Joseph—whom Judith and Isaac have raised as their own ever since both brothers lost their parents and siblings in a horrific fire. Meanwhile, Isaac's hurtful silence about this tragic past has robbed Judith of any certainty of her husband's love. But when Judith's grandmother gifts her with an antique study table, she discovers a hidden packet of letters that changes her life . . . In 1953, widow Mattie Lapp fights against the county's attempts to force Amish children to attend a consolidated public school, even if it means arrest and imprisonment. Mattie knows she can't face this challenge alone, and turns to her late husband's cousin Adam for help, but she's terrified at the prospect of relying on someone else. Now, as the two women's stories converge, both must learn to stand up for their beliefs and to love again, even when it means risking their hearts . . .
Keepers of the Promise

The Rescued
#2.0
Amazon.com | BN.com | | |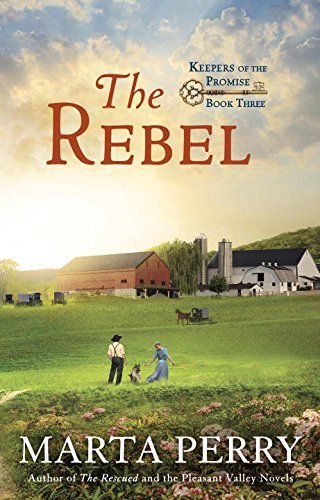 The Rebel
#3.0
Kindle | BN.com | Apple Books | Kobo | Google Play
Comments
29 comments posted.
Re: The Rescued

Apple
(Marissa Yip-Young 5:27am July 10, 2015)
My favorite ???? I like them all .LOL I'll say Apple and also the Apple Crisp . This book sounds like a great read ,I'd love to win it . Thank you for this giveaway .
(Joan Thrasher 10:15am July 10, 2015)
I like both pie and crisp but prefer making crisp (seems
easier to me). I actually just made the rhubarb strawberry
crisp this week and will finish it up today -- yummy!
(Dawn Nicol 10:19am July 10, 2015)
My favorite pie is Rhubarb Apple Pie and Blueberry Pear Crisp.
(Sharon Berger 11:29am July 10, 2015)
I can't say I can ever recall ever eating a crisp, so I
would have to choose pie, because I've made several of those
in my lifetime!! My favorite would have to be a toss-up
between apple or pumpkin. Your visit here today was a
Godsend, because not only did we go away with a recipe, but
I also learned something.If I read your posting correctly,
Pennsylvania Dutch country is Amish country, too!! I had no
idea, even though I've heard that term since I was a little
girl. Any day you learn something new, it's a good day!!
I'm also thrilled to learn about your new book, which has
been put on my TBR list. I can't wait to get my hands on
it, and wind up my Summer reading with your book!! I love
to read about the Amish, and your book sounds like a real
page-turner!! Congratulations on your book!! The cover is
beautifully done, too, and I'm sure it's going to do really
well!!
(Peggy Roberson 11:49am July 10, 2015)
I was so bummed when my rhubarb didn't come up in spring, evidently it
froze out. Luckily I have a neighbor with a big plant and willing to share.
(Laurie Bergh 12:34pm July 10, 2015)
I love a good pumpkin pie yet it seems I only eat it around the winter holidays.
(Joy Isley 5:08pm July 10, 2015)
I have had a ton of rhubarb this year. I make my own recipe
and use apple or cherry pie filling. The strawberry filling
I made last week was not as popular. My kids called it
Rhubarb Delight when I first made it when they were little.
I once won a cookbook on Amish cooking and baking and have
used quite a few recipes from it.
(Leona Olson 6:20pm July 10, 2015)
My favorite pie is pecan pie. Topping it with vanilla ice cream makes it special.
(Gladys Paradowski 10:26pm July 10, 2015)
Any pie is great!!!! Especially one that I didn't have to make the crust for! I like making filling, so crisps are what I make more of. Years ago, I would make the filling and my mom would make the crust for the pies.
(Jennifer Hibdon 11:09pm July 10, 2015)
Pumpkin, of course. Unless it's peach, cherry, apple. Oh, the list goes on.
(Mary Ann Brady 11:19am July 11, 2015)
I love cherry pie but rubarb is great, tooo.
(Mary Hay 11:23am July 11, 2015)
My favorite pie is cherry pie, but I am so excited to
have these rhubarb recipies because I have a rhubarb
patch in my garden that I am dying to do something
different with besides the rhubarb sauce my Mom used to
make when I was a child. I appreciate the chance to win
a copy of "The Rescued"! I love the idea of finding old
letters in an antique table.
(Teresa Kusant 1:50pm July 11, 2015)
Cherry would be my favorite. Thanks for this opportunity.
(Nancy Luebke 3:01pm July 11, 2015)
since I have an apple tree in the back yard it has to be apple.
(Christine Schultz 3:22pm July 11, 2015)
I like both!
(Karen Mikusak 7:36pm July 11, 2015)
My two favorite pies are blueberry and cherry, with a scoop
of vanilla ice cream on the side!
(Maryann Skaritka 8:17pm July 11, 2015)
My favorite is black raspberry cobbler or pie.
I also love your books.
(Mary Branham 11:26pm July 11, 2015)
My favorite pie hands down is apple pie.
(Lnda McFarland 11:12am July 12, 2015)
happy Sunday hope you having a great reading weekend
(Emily Stemp 12:02pm July 12, 2015)
we used to spend the supper up in the dutch country as kids our friend had big house an Tell my mom to drop off us and we love it we pick the garden and then the pies the amish would help her husband with the bigger choirs for the maple of the trees in winter
(Desiree Reilly 12:17pm July 12, 2015)
It's definitely pie and I have too many favorites of that to settle on just one!
(Flora Presley 5:57pm July 12, 2015)
I like my pie to be crisp (especially the crust).
(Kai Wong 5:58pm July 12, 2015)
I like pie and usually peach or apple.
(Melinda Marks 9:14pm July 12, 2015)
happy Sunday Night .
(Emily Stemp 9:36pm July 12, 2015)
new author for me. would love to read her work
(Lorelei Frank 7:09am July 13, 2015)
Wow my favorite pie is a peach or a good apple pie .
Crossing my fingers !
(Peggy Clayton 12:28pm July 13, 2015)
I love the review on this thanks, mine would be pie and good strawberry pie or key lime.
Penney
(Penney Wilfort 5:01pm July 13, 2015)
I love Strawberry Rhubarb pie and will make this really soon! Thanks so much .
(Pam Flynn 10:19pm July 13, 2015)
Registered users may leave comments.
Log in or register now!