Purchase
Pleasant Valley #6
Berkley
May 2012
On Sale: May 1, 2012
Featuring: Hannah Conroy
336 pages
ISBN: 0425246949
EAN: 9780425246948
Kindle: B00867400K
Trade Size / e-Book
Add to Wish List

Other Editions
Mass Market Paperback (reprint - February 2019)
Returning to Pleasant Valley is giving Hannah Conroy a much-needed chance at a new life. But now she must discover her true place in the world …
Unexpected tragedy has left Hannah without her soldier husband and a home for her baby son, Jamie. Seeking refuge, she comes to live with her aunt in Pleasant Valley, a place she hasn't seen since childhood, when her parents left the Mennonite faith. Working in her aunt's bakery is a way for Hannah to get back on her feet, but she isn't sure if she can live by tradition—or if she and Jamie should stay for good. She finds an unexpected, sympathetic listener in furniture maker William Brand. His stutter makes him feel like a permanent outsider in his Amish community, and he understands her loneliness.
Hannah is irresistibly drawn to the shy, caring William, and her education in speech therapy makes it natural for her to want to help him speak more easily. But how can she encourage his attention when she might someday leave Pleasant Valley, and when her father-in-law, a military officer, is scheming to take Jamie away from her? As William seeks the courage to stand up for the woman who believes in him, Hannah must decide where her true home lies—in the free, ever-changing world she knows, or in the simpler, loving community she's found…
Pleasant Valley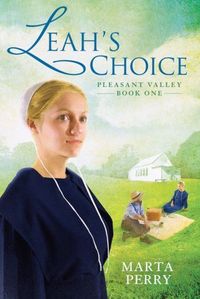 Leah's Choice
#1.0
Amazon.com | BN.com | | |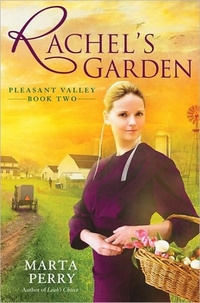 Rachel's Garden
#2.0
Amazon.com | BN.com | | |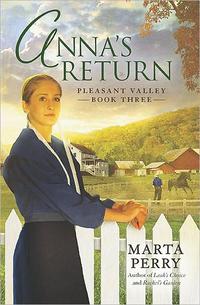 Anna's Return
#3.0
Amazon.com | BN.com | | |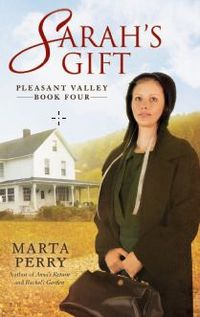 Sarah's Gift
#4.0
Amazon.com | BN.com | | |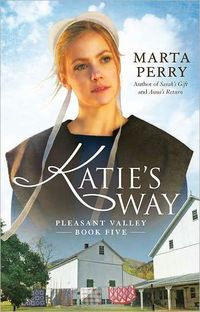 Katie's Way
#5.0
Amazon.com | BN.com | | |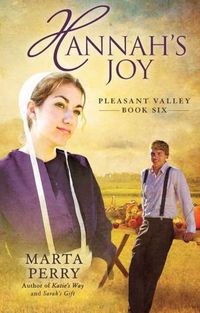 Hannah's Joy
#6.0
Amazon.com | BN.com | | |
Comments
32 comments posted.
Re: Hannah's Joy

the book sounds really good i would love to have it
(Denise Smith 2:18pm May 6, 2012)
I certainly look forward to visiting Pleasant Valley again.
Blessings,
Marjorie
(Marjorie Carmony 2:24pm May 6, 2012)
I was raised with Mennonites and have lived near Amish as an
audlt. I love reading books about them to learn more about
habits that I have seen in both sects. I would like to win
this book.
(Mary Hay 2:47pm May 6, 2012)
I enjoy reading books such as this.
(Craig Clarkson 5:43pm May 6, 2012)
Just reading the outline, it has already touched my heart, would love to read this
(Nancy Luebke 5:45pm May 6, 2012)
I'm not sure of the differences so this could be educational as well as enjoyable. Thanks for the opportunity.
(Kelly Knapp 6:07pm May 6, 2012)
Different points of view always wide my horizons. I look forward to reading this book.
(Clydia DeFreese 6:21pm May 6, 2012)
I look forward to reading Hannah's Joy. I live not far from Lancaster County which is Amish country and we always enjoy visiting the area
(Shirley Younger 6:29pm May 6, 2012)
I'd love to read this book, I've read all the others and enjoyed them very much.
(Wilma Frana 6:39pm May 6, 2012)
I never realized that there were so many different facets to the Amish people, for lack of a better word. The story sounds like it would be one that would tug at your heart strings, and I would love to read it. I must be honest and admit that I haven't read any of your books before, but if I had the chance to read this one, I'm sure that I'd go back and read the others. Once I get hooked on an author, I stay with a series. I love not only the realism of the covers, but the way the colors are muted, which give the reason behind the book more truth. If it was in wild colors, it would seem as if it was some wild, made up story to sell a book. I love the peacefulness and thought that went behind it. Congratulations on your latest book.
(Peggy Roberson 7:01pm May 6, 2012)
Would love to win. God Bless. May you have many blessings
(Jane Squires 7:04pm May 6, 2012)
Sounds like a great book!! Thanks for the chance to win!!
(Natasha Donohoo 9:53pm May 6, 2012)
Interesting to learn more about the differences between the various branches of Amish and Mennonite religions! thank you for your insights.
(Beth Fuller 11:35pm May 6, 2012)
Been waiting to read this it sounds fantastic Thank you for this chance to win a copy : ) Brenda Wheeler
(Brenda Wheeler 9:45am May 7, 2012)
Ironically, I was just finishing one of Kelly Long's books and my husband was telling me that he cannot believe that there is *that* much to write about in relation to the Amish because I am constantly reading Amish fiction. I looked at him and gave him the "Oh no you didn't..." look... I think it is one of those things that a person actually has to witness. It is beyond WHAT the Amish do, their language, their dress....their belief system. Each book is about an individual or community's conflict within themselves, so to speak. When I open the books, I am comofrted by the Amish surroundings and the familiarities of what to expect while empathizing with the character or characters as they undergo an, often, spiritual journey that ultimately makes their lives more positive. I doubt the hubby is ever going to sit down and read Amish fiction (I suppose more surprising things have happened...), but at least he understands my perspective a little better. ;)

By the way, in your particular series in discussion, Leah has been my favorite, by far, with Sarah next. I don't know what it was, but those two stories were just amazing to me. :)
(Chelle McIntyre-Brewer 11:28am May 7, 2012)
I'm fascinated by the Amish and have always wondered why some groups do
one thing and others do things differently. The more I read about them, the
more I learn that they can differ rather greatly. I so enjoy visiting the
mountains of NC each summer where I can buy their butter and cheeses.
They're absolutely delicious and the people are so friendly. I think, too, that
my granddaughter, Hannah, would love to read "Hannah's Joy" but only after I
have! ;-)
(Connie Fischer 12:39pm May 7, 2012)
I would love to win this book because I absolutely love your stories. They're so inspiring!:)
(Rebecca Smith 12:48pm May 7, 2012)
I would love to win this book! Thanks for the chance!
(Lenise Torres 3:16pm May 7, 2012)
I would love to win this book! I'm fascinated by the Amish and their lifestyle. I'm sure reading your books will give me an even better insight.
(Linda Luinstra 5:52pm May 7, 2012)
I love Marta Perry's books. I like to read about the history of the Amish. Being able to learn about their ways of life is interesting. I can't wait to get the new book.
(Patti Boyett 6:16pm May 7, 2012)
Can't wait to read this. I love every single one of your books that I have
read but I think this series is my favorite.
(Patricia Smith 8:17pm May 7, 2012)
Hannah's Joy sounds like it would explain some of the differences in religion between the Amish and Mennonites. I remember being on a trip to Washington DC for Cherry Blossom time and the teenage Mennonites that came along were a bit wild and enjoyed the beds with built-in vibrators.
(Alyson Widen 8:43pm May 7, 2012)
I would love to win and read this book...it sounds great.I love Amish books.Thanks..
(Dick Head 10:34pm May 7, 2012)
This sounds really interesting! I've read Amish stories but not any
Mennonite stories! When I was a little girl, I net to Church once at a
Mennonite Church. I'm pretty sure they were what you're calling Black-
Bumper. And I spoke so quickly back then that when I got back to my
own Methodist Church, they thought I was saying Midnight Church - my
mom had to say it for them. Too funny looking back!
(Kelli Jo Calvert 11:20pm May 7, 2012)
I do love reading Amish fiction. Yes please!!
(Mary Preston 2:27am May 8, 2012)
I do appreciate the detail authors put in their stories.
(Maureen Emmons 6:11am May 8, 2012)
I think this new book must have been a challenge! I really like the idea of it. I look forward to reading it and would love to win it. I enjoy Marta's books very much.
(Susan Faloon 12:49pm May 8, 2012)
The entire series of books has been fascinating as the
stories have built upon themselves to add details about the
lives of the characters. The seriousness with which the
characters consider their actions and thoughts based on
their religious beliefs really make a person stop and think
about their own beliefs. I find myself in my daily life
remembering lines from the books and reacting a little more
patiently and calmly. I am very much looking forward to
Hannah's Joy as I also have a speech impediment and went
through years of speech therapy, so I have a special
affinity for William!
(Debbie Wynn 7:28pm May 8, 2012)
I love Amish novels and would love to win this one. Thank you for the opportunity to enter this contest!
(Ann Thaxton 7:51pm May 8, 2012)
I live in Ireland where our only experience of Amish people is through screen or book. I find the concept intriguing and pleasant, and would like to kow a lot more about the peple who choose this lifestyle. I saw a "Cold Case" episode where a girl asked the detectives to find her sister who had left the family farm to spend a year living in the city, as required before she could commit herself to the Amish life for good. Sadly she had fallen into bad company and not survived. More recently I saw a documentary including an Amish farmer, who did not want his face to appear on screen, who is happy to use genetically modified cotton seed in order that pests do not eat his crop. Clearly there are innumerable facets to the life chosen by these people. I would love to learn about their loves and disappointments, the warmth and tribulations that make up their personal world. Best of luck with the series.
(Clare O'Beara 12:39pm May 10, 2012)
I really enjoy pleasant valley seris. I would love the next one. I always known some mennonite families and live near amish communities and really interested in knowing more about them.
(Jennie Harshman 1:18am May 12, 2012)
I would love to win Hannah's Joy because I have read the other books in the series and they were all so good I couldn't put them down!:)
(Rebecca Smith 5:12pm May 18, 2012)
Registered users may leave comments.
Log in or register now!