We're back with another stop on our Fall Slow Cooker Recipe Potluck! Don't forget to comment below for a chance to win an eBook copy of today's featured book. And be sure to check back at all of the other great posts this week:
Day 1 with Elizabeth Goddard: http://freshfiction.com/page.php?id=10267
Day 2 with Soraya Lane: http://freshfiction.com/page.php?id=10269
Day 3 with Laura Lee Guhrke: http://freshfiction.com/page.php?id=10270
***
In the Not Dead Yet series, Wes Cooper and Hudson Rojas have the chance to rekindle the romance they abandoned thirty-three years before--thanks to Wes being a sort-of-but-not-quite ghost and Hudson being a vampire. The paranormal side of Toronto seems to be invested in making them work for their happily-ever-after, though.
In the third book in the series, Graveyard Shift, Wes and Hudson have shared all of their secrets and are solidly a team, all-in with each other, their found family, and their business as private investigators. But Toronto's not done messing with them. Someone's out there, poisoning shifters with specially made street drugs. There are newbie vampires running amok. And a threat from Hudson's past might steal his and Wes's happily ever after for good.
Both Wes and Hudson are cooks, but not cooks, if you get my meaning. They're old enough to know how to keep themselves fed (and yes, my vampires need to eat real food!), but neither are truly creative in the kitchen. The simpler the recipe the better. I like to think Wes appreciates the hell out of a good slow cooker recipe…especially one that results in beautifully done, fall-off-the-bone ribs.
Simple Slow Cooker Ribs
Ingredients:
2 to 3 lbs of pork ribs (use your favourite type)
Optional: salt, pepper, garlic powder, onion powder sprinkled over the meat
Not optional: 1 to 1.5 cups of your favourite barbeque sauce. Make sure it's excellent. This is key to the recipe!
Instructions:
1. Season your ribs with spices (optional).
2. Stand the ribs on end around the inside of the slow cooker, with the meatier side against the slow cooker wall. (If you want to double or triple the recipe, you should be able to fit plenty more in the slow cooker by arranging them like this.)
3. Pour the barbeque sauce over the ribs, making sure that it drips down on both sides of the meat. (If you want more sauce, add more sauce!)
4. Close the lid and set the slow cooker on HIGH for 4 hours or LOW for 8 hours.
5. If you want more of a glazed finish when they're done cooking, put them under your oven's broiler for a few minutes.
That's it! A super simple recipe that even a not-ghost ex-thief or busy ex-cop can do. Enjoy!
***
Comment below for a chance to win an EBOOK copy of Graveyard Shift by Jenn Burke. Tell us what you're dressing up as for Halloween (Or what you would if you still did that kind of thing, LOL)!
***
Not Dead Yet #3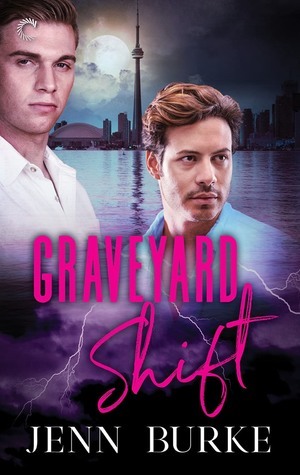 Ghost/god Wes Cooper and his not-life partner, vampire Hudson Rojas, have settled into cohabitation in an upscale part of Toronto. So what if their hoity-toity new neighbors haven't exactly rolled out the welcome mat for the paranormal pair? Their PI business is booming, and when a suspect they've been tailing winds up in the morgue, it's alongside a rash of other shifters in apparent drug-related fatalities.
Now Wes and Hudson must connect the dots between the shifter deaths and an uptick in brutal vampire attacks across the city. Throw in a surprise visit from Hudson's niece--who may or may not be on the run from European paranormal police (who may or may not exist)--and guardianship of a teen shifter who might be the key to solving the whole mystery (if only she could recover her memory), and Wes and Hudson have never been busier. . . or happier.
But when a nightmare from Hudson's past comes back to haunt him, their weird, little found family is pushed to the brink. Mucking this up would mean Hudson and Wes missing their second chance at happily-forever-afterlife. . .
Romance Paranormal | Romance LGBTQ [Carina Press, On Sale: November 4, 2019, e-Book, ISBN: 9781488036279 / eISBN: 9781488036279]
Jenn Burke has always been drawn to weird and wonderful stories, particularly those juxtaposed with our normal, boring world. Her love of the written word prompted her to get a Bachelor of Arts in English Literature from the University of Ottawa, and she's spent the years since working in corporate and web communications—and dreaming up weird and wonderful stories of her own. A self-confessed geek, Jenn loves spending time in the worlds of video games, surfing her favorite websites, reading all the romance novels she can get her hands on, and accumulating an impressive collection of nerdy t-shirts. She currently lives outside of Ottawa, Ontario, with her husband, two kids, and her writing helper, Alenko the husky.
13 comments posted.
That's how I've been making my barbecue ribs for the past couple of years!
I love how the meat falls off the bone. Delicious! Less mess, too. My family
likes them a little crispy on the top. After they're done cooking in the slow
cooker I put them on a tray, add a little extra sauce (usually spicy) and put
them in the oven on broil until they're brown and crisp on top! Yum
(Annette OMullan 1:47pm October 11, 2019)