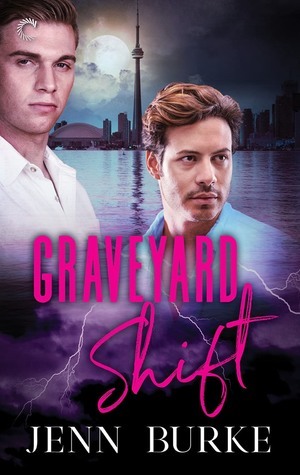 Purchase
Not Dead Yet #3
Carina Press
November 2019
On Sale: November 4, 2019
Featuring: Wes Cooper; Hudson Rojas
ISBN: 1488036276
EAN: 9781488036279
Kindle: B07SJ7BWBD
e-Book
Add to Wish List

Romance Paranormal | Romance LGBTQ
Ghost/god Wes Cooper and his not-life partner, vampire Hudson Rojas, have settled into cohabitation in an upscale part of Toronto. So what if their hoity-toity new neighbors haven't exactly rolled out the welcome mat for the paranormal pair? Their PI business is booming, and when a suspect they've been tailing winds up in the morgue, it's alongside a rash of other shifters in apparent drug-related fatalities.

Now Wes and Hudson must connect the dots between the shifter deaths and an uptick in brutal vampire attacks across the city. Throw in a surprise visit from Hudson's niece--who may or may not be on the run from European paranormal police (who may or may not exist)--and guardianship of a teen shifter who might be the key to solving the whole mystery (if only she could recover her memory), and Wes and Hudson have never been busier. . . or happier.

But when a nightmare from Hudson's past comes back to haunt him, their weird, little found family is pushed to the brink. Mucking this up would mean Hudson and Wes missing their second chance at happily-forever-afterlife. . .
Comments
13 comments posted.
Re: Graveyard Shift

sounds very good to me
(Vickie Couturier 10:02am October 10, 2019)
That's how I've been making my barbecue ribs for the past couple of years!
I love how the meat falls off the bone. Delicious! Less mess, too. My family
likes them a little crispy on the top. After they're done cooking in the slow
cooker I put them on a tray, add a little extra sauce (usually spicy) and put
them in the oven on broil until they're brown and crisp on top! Yum
(Annette OMullan 1:47pm October 11, 2019)
These ribs sure sound good! I haven't dressed up for many, many years but
I love to see the creativity of those who knock on my door!
(Jan Tomalis 6:40pm October 11, 2019)
If I still dressed for Halloween I would be a pirate girl.
(Jackie Wisherd 9:06pm October 11, 2019)
Yummm!!!
(LeAnn Abernathy 9:38pm October 11, 2019)
I worked at a nursing home and went as a nun and nobody
would believe it was a costume
(Janet Johnson 10:17pm October 11, 2019)
The ribs sound mighty tasty, I will have to try the recipe.
I no longer dress for Halloween, I just enjoy seeing all the
kids dressed up.
(Julie McDonough 1:47pm October 12, 2019)
I would dress up as a zombie.
(Buddy Garrett 2:00pm October 12, 2019)
I'd probably dress as a witch if I were to dress up
(Katrina Dehart 1:29pm October 13, 2019)
I always want to dress up as a gypsy.
(Jaye Smith 1:47pm October 13, 2019)
Interesting blurb. I want to read this book.
(Robin Davis 1:48pm October 13, 2019)
I'm going to make the ribs. Sound delicious. It's been many,
many years since I've dressed up for Halloween. Probably a
pirate.
Carol Luciano
Lucky4750 at aol dot com
(Carol Luciano 3:51pm October 14, 2019)
These ribs sound amazing Thank you for the chance to win!
(Sarah Taylor 7:58pm October 23, 2019)
Registered users may leave comments.
Log in or register now!