April showers are supposed to bring May flowers, and I know that after the racous month April turned out to be for many of us, that we are looking forward to some peaceful, flowery days to come.

Maybe this collection of cozy mysteries will help sooth and comfort those who are in need of comforting, and entertain the rest of us who are in need a good mystery and laugh or two.

HARDCOVERS:


DEATH ON TOUR
By Janice Hamrick
St. Martin's Press; $24.99

Texas high school teacher Jocelyn Shore and her cousin Kyla are on a once-in-a-lifetime guided tour of Egypt with a motley crew of fellow travelers when the most odious of the bunch, a nosy, disagreeable woman named Millie Owens, takes a fatal fall off of one of the great pyramids. And that's only the beginning of their troubles.

From the guide who always seems to be off on his cell phone having the most urgent conversations to the young woman who begs off of almost every excursion claiming to be ill to the supposed married couple who can hardly speak to each other, Jocelyn and Kyla's tour group is full of people who may or may not be who they say they are. And one of them may very well be a murderer.

Janice Hamrick's Mystery Writers of America/Minotaur Books Competition winner DEATH ON TOUR is a delightful debut and the beginning of a wonderfully charming cozy series featuring Jocelyn Shore, the determined teacher who always seems to get wrapped up in a mystery, against her usually very sound judgment.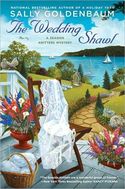 THE WEDDING SHAWL: A Seaside Knitters Mystery #5
By Sally Goldenbaum
Obsidian; $24.95

Izzy Chambers is about to get married, but much remains to be done. Then the wedding plans get complicated when the wedding party's hair stylist begins missing appointments. When she's found dead, things really begin to unravel. Rumors circulate about the stylist's past and her connection to an unsolved murder years ago.

All the Seaside Knitters really know is they must rally to find some answers, so Izzy can don the wedding shawl they're surprising her with- and replace the whispers about town with wedding bells.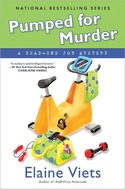 PUMPED FOR MURDER: A Dead-End Job Mystery #10
By Elaine Viets
Obsidian; $23.95

Helen Hawthorne and her new hubby Phil have opened their own P.I. agency and their very first client is Shelby, who thinks her husband is developing a killer body for another woman.

To keep track of the suspected cheater, Helen gets a dead-end job at Fantastic Fitness, where she has to pump iron to stay employed. Then the budding agency takes on a murder case, and Helen has to move her workouts to the early morning just to keep up. With so much weight on her aching shoulders, will Helen catch a killer-or just drop dead from exhaustion?

(Also out this month in paperback is Elaine's book, HALF-PRICE HOMICIDE)


SPIDER WEB: A Benni Harper Mystery #15
By Earlene Fowler
Berkley Prime Crime; $24.95

Benni and the ladies of her Coffin Star Quilt Guild are excited to display their Graveyard Quilt (inspired by Elizabeth Rosemary Mitchell's famous historic quilt) at the first ever San Celina, California Memory Festival. The fair promises to be a wonderful and moving event celebrating memories through quilts, crafts, scrapbooks, photographs, written word, oral histories and tributes to loved ones.

But when a local cop is wounded by a mysterious sharp shooter who seems to have a vendetta against the police, Benni fears for her own loved ones—especially her police chief husband, Gabe. The shooting sets off post-traumatic stress disorder in Gabe, who starts having violent nightmares.

Troubled by her husband's emotional trauma and a mysterious new San Celina resident—a woman who knows too much about Gabe's past—Benni is drawn into the search for the sniper, determined to make her hometown safe again...before their peaceful street fair becomes a shooter's deadly target range.

(Also out this month is Earlene's novel, STATE FAIR)

PAPERBACKS:


MURDER UNDER COVER: A Bibliophile Mystery #4
By Kate Carlisle
Obsidian; $7.99

When she receives an exquisite copy of the Kama Sutra from her best friend, Robin, to appraise and restore, Brooklyn Wainwright anticipates re-creating a beautiful book and spicing up her love life. But before Brooklyn can get started, Robin winds up in big trouble: Her apartment is ransacked, and the great guy she recently met lies murdered in her bed. Now Robin is the number one suspect.

Luckily, Brooklyn's boyfriend, British security expert Derek Stone, has moved to San Francisco and is ready to help. And not a moment too soon, because Brooklyn's own apartment is found thoroughly searched. To make matters worse, a bleeding Russian stranger barges in, and the earlier victim is identified as Ukrainian, making it clear to Brooklyn that she's involved in an international conspiracy. Obviously, exploring the Kama Sutra's bliss will have to wait until after Brooklyn finds the killer.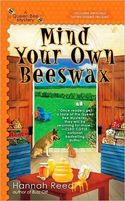 MIND YOUR OWN BEESWAX: A Queen Bee Mystery #2
By Hannah Reed
Berkley Prime Crime; $7.99

Things are going well for beekeeper Story Fischer, whose hands are full with The Wild Clover, her successful local market, her Queen Bee Honey business, and a new/old boyfriend Hunter. But when she finds the dead body of local woman with a checkered past right near her hive, she's in a sticky situation indeed.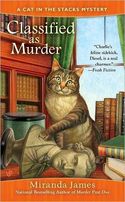 CLASSIFIED AS MURDER: A Cat In The Stacks Mystery #2
By Miranda James
Berkley Prime Crime; $7.99

Aging eccentric James Delacorte asks Charlie the librarian to do an inventory of his rare book collection—but the job goes from tedious to terrifying when James turns up dead. Relying on his cat Diesel to paw around for clues, Charlie has to catch the killer before another victim checks out.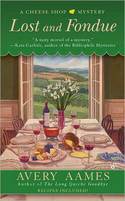 LOST AND FONDUE: A Cheese Shop Mystery #2
by Avery Ames
Berkley Prime Crime; $7.99

The fair town of Providence has settled down to normal after last year's murder. Jonquils are in bloom. The Cheese Shop is thriving. and Charlotte's romance with Jordan is flourishing. But when her friend, Meredith, decides to throw a fund-raiser to create a liberal arts college out of a long-abandoned winery—a winery that is rumored to hold not only buried bodies but buried treasure—Charlotte's joie de vivre deflates like a bad souffle. Charlotte's fears are realized when an art student is found dead in the wine cellar, and Meredith's niece is the main suspect.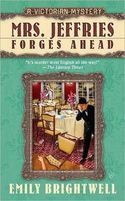 MRS. JEFFRIES FORGES AHEAD: A Victorian Mystery #27
By Emily Brightwell
Berkley Prime Crime; $7.99

Arlette Montrose Banfield angered many marriageable women when she snagged the handsome Lewis Banfield—but were they angry enough to poison her? Mrs. Jeffries doesn't mind getting her hands dirty to uncover the greed behind her murder.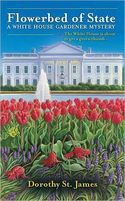 FLOWERBED OF STATE: A White House Gardener Mystery – Debut novel
By Dorothy St. James
Berkley Prime Crime; $7.99

When it comes to gardening, Cassandra "Casey" Calhoun isn't afraid to get her hands dirty. But when it comes to murder, she's not the kind of gal to let any killer get away clean.

Casey's passion for organic gardening and eye for detail have carried her into the most important patch of land in America—the President's Park, on which sits the most important home in America: the White House. But while she's readying the final touches on an innovative cultivation program for the First Lady to inspect, she's attacked from behind by an unknown assailant who then disappears. When she comes to, she notices some damaged foliage that leads her and the Secret Service to a dead woman in a trash can.

With the biggest opportunity of her life ready to bloom, and all the President's men plowing up her perfect plans, Casey has to dig in and root out a killer before she ends up planted herself.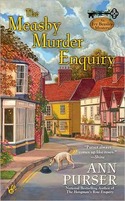 THE MEASBY MURDER ENQUIRY: An Ivy Beasley Mystery #2
By Ann Purser
Berkley Prime Crime; $7.99

Cantankerous spinster Ivy Beasley has quickly learned that spending her golden years in the quaint village of Barrington won't be as quiet as she thought. Ivy hasn't been in assisted living at Springfields for long, but she's already found new friends, formed a detective agency, and solved a murder. And as autumn falls, Ivy and her team are asked to investigate a mysterious death in the village of Measby—in between card games, of course.


SHAKE, MURDER AND ROLL: A Bunco Babes Mystery #3
By Gail Oust
Obsidian; $6.99

Bunco is Kate McCall's game, not gardening. But it starts to grow on her when she's invited to Serenity Cove Estate's gardening club banquet. When renowned botanist and gardening celebrity Shelia falls ill and her husband dies, the Bunco Babes have a landscape of suspects to weed through.
No comments posted.