Miranda James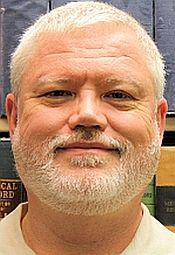 Blogging at Fresh Fiction
Miranda James | An Antebellum Kind of Murder
October 3, 2017
I'm not entirely certain where my fascination with old houses – mansions, really – began. The house I grew up in was built for my parents Read More...
Miranda James | Writing the Series Sleuth
February 13, 2017
All my mystery novels have featured amateur detectives. The main reason for this is that I have always enjoyed mysteries with amateur sleuths, ever since Read More...
Review: NO CATS ALLOWED by Miranda James
February 6, 2017
"A clever murder mystery with plenty of southern charm" Charlie Harris and his cat Diesel are about fed up with the new head of the Read More...
Miranda James | Miss Marple Hooked Me
October 14, 2014
I have always had a predilection for female amateur detectives, ever since I first discovered Nancy Drew over forty years ago with The Secret Read More...
Miranda James | Cozy isn't just "female"
March 10, 2013
When you mention the words "cozy mystery" these days, what probably comes to mind most often is "female sleuth." That's because 99% of cozy Read More...
Miranda James is the pseudonym of Dean James, a seventh-generation Mississippian recently returned home after over thirty years in Texas. A mystery fan since the age of ten, he wrote his first novel at the ripe old age of twelve. The only copy of The Mystery of the Willow Key vanished years ago, but since it was highly derivative of the Nancy Drew and Trixie Belden mystery series, that's probably a good thing.
Currently a librarian in the Texas Medical Center in Houston, Dean has published articles on topics in library science, the history of science/medicine, and mystery fiction.
Dean lives with two young cats, thousands of books, and thinks frequently about killing people – but only in the pages of fiction.
Log In to see more information about Miranda James
Log in or register now!
Series
Cat In the Stacks | Southern Ladies
Books:
Hiss Me Deadly, April 2022
Hardcover
What the Cat Dragged In, September 2021
Cat in the Stacks Mystery #14
Hardcover / e-Book
Careless Whiskers, December 2020
Cat in the Stacks Mystery #12
Mass Market Paperback / e-Book
Cat Me If You Can, September 2020
Cat in the Stacks Mystery #13
Mass Market Paperback / e-Book
Cat Me If You Can, September 2020
Cat in the Stacks #13
Hardcover / e-Book
The Pawful Truth, June 2020
Cat in the Stacks Mystery #11
Mass Market Paperback / e-Book
Careless Whiskers, February 2020
Cat in the Stacks #12
Hardcover / e-Book
Six Cats a Slayin', December 2019
Cat in the Stacks #10
Mass Market Paperback / e-Book (reprint)
The Pawful Truth, July 2019
Cat in the Stacks #11
Hardcover / e-Book
Claws for Concern, June 2019
Cat in the Stacks #9
Mass Market Paperback / e-Book (reprint)
Six Cats a Slayin', November 2018
Cat in the Stacks #10
Hardcover / e-Book
Claws for Concern, February 2018
Cat in the Stacks Mystery #9
Hardcover / e-Book
Twelve Angry Librarians, January 2018
A Cats in the Stacks Mystery
Mass Market Paperback / e-Book
Fixing to Die, October 2017
Southern Ladies
Mass Market Paperback / e-Book
Twelve Angry Librarians, March 2017
Cat in the Stacks
Hardcover / e-Book
No Cats Allowed, February 2017
Cat in the Stacks #7
Mass Market Paperback / e-Book (reprint)
Digging Up the Dirt, September 2016
Southern Ladies #3
Mass Market Paperback / e-Book
No Cats Allowed, March 2016
Cat in the Stacks #7
Hardcover / e-Book
Arsenic and Old Books, February 2016
Cat in the Stacks #6
Paperback / e-Book (reprint)
Dead With The Wind, October 2015
Southern Ladies #2
Paperback / e-Book
Arsenic And Old Books, February 2015
Cat in the Stacks Mystery #6
Hardcover / e-Book
Bless Her Dead Little Heart, October 2014
A Southern Ladies Mystery #1
Paperback / e-Book
The Silence Of The Library, February 2014
Cat in the Stacks Mystery
Mass Market Paperback / e-Book
Read Humane File M for Murder, May 2013
Paperback
Out Of Circulation, February 2013
Cat in the Stacks #4
Paperback / e-Book
File M For Murder, February 2012
Cat in the Stacks #3
Paperback / e-Book
Classified as Murder, May 2011
Cat in the Stacks Mystery
Paperback / e-Book
Murder Past Due, August 2010
Cat in the Stacks #1
Paperback / e-Book