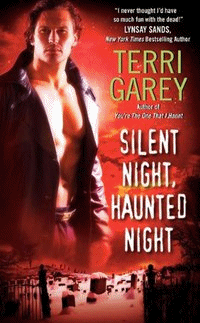 Win a copy of Terri Garey's latest SILENT NIGHT, HAUNTED NIGHT. and the apron with a cute ghost design by Two Purring Cats Studio.
All I haunt for christmas is you . . .
Pre-order SILENT NIGHT, HAUNTED NIGHT Today

On Sale: October 27, 2009

Joe Bascombe is no stranger to desire, but when a sexy spirit begins haunting his dreams, he finds himself ensnared by dark passions. What he doesn't realize is that the devious demon and her two sisters, otherwise known as the Three Fates, are out to teach the woman he loves a lesson . . .
Unwilling psychic Nicki Styx survived a near- death experience to find herself able to see and hear the dead, but she only has eyes for Joe. Together they've conquered evil spirits, saved lost souls, and beaten back the Devil himself, but they're about to learn that there are more things in Heaven and Hell than they ever imagined. As far as Nicki is concerned, Joe is the man of her dreams, but now they're at the mercy of the creature who's invaded his.
It'll be a Christmas to remember . . . and it could be Joe and Nicki's last.
A big thank you to Avon Books!
Contest ends: October 26, 2009