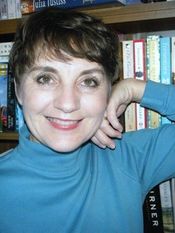 Real, intense, passionate historical romance
Contests
Summer Getaways with Julia Justiss - a road trip to Vienna

Social Media:
BOOKBUB
FACEBOOK
TWITTER
PINTEREST

E-mail me when Julia Justiss releases a new book.
Blogging at Fresh Fiction
Julia Justiss | History ReFreshed: Lesser-Known Tudors: The Lives of the Not-So-Famous and Powerful
April 17, 2019
One of the first harbingers of spring in my area is the appearance of several tiny flowers that thrive in the grass, a miniature violet Read More...
Julia Justiss | History ReFreshed: The Wearin' O' the Green
March 20, 2019
For March, where can we look to for inspiring historical fiction but Ireland? And as might be expected in a land of poets, leprechauns, fairies Read More...
Julia Justiss | History ReFreshed: The Family Bond
February 27, 2019
February means Valentine's Day, a celebration of love and family. What better way to honor that tradition than by exploring love that endures through Read More...
Julia Justiss | History ReFreshed: Tapestry of Art and Scandal
January 16, 2019
Something about the richness and vibrant color of the brocade gowns of the Italian Renaissance calls up to me the decorations of the winter season Read More...
Julie Justiss | History ReFreshed: For Richer or Poorer
December 19, 2018
With Christmas nearly upon us, thoughts turn to gifts, gift- giving and what a "gift" truly means.  What could be a greater blessing than realizing Read More...
Julia Justiss | History ReFreshed: The Supporting Role
November 30, 2018
As we head into the holiday season, most of us anticipate sharing time with friends and family: those people who love us, assist us and Read More...
Julia Justiss | Your First Crush
September 8, 2016
That sudden fascination…the nervousness of being around him but yet the compulsion to seek out his company… Can anyone forget their first crush, finally Read More...
Julia Justiss | IN THE BEGINNING…
May 3, 2016
Where does an author come up with her stories? Sometimes from watching a movie or reading a book or news article that piques her interest Read More...
Julia Justiss | The Eternal Appeal Of The Rake
February 9, 2011
It doesn't take much research to prove that the "bad boy" is one of the most popular hero types in romance fiction.  For the Read More...
Julia Justiss | It's All About The Passion
August 4, 2010
What is it that draws readers to romance fiction, keeps them coming back to favorite books and authors again and again, year after year? Whether Read More...
After twelve years as a vagabond Navy wife, an adventure that took her from Virginia Beach, VA, to Monterrey, CA, to Tunis, Tunisia to Oslo, Norway and back, Julia Justiss followed her husband to his family's East Texas homeland. On a hill above a pond with a view of pasture land, they built an English Georgian-style home. Sitting at her desk there, if she ignores the summer heat, she can almost imagine herself in Jane Austen's Regency England.
In between teaching high school French and making jaunts to visit her three children (a Seabee in Gulfport, MS, a clothing buyer in Houston and a mechanical engineer in Austin, TX) she pursues her first love—writing historical fiction.