Becky Clark | Author-Reader Match

April 9, 2019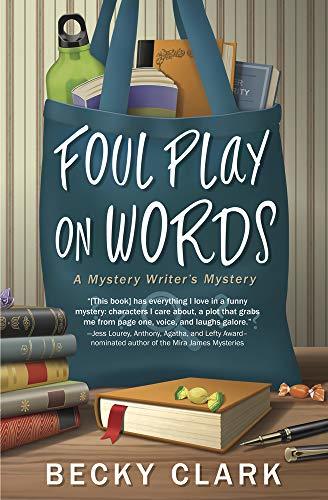 Foul Play on Words
Becky Clark
AVAILABLE
A Mystery Writer's Mystery #2

April 2019
On Sale: April 8, 2019
Featuring: Charlee Russo
264 pages
ISBN: 0738753661
EAN: 9780738753669
Kindle: B07D5VL5ZX
Paperback / e-Book
Add to Wish List

Also by Becky Clark:
Foul Play on Words, April 2019
Fiction Can Be Murder, April 2018

Instead of trying to find your perfect match in a dating app, we bring you the "Author-Reader Match" where we introduce you to authors as a reader you may fall in love with. It's our great pleasure to present BECKY CLARK!
Writes:
Light-hearted, cozy mysteries with funny, quirky characters you want to hang out with in real life. The newest book is Foul Play on Words, book #2 in the Mystery Writer's Mysteries, following Fiction Can Be Murder. In both, Charlemagne "Charlee" Russo is a mystery writer who keeps stepping in the metaphorical (and sometimes literal) dog poo of life.
About:
Married Colorado empty-nester who gets much too excited about forensics, tap dancing, FBI profiling, Broadway musicals, the purses she makes out of rescued books, true crime cases, German chocolate cake, coffee, vinyl LPs, and wine ... not necessarily in that order.
What I'm looking for in my ideal reader match:
Must love funny books.
Must love dogs because there's at least one in every book I write.
Must understand the phrase "suspension of disbelief" because how many bad things can happen to one protagonist??
Must love stories about ordinary people going about their ordinary lives when—BLAMMO—something terrible happens to them! All they want to do is crawl back under the covers until they come to the realization that eating grilled cheese sandwiches isn't going to make their problems go away.
Must not be offended by a wayward expletive lobbed, almost always, out of frustration, fear, or shock. No different than what you'd say if you were driving with me.
What to expect if we're compatible:
a rollicking good time with a cast of characters to love and look forward to
a free bonus story related to Foul Play on Words when you subscribe to my So Seldom It's Shameful newsletter  http://beckyclarkbooks.com/mailing
Giveaways from me and other authors via my newsletter  
your favorite places to connect and interact with me ...
Facebook
   Amazon
A Mystery Writer's Mystery #2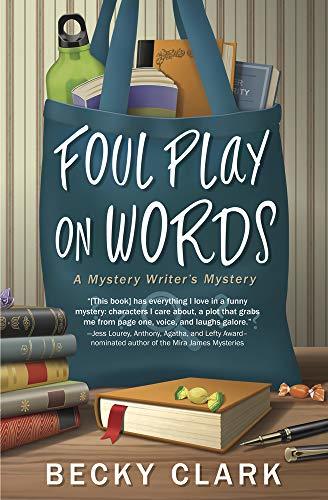 Between a kidnapping, a double booking, and a crew of hapless volunteers, Charlee is worried the writing conference will go to the dogs...
Mystery author Charlee Russo agrees to speak at a Portland writers' conference organized by her friend Viv Lundquist. When Viv picks her up at the airport, she frantically explains that her daughter Hanna has been kidnapped. Unfortunately, Viv has a history of embellishing the truth and Hanna has a history of disappearing.
Charlee takes over the conference preparation so Viv can search for her daughter, but the situation gets tense when the hotel double-books the event with a dog show. Despite it all, Charlee is compelled to investigate after she learns shocking secrets about both Hanna and Viv. Can she find Hanna in time, or will a plot twist lead her to a ruff ending?
Mystery Woman Sleuth | Mystery Amateur Sleuth | Suspense [Midnight Ink, On Sale: April 8, 2019, e-Book, ISBN: 9780738753669 / ]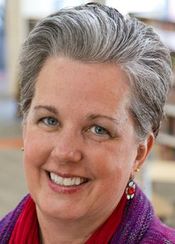 Becky Clark is the seventh of eight kids, which explains both her insatiable need for attention and her atrocious table manners. She likes to read funny books so it felt natural to write them too. She surrounds herself with quirky people and pets who end up as characters in her books. Readers say her books are "fast and thoroughly entertaining" with "witty humor and tight writing" and "humor laced with engaging characters" so you should "grab a cocktail and enjoy the ride." They also say "Warning: You will laugh out loud. I'm not kidding," and "If you like Janet Evanovich, you will like Becky Clark."
Comments
20 comments posted.
Re: Becky Clark | Author-Reader Match

I love your description of yourself - and your sense of humor. And I am VERY curious about "purses made out of rescued books." Really? I think you and your books are a perfect match. Thanks for sharing.
(Nancy Reynolds 9:12am April 9, 2019)
I am loving this post! The title of the book is great too.
the title alone makes me want to read it!
(Teresa Kunberger 4:31pm April 9, 2019)
Humor is a necessary element in any book I read. Maybe not in non-
fiction, but it can help, too. Everyday people can have rather
chaotic lives (our family can attest to that) and there are times it is
hard to believe what is happening. At times, a suspension of
disbelief has helped many of us get through the day. Keep writing
books that are fun and quirky.
(Patricia Barraclough 6:58pm April 9, 2019)
I love funny. I love dogs and my Yorkie has claimed
ownership of me. I definitely enjoy being left on the edge
of a cliff!
(Candy Voisine 8:20pm April 9, 2019)
You made me smile from the beginning of this post, and a drive with you sounds like a tremendous amount of fun! A writer's conference and a dog? Love that combination. Can't wait to check out your books!
(HiDee Ekstrom 9:01pm April 9, 2019)
I know I'm going to enjoy this fun & funny story!
(Jana B 11:03pm April 9, 2019)
Sounds like a funny read cant wait to read this book
(Danielle McDonald 1:37pm April 10, 2019)
Sounds awesome can't wait to read this book.
(Nancy Burgess 1:59pm April 10, 2019)
Light-hearted, cozy mysteries are, I think, the best!
(John Smith 2:42pm April 10, 2019)
Love the article. Love the cover!! Think we are a match!
(Judy Weaver 4:29pm April 10, 2019)
I love books that have humor and dogs in them and a mystery
to boot, nothing better! Thanks!
(Rebecca Booth 5:42pm April 10, 2019)
I enjoy books with animals in them. They tend to add a layor
of fun to parts of the story. Thanks for this opportunity.
(Nancy Luebke 8:40pm April 10, 2019)
I always enjoy reading books that have animals in them. I also love being about to laugh as I read books, when a book can pull emotions from me that means in my opinion it is a extremely good book. Thank you for the chance!
(Margaret Yelton 3:28am April 11, 2019)
Awesome! My girlfriend loves mysteries
(Devon Pickford 2:37pm April 11, 2019)
Sounds like a great read! New to me author!
(Jaime Minter 7:30pm April 11, 2019)
Your book sounds like a hoot! Enjoy humor and dogs in a story.
(G. Bisbjerg 11:50pm April 11, 2019)
This looks like a fun read!
(Rebecca Shields 8:15am April 13, 2019)
The catchy title drew my interest immediately and I do enjoy reading a good mystery. Humor makes it a winner.
(Anna Speed 12:16pm April 13, 2019)
I love the "play on words" in your title connected to a mystery. Can't
wait to read!
(Andrea Carroll 6:48pm April 13, 2019)
I enjoy funny dialogue and quirky characters.
(Susan Jang 7:52pm April 13, 2019)
Registered users may leave comments.
Log in or register now!