Susan Furlong | Five Things I've Learned from Nancy Drew
Contest giveaway!

February 27, 2017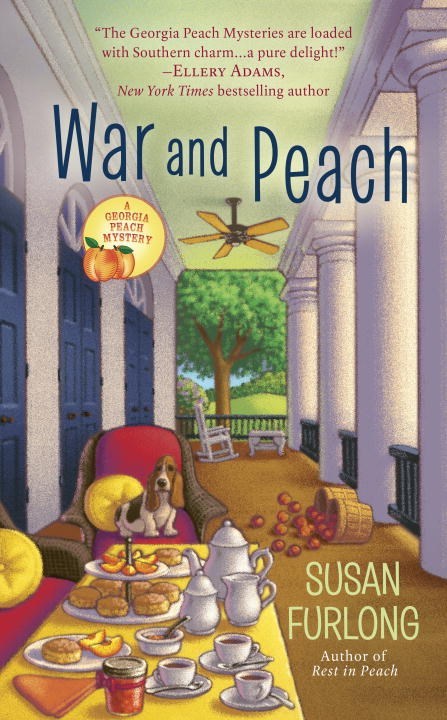 AVAILABLE
Georgia Peach

February 2017
On Sale: February 7, 2017
304 pages
ISBN: 0425278964
EAN: 9780425278963
Kindle: B01FEY5EIY
Mass Market Paperback / e-Book
Add to Wish List

Also by Susan Furlong:
Shattered Justice, January 2020
Fractured Truth, December 2019
Fractured Truth, December 2018
Splintered Silence, December 2018

Between third and sixth grade, I read every Nancy Drew book I could get my hands on. I followed Nancy through haunted mansions and inside treacherous caves, I rode along in her cute-as-ever convertible and traveled to far-away lands on thrilling adventures. I admired her sleuthing abilities, how she ultimately saved the day and of course, how she seemed to always have the perfect dress for any occasion. Never mind that she was fictional and a bit unrealistic—whose parent would give them all the money they want and let them travel the world to take on hardened criminals? Not mine!—Still, Nancy was one of my favorite childhood heroes and I learned a lot from her.
Here's what Nancy taught me:
Be inquisitive, don't be afraid to ask for what you want, and be tenacious
Nancy never backed down from a good mystery, even when it put her in danger. She hung in there, pursuing truth and justice with dogged determination. She went after what she wanted, unapologetic and unabashed. Yes, Nancy was the ultimate get-it-done gal.
Women can be both forceful and beautiful
Who else but Nancy could slip into a cotton sheath, don pretty patent leather pumps and kick some major criminal booty? Nancy embodied feminism and strength, a winning and admirable combination.
The world is a big ol' place
Nancy went places I'd only dreamed of going: Hawaii, England, the Scottish highlands … Not only did her adventures broaden my geographical perspective, they showed me just how diverse and wonderful the world can be.
Compassion is the key
Whether it was a missing young girl, a woman being driven from her home by "ghosts", or a business owner victimized by a ring of thieves, Nancy was there, indiscriminately fighting to help one and all.
Friends are important
And they come in a variety of shapes and personalities. Bess and George, Nancy's constant companions, couldn't have been any different: Bess was a bit frumpy, overly cautious and preferred to limit her adventures to shopping and sampling scrumptious treats. Whereas the athletic and boyish George was keen on any sort of adventure, and the more dangerous, the better. Still, each friend fulfilled a valuable role in Nancy's life, and often helped get her out of sticky situations. It just goes to show that we benefit from knowing and accepting a variety of people into our lives.
But what's the number one influence Nancy Drew has had on my life? She fostered my love of a good mystery. From THE SECRET OF THE OLD CLOCK to THE PHANTOM OF VENICE and beyond, Nancy proved a formidable sleuth. To this day, I love the concept of an amateur sleuth conquering the odds and solving the puzzle. Nancy Drew is one of the main reasons I've become a mystery writer. So thanks, Nancy! You're a real stand-up gal.
Leave a comment today on Susan Furlong's guest post for a chance to win a copy of WAR AND PEACH.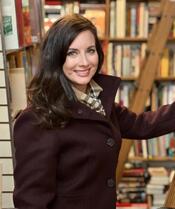 During her writing career, Susan has worked as a freelance writer, academic writer, and novelist. Her short work has appeared in several national publications including Woman's World magazine. Currently she's busy working on The Georgia Peach Mysteries, soon to be released from Berkley Prime Crime. She has also continued the New York Times bestselling Novel Idea Mysteries, starting with the fourth book in the series, under the pen name Lucy Arlington.
Comments
18 comments posted.
Re: Susan Furlong | Five Things I've Learned from Nancy Drew

I loved the Nancy Drew series. Have never considered the
things that could be learned from the serious or the
heroine but it set me up to be a lifelong reader.
(G. Bisbjerg 4:34pm February 27, 2017)
Loved Nancy Drew growing up! Have always loved mysteries

parkeremma2003 at yahoo dot com
(Jennifer Hansen 7:43pm February 27, 2017)
I love Perry Mason and Alfred Hitchcock shows.
(Tanja Dancy 2:00am February 28, 2017)
I read all the Nancy Drew novels when I was young. The
mysteries were captivating.
(Sharon Berger 1:22pm February 28, 2017)
I practically lived at the library when I was young---I traveled the world through reading.
(Sue Farrell 3:17pm February 28, 2017)
After I read all the Nancy Drew books, I went on to Earl
Stanley Gardner & Zane Gray... go figure.
(Nancy Ludvik 4:19pm February 28, 2017)
My sister and I read Nancy Drew and pretended we were her and solved all the mysteries we could find
(Jeri Dickinson 7:00pm February 28, 2017)
Love coy mysteries!
(Ricardo Gonzalez 7:37pm February 28, 2017)
I read all the Nancy Drew books and the Hardy boys too.Love
mysteries to the present. Would love to read War and Peach!
Thanks for the contest.
(Teresa Ward 8:31pm February 28, 2017)
OMG. Although I loved Nancy Drew and read everyone of her
books I could get my hands on, whenever they were written,
and yes, they changed up every 10-20 years. My favorite
Nancy Drew memory occurred once I became a school
librarian and a 6th grade teacher assigned the boys to
read a girl's book and the girls to read a boy's book.
The boys scarfed up the Nancy Drews because we had the
entire series. And after the assignment was over, the
boys kept checking them out!! They worked their way
through all of them for the rest of the school year. It
was the best thing ever!
(Marcia Berbeza 8:35pm February 28, 2017)
I too read all the Nancy Drew books. The new ones today
aren't as good. Wish I had some idea where my copies are
now - my parents have moved twice since I was young! I used
to trade with a friend for her Bobbsey Twins books.
(Sandy Haber 8:50pm February 28, 2017)
I too enjoyed Nancy Drew in my tween and early teens. She taught me: to
be strong. Never under estimate an opponent. Always be curious and ask a
those million and one annoying questions. Follow your gut (if that little voice
is on loop whispering danger or keep digging --do it heed caution); instinct
will save you. Be prepare. Appreciate family and friends. Persistence
generally pays off. Girls-- women are as smart if not more so than their
male counterparts; not even the sky is a limit to where you can soar. And
most important: be yourself; forge your own path, your own destiny and
don't let anyone convince you to be anything less than tou.
(Jaymy m 10:51pm February 28, 2017)
Wow - first time visiting fresh fiction and I just found another author that writes mysteries and includes recipes
I read Diane Mott Davidson and Joanne Fluke
(Joyce Horn 11:14am March 1, 2017)
I don't remember reading Nancy Drew. I do remember reading ALL of Agatha Christie, though. I think I may have been too old for Nancy Drew. I read Phyllis Whitney also, and mystery authors of that time. Still love mysteries!
(Kathleen Gardiner 12:39pm March 1, 2017)
When I was young I did not enjoy reading but would read Nancy Drew
when we had to read books I school. It wasn't until I was 40 when I became
a advid reader and that was for therapy and haven't slowed down in 12
years reading truly is therapy
(Lori Barnes 4:16pm March 1, 2017)
I love a good mystery and all the clues coming to one conclusion at the end, but
never quite giving away the "Who Done it?" until the end of the story
(Diane McMahon 8:22am March 2, 2017)
When I was in the second grade, I discovered reading was fun. Since then, I've read many books and enjoy a good mystery.
(Anna Speed 12:58pm March 2, 2017)
I read the "Nancy Drew" books and I love the "Perry Mason"
series. Thanks for the giveaway.
Marilyn
(Marilyn Collins 2:52pm March 2, 2017)
Registered users may leave comments.
Log in or register now!