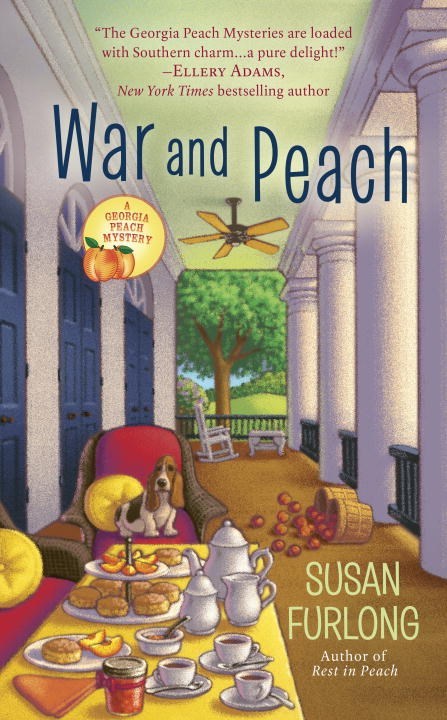 Purchase
Georgia Peach
Berkley Prime Crime
February 2017
On Sale: February 7, 2017
304 pages
ISBN: 0425278964
EAN: 9780425278963
Kindle: B01FEY5EIY
Mass Market Paperback / e-Book
Add to Wish List

The author of Rest in Peach serves up another bite of Southern charm in the latest Georgia Peach mystery.
Nola Mae Harper is too busy restocking the jars of preserves and chutney flying off the shelves of her shop, Peachy Keen, to keep up with all the gossip about the upcoming mayoral election, but she does know the debate is sure to be a real barn burner.
Local farmer Clem Rogers claims he has a bombshell that could take small business owner Margie Price out of the running. But before Clem can reveal his juicy secret at the debate, his actual barn goes up in flames—with him inside of it. The town casts its vote against Margie, but Nola isn't convinced the hardworking woman is capable of murder. Now to clear Margie's name Nola will have to work fast under pressure, before Margie gets taken in by the fuzz...
INCLUDES RECIPES!
Georgia Peach Mystery
Comments
19 comments posted.
Re: War and Peach

I loved the Nancy Drew series. Have never considered the
things that could be learned from the serious or the
heroine but it set me up to be a lifelong reader.
(G. Bisbjerg 4:34pm February 27, 2017)
Loved Nancy Drew growing up! Have always loved mysteries

parkeremma2003 at yahoo dot com
(Jennifer Hansen 7:43pm February 27, 2017)
I love Perry Mason and Alfred Hitchcock shows.
(Tanja Dancy 2:00am February 28, 2017)
I read all the Nancy Drew novels when I was young. The
mysteries were captivating.
(Sharon Berger 1:22pm February 28, 2017)
I practically lived at the library when I was young---I traveled the world through reading.
(Sue Farrell 3:17pm February 28, 2017)
After I read all the Nancy Drew books, I went on to Earl
Stanley Gardner & Zane Gray... go figure.
(Nancy Ludvik 4:19pm February 28, 2017)
My sister and I read Nancy Drew and pretended we were her and solved all the mysteries we could find
(Jeri Dickinson 7:00pm February 28, 2017)
Love coy mysteries!
(Ricardo Gonzalez 7:37pm February 28, 2017)
I read all the Nancy Drew books and the Hardy boys too.Love
mysteries to the present. Would love to read War and Peach!
Thanks for the contest.
(Teresa Ward 8:31pm February 28, 2017)
OMG. Although I loved Nancy Drew and read everyone of her
books I could get my hands on, whenever they were written,
and yes, they changed up every 10-20 years. My favorite
Nancy Drew memory occurred once I became a school
librarian and a 6th grade teacher assigned the boys to
read a girl's book and the girls to read a boy's book.
The boys scarfed up the Nancy Drews because we had the
entire series. And after the assignment was over, the
boys kept checking them out!! They worked their way
through all of them for the rest of the school year. It
was the best thing ever!
(Marcia Berbeza 8:35pm February 28, 2017)
I too read all the Nancy Drew books. The new ones today
aren't as good. Wish I had some idea where my copies are
now - my parents have moved twice since I was young! I used
to trade with a friend for her Bobbsey Twins books.
(Sandy Haber 8:50pm February 28, 2017)
I too enjoyed Nancy Drew in my tween and early teens. She taught me: to
be strong. Never under estimate an opponent. Always be curious and ask a
those million and one annoying questions. Follow your gut (if that little voice
is on loop whispering danger or keep digging --do it heed caution); instinct
will save you. Be prepare. Appreciate family and friends. Persistence
generally pays off. Girls-- women are as smart if not more so than their
male counterparts; not even the sky is a limit to where you can soar. And
most important: be yourself; forge your own path, your own destiny and
don't let anyone convince you to be anything less than tou.
(Jaymy m 10:51pm February 28, 2017)
Wow - first time visiting fresh fiction and I just found another author that writes mysteries and includes recipes
I read Diane Mott Davidson and Joanne Fluke
(Joyce Horn 11:14am March 1, 2017)
I don't remember reading Nancy Drew. I do remember reading ALL of Agatha Christie, though. I think I may have been too old for Nancy Drew. I read Phyllis Whitney also, and mystery authors of that time. Still love mysteries!
(Kathleen Gardiner 12:39pm March 1, 2017)
When I was young I did not enjoy reading but would read Nancy Drew
when we had to read books I school. It wasn't until I was 40 when I became
a advid reader and that was for therapy and haven't slowed down in 12
years reading truly is therapy
(Lori Barnes 4:16pm March 1, 2017)
I love a good mystery and all the clues coming to one conclusion at the end, but
never quite giving away the "Who Done it?" until the end of the story
(Diane McMahon 8:22am March 2, 2017)
When I was in the second grade, I discovered reading was fun. Since then, I've read many books and enjoy a good mystery.
(Anna Speed 12:58pm March 2, 2017)
I read the "Nancy Drew" books and I love the "Perry Mason"
series. Thanks for the giveaway.
Marilyn
(Marilyn Collins 2:52pm March 2, 2017)
I read some of Nancy Drew I love this series, great review thanks
Penney
(Penney Wilfort 12:00pm May 17, 2017)
Registered users may leave comments.
Log in or register now!