Jane Ashford | Best Romantic Advice ... (and possibly worst?)
GIVEAWAY: Win WHAT THE DUKE DOESN'T KNOW

September 7, 2016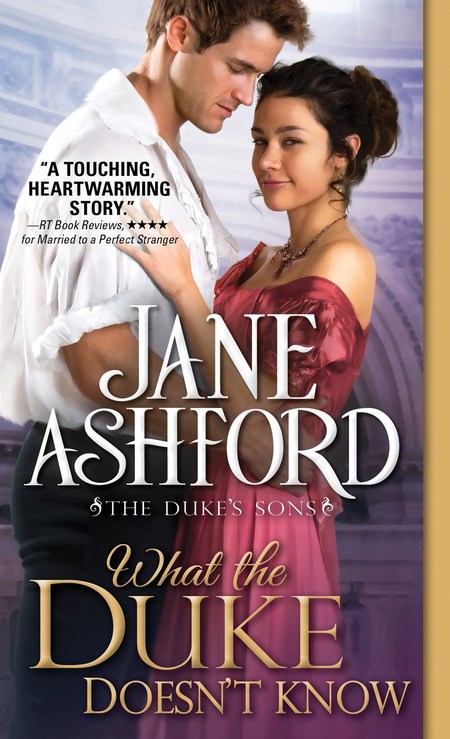 What the Duke Doesn't Know
Jane Ashford
AVAILABLE
The Duke's Sons #2

September 2016
On Sale: September 6, 2016
Featuring: James Gresham; Kawena Benson
384 pages
ISBN: 1492621595
EAN: 9781492621591
Kindle: B01ENNQ22E
Paperback / e-Book
Add to Wish List

Also by Jane Ashford:
A Gentleman Ought to Know, March 2023
Blame It on the Earl, September 2022
Add to review list
Earl on the Run, March 2022
Add to review list
The Duke Who Loved Me, September 2021

You ask what advice I'd give the hero and heroine at the beginning of WHAT THE DUKE DOESN'T KNOW. Somehow, the question made me think about the whole concept of romantic advice. Do people ever take it? Is anyone really in a position to give it?
Certainly there's advice flying all over the place today. And I admit I have a mild addiction to advice columns – Dear Abby, Ann Landers, Dear Amy, Miss Manners – any of them, really. I'll be navigating the internet, maybe to pay a bill or do a bit of necessary research, and I see that headline. Too many times, I have to click:
Happy Feet Are Great Comfort to Bride on Her Special Day. This is about comfortable shoes, yes? What else could it be?
Unexpected Guest for Dinner Party Results in Empty Seats. A skunk got into the house? The dog tried to chase her out. The skunk jumped onto the table and Blam!
Couple's 40 Years of Marriage Began Later Than Kids Think. So they jumped the gun. It happens. Everybody take a breath.
Surgeon's Wife Surprised by His Covert Operation. Have to click on that one. I don't think he's going to turn out to be 007.
Seeds of Love and Peace Sown by Humble Dandelion. Umm, what? Aren't dandelions the scourge of front lawns? Whole neighborhood gets together for a mass dandelion hunt?
Wife Says Husband Is Wrong to Claim He's Always Right. Really? OK, I have advice here. That guy sounds like a jerk.
Woman Searches for Way to Warm Mans Cold Feet. This is a metaphor. Don't suggest a hot water bottle or a thicker down comforter.
Two headlines not far apart in time. Visiting Grandparents Should Leave Their Pets At Home. Daughter's Ban of Cat and Dog Peeves Her Pet Loving Parents. Ooh, I can do these – find a nearby hotel that takes animals.
Nudists at Beach Are Not Concerned With Perfection. Wise. (This one turned out to be quite touching when I – yes – clicked.)
Widow Says Husband's Secret Should Have Stayed Buried. Mystery novel potential here. Incriminating documents stuck in a hole in the back yard? Murdered first wife under patio?
Put The Brakes on Unwanted Advice. Uh oh.
There are all sorts of blogs giving advice or complaining about other people's habits or behavior, too. Well, first complaining and then offering the "advice" mainly. Which often consists of – stop it and go away! There are a lot of annoyed people out there – many of them poised to come swooping down like virtual vultures in the Comments section. With heavy sarcasm. And insults. And profanity. Yikes! It's enough to put you off giving advice altogether. However, you asked me. I'll do my best. Hero and heroine:
Be kind. This includes a firm, polite "no."
Be willing to change if you discover good reasons to do so. But don't assume you can change each other.
Take note of what makes your counterpart laugh wholeheartedly. It's important.
Respect is obligatory.
Have fun!
Hero and heroine won't manage all that, of course. Not at first. But the essence of an HEA for me is that they do in the end. After some difficulties. Mostly. Happy reading!
GIVEAWAY
What is the best headline you've seen on the Internet that called out for you to respond And bonus round, what was YOUR advice? Prize is a copy of WHAT THE DUKE DOESN'T KNOW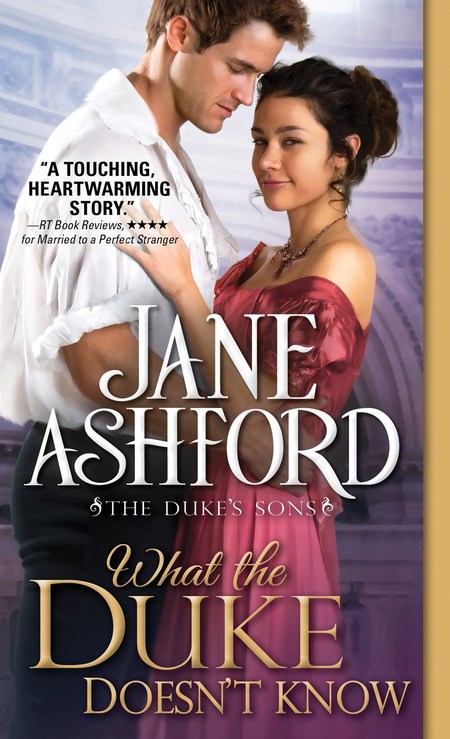 A proper English wife, or the freedom of the sea?
Lord James Gresham is the fifth son of the Duke of Langford, a captain in the Royal Navy, and at a loss for what to do next. He's made his fortune; perhaps now he should find a proper wife and set up his nursery. But the sea calls to him, while his search for a wife leaves him uninspired. And then, a dark beauty with a heart for revenge is swept into his life.
He can't have both, but he won't give up either
Half-English, half-Polynesian Kawena Benson is out to avenge her father and reclaim a cache of stolen jewels. There's nothing for James to do but protest his innocence and help Kawena search for the jewels, even though it turns his world upside down.
Romance Historical [Sourcebooks Casablanca, On Sale: September 6, 2016, Paperback / e-Book, ISBN: 9781492621591 / eISBN: 9781492621607]
An adventurous romance with a unique twist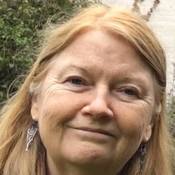 Jane Ashford discovered Georgette Heyer in junior high school and was captivated by the glittering world and witty language of Regency England. That delight led her to study English literature and travel widely in Britain and Europe. Her historical and contemporary romances have been published in Sweden, Italy, England, Denmark, France, Russia, Latvia, Slovenia, and Spain, as well as the U.S. Twenty-six of her new and backlist Regency romances are being published by Sourcebooks. Jane has been nominated for a Career Achievement Award by RT Book Reviews. She is currently rather nomadic.
Comments
16 comments posted.
Re: Jane Ashford | Best Romantic Advice ... (and possibly worst?)

I can't wait to see these comments!
(Jane Ashford 3:12pm September 7, 2016)
I have seen blog post titles that catch my eye, but never really thought about headlines... I am more of a read and observe type... not one that really knows what to say or how to say what I am thinking...
(Colleen Conklin 8:33pm September 7, 2016)
I can't really recall any headline that would catch my eye for me to respond too. I'm sorry. My face is usually in front of a book!
(Bonnie Capuano 7:25am September 8, 2016)
Headlines? I haven't responded to any...most seem to just
be bait for drama and conflict.
Since my husband and I have been together for 32 Years,
people do ask me for advise...the only advise I have is, Be
Each Other's Best Friend. For some reason people are much
kinder to their best friend than to their lover. No one
cheats on a best friend.
(Linda Knowles 11:40am September 8, 2016)
Anything having to do with Hollywood is amusing. I cannot
advise people who have everything.
(Sharon Berger 2:01pm September 8, 2016)
Anything to do with a hint of history. I just have to check it out. River Runs Red which was about a river in Russia turning red. Only advice I give is how to study to students because most advice is ignored.
(Melinda Marks 2:46pm September 8, 2016)
I cannot think of any headlines on the internet that caught my
attention at the moment. On advice, something I once heard...
'Don't listen to what the person is telling you, listen to what
they are not saying'.
(S W 4:46pm September 8, 2016)
Someone who's child was going to college and they were going to
have an empty nest. One thing I suggested, was always make them
feel welcome at home.
(Nancy Luebke 6:41pm September 8, 2016)
Can't remember the headline, but it was about the launch
to visit an asteroid and collect samples to bring back.
My comment was to cheer them on.
(Irene Menge 7:39pm September 8, 2016)
I don't think I've ever posted to a headline. I will comment
on Facebook posts - mostly to offer support. Several times
for those who have lost parents or are coping with their
medical care since I have done both.
(Diane Sallans 11:41am September 9, 2016)
I usually just go to the author's websites on the internet. Don't do much of the
other stuff available.
(Joy Isley 4:51pm September 9, 2016)
I don't really remember any of the headlines I've seen.
I'll occasionally check out something that sounds
interesting, but I don't leave comments on those pages.
(Janie McGaugh 1:25am September 10, 2016)
just look at the new books to read
(Ann Unger 12:06pm September 12, 2016)
Internet headline that catches my eyes - anything to do with the food we feed our dogs. There are so many options - how do you decide. Don't respond to many issues because of all the feedback that comes back - mostly negative...
Good luck to all
(Faye Boss 8:47am September 12, 2016)
I look for human interest stories but never leave comments.
(Anna Speed 11:52am September 12, 2016)
Love Dear Abby! She recently gave some scathing advice to
someone being deliberately unkind to a family member who
was divorced and I liked the way she phrased it.
(Karlene Barger 10:04am September 13, 2016)
Registered users may leave comments.
Log in or register now!