Daryl Wood Gerber | Chocolate Research
Giveaway: GRILLING THE SUBJECT

August 1, 2016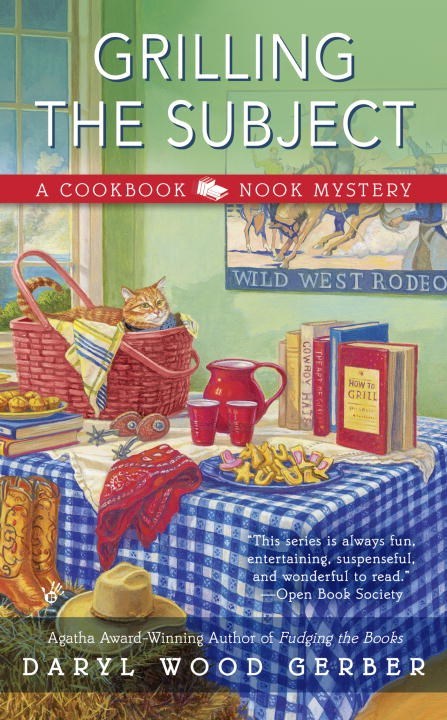 Grilling the Subject
Daryl Wood Gerber
AVAILABLE
Cookbook Nook Mystery #5

August 2016
On Sale: August 2, 2016
Featuring: Jenna Hart
304 pages
ISBN: 0425279413
EAN: 9780425279410
Kindle: B017SCQLSW
Mass Market Paperback / e-Book
Add to Wish List

Also by Daryl Wood Gerber:
A Glimmer of a Clue, July 2021
Add to review list
A Sprinkling of Murder, July 2020
Add to review list
Shredding the Evidence, May 2020
Fan Mail, November 2019

Hi!
I write the Cookbook Nook Mysteries, which means I spend a lot of time researching cookbooks and recipes. Poor me! Also, because I include recipes in my mysteries, I do a lot of taste testing. Feeling sorry for me yet? Probably not. You would if I was a lousy cook, but I've been cooking all my life. I catered during high school, and I ran a restaurant in my twenties. However, my protagonist, Jenna Hart, a former advertising executive who moved home to the seaside town of Crystal Cove, California to help her aunt open the Cookbook Nook, a delightful bookstore packed with cookbooks and cooking items, is not a cook. She needs simple recipes, i.e., 5-ingredient recipes. To help Jenna, I include a simple recipe that she could whip up in each book. FYI, she's determined to become a better cook. In fact, in GRILLING THE SUBJECT, she has advanced to ten-ingredient recipes. How? Because Katie, the chef at the Nook Café, is teaching Jena to think of dry ingredients as one "recipe" and the liquid ingredients as another "recipe." Then she can combine the two recipes into one. Two fives add up to ten. Does that make cooking less scary? You bet!
For now, I thought I'd offer you one of Jenna's favorite recipes, one she inherited from her mother for chocolate pudding. It's so easy, delicious, and creamy. TIP: I found these adorable glass pudding dishes at Bed Bath and Beyond for pennies!
Jenna's Mom's Easy Chocolate Pudding
(serves 4)
Ingredients:
2/3 cups sugar
1/4 cup cocoa
3 tablespoons cornstarch
1/4 teaspoon salt
2 ÂĽ cups milk
2 tablespoons butter
1 teaspoon vanilla extract
Whipped cream
Directions:
In a medium saucepan (no heat yet), stir together sugar, cocoa, cornstarch, and salt. Now stir in the milk. Cook over medium heat, stirring constantly, until the mixture boils. Remove from heat and stir in the butter and vanilla.
Pour into individual dessert dishes. Note: to keep a skin from forming on the top, press some plastic wrap on the surface of the pudding.
Refrigerate at least 2 hours.
When ready, remove the plastic wrap and top each with whipped cream, if desired.
FYI, in GRILLING THE SUBJECT, you can expect a lot of barbecue recipes because the Wild West Extravaganza has come to town!
Now tell me, what is the name of your favorite EASY recipe? Comment below and you'll be entered to win a copy of GRILLING THE SUBJECT.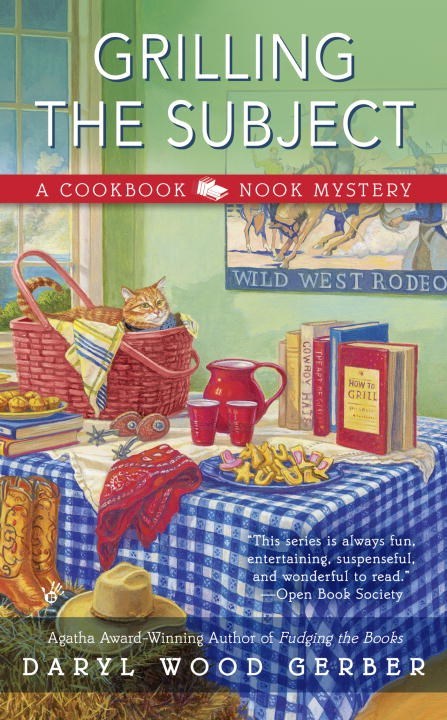 Things heat up for bookstore owner Jenna Hart in the latest Cookbook Nook mystery from the Agatha Award-winning author of Fudging the Books.
As the Wild West Extravaganza rides into Crystal Cove, California, Cookbook Nook store owner Jenna Hart is ready to indulge her appetite for grilled and barbecued treats and maybe even try the Texas skip. But when the body of one of her father's neighbors is found the next morning smoldering in a bonfire, the rodeo revelry is extinguished.

Sylvia Gump had acquired plenty of enemies with her practice of illegally encroaching on her neighbors' properties—including Jenna's dad, who was off fishing by himself and has no alibi for the murder. Now it's up to Cary Hart's dutiful daughter to clear his name before the real killer turns up the heat and rakes someone else over the coals...
Mystery Cozy [Berkley Prime Crime, On Sale: August 2, 2016, Mass Market Paperback / e-Book, ISBN: 9780425279410 / eISBN: 9780698187573]
Daryl Wood Gerber writes the nationally bestselling A Cookbook Nook Mystery series featuring a cookbook store owner who is an avid reader and admitted foodie. Set on the coast of California. As Avery Aames, she writes the Agatha Award–winning, nationally bestselling Cheese Shop Mystery series featuring a cheese shop owner who cares about family above all else. Set in the quaint, fictional town of Providence, Ohio. Daryl's short stories have been nominated for the Agatha and other awards.
Prior to writing, Daryl was an actress in Los Angeles. A fun tidbit for mystery buffs: she co–starred on the popular series, "Murder, She Wrote" and "Matlock." Daryl graduated from Stanford University. She enjoys golfing, swimming, photography, gardening, gourmet cooking, and has been known to jump out of a perfectly good airplane. Avery and Daryl blog at Mystery Lovers Kitchen as well as Killer Characters.
Comments
33 comments posted.
Re: Daryl Wood Gerber | Chocolate Research

Daryl, the covers of your books are super cute!
(Jamie Stein 12:16pm August 1, 2016)
Jamie, I'm so glad you like them. I've got the best artist. Her name is Teresa
Fasolino! ~ Daryl
(Daryl Wood Gerber 12:41pm August 1, 2016)
I wish Hallmark would make your novels into movies. You can be the
actress as well. 😊
(Mary Brockhoff 1:47pm August 1, 2016)
Hi, Mary! I wish they would, too, but I think Hallmark is backing off this
particular genre in the future. But you can certainly go to their FB page and
tell them. Hint, hint. ~ Daryl
(Daryl Wood Gerber 2:45pm August 1, 2016)
Your new book sounds wonderful Daryl. Chocolate and reading
books is the perfect combination for summer, or really
anytime!
(Maryann Skaritka 3:36pm August 1, 2016)
Hashbrown casserole
(Cheryl Smith 3:57pm August 1, 2016)
My favorite recipe is one for Dump Cake! I can mix and match based on what ingredients I have in the cupboard. Recently tried an equally easy Dump Dinner which is also easy and versatile.
(Joanne Kocourek 7:11pm August 1, 2016)
Maryann, thank you so much! I agree re: chocolate and reading!

Cheryl, I adore a hash brown casserole!

Joanne, I enjoy dump cakes. I make up all sorts of new ones every year
They're so easy! Where would we be without bundt pans?! ~ Daryl
(Daryl Wood Gerber 9:16pm August 1, 2016)
O-o-oh, this recipe looks s good. I love your books and can't wait to read
Grilling the Subject!
(Nancy L Gessner 9:58pm August 1, 2016)
Love grilling - because it's hubby's job!! Favorite easy
recipe - anything if the crock pot - dump and eat in four
to eight hours.
(Sue Peterson 1:10am August 2, 2016)
Thanks for the recipe, this sounds very good I can't wait to read it, love the cover too
Penney
(Penney Wilfort 5:21am August 2, 2016)
I've never made pudding from scratch, it does look easy. My
favorite easy dessert like recipe are rice kripies, using the
microwave. Thanks!
(Julie Holden 7:18am August 2, 2016)
The chocolate pudding is going to be made tomorrow!
(Nadine Stacy 5:24pm August 2, 2016)
Love the cover of this book.
Marilyn
(Marilyn Collins 7:00pm August 2, 2016)
I have never made pudding from scratch but will have to try
this soon. Love your books!
(Teresa Ward 7:52pm August 2, 2016)
I enjoy the recipes you include as well as the mystery. I like the covers
(Melinda Marks 8:58pm August 2, 2016)
My mint chocolate Christmas cake gets raves, but it's the
simplest recipe ever. Just crumble a large peppermint patty
into the dry mix, and swap out butter for the oil. Follow
the rest of the baking instructions. The frosting is 2 cups
of powdered sugar, half a stick of softened butter, 2 tbs of
milk, and 1 tbs of creme de menthe. Beat for 3 minutes. If
too thick, add more milk. Enjoy!
(Marcia Berbeza 9:32pm August 2, 2016)
Anything with chocolate can't be all bad
(Jeri Dickinson 10:02pm August 2, 2016)
Easy Recipe for me is five ingredients...ha...this needs cabbage, avocado,mayonnaise and green onion with a tiny bit of hot sauce...thanks for the review.
Marilyn ewatvess@yahoo.com
(Marilyn Watson 4:41am August 3, 2016)
Love chocolate pudding!!! I will try this recipe once I am
at my goal weight!! Can't wait.
(Sue Ames 4:28pm August 3, 2016)
My favorite easy recipe is "Magic Squares". YUMMY!
(Evelyn Supernor 4:29pm August 3, 2016)
Dump cakes are super easy for those last minute potluck dinners.
(Angela Daffern 4:41pm August 3, 2016)
What doesn't go with chocolate nothing
(Jeri Dickinson 4:56pm August 3, 2016)
I just love the covers of your books! Really cute and creative. They each tell a story of their own (at least to me!). Question: Do you have cats of your own?
(Valerie Stein 7:47pm August 3, 2016)
Love your books and recipes . My favorite is the bundt cakes with the surprise in the middle . The young grandkids always wonder how I put ' stuff ' inside the cake !!!!
(Joan Thrasher 10:04am August 4, 2016)
My favorite recipes would have to be basic and simple things - and of them
all I would probably have to say my favorite and easiest is cereal & milk. =/
(Lily Shah 4:47pm August 4, 2016)
German chocolate cake is sooo good
(Jeri Dickinson 8:48pm August 4, 2016)
Wow, so many comments. Where to begin?
Nancy and Pen, glad you liked the recipe.
Sue - a crockpot is so wonderful!
Julie and Nadine and Teresa, this really is as easy as it sounds!
Marilyn, Melinda and Valerie, I'm so glad you like the cover. I adore my
ARTIST! Teresa Fasolino is her name.

Marcia, a mint chocolate Christmas cake sounds divine.
Jeri D, I adore German chocolate cake. Especially if I get to eat it in
Germany!
Lily, cereal is a go-to food, isn't it? LOL
Joan and Angela, I have the easiest dump cake made with sherry. So
divine for book club parties.
Evelyn, you have stumped me. Magic Squares? Please share!
Marilyn, your veggie recipe sounds so easy and tasty! Definitely perfect
for an appetizer!

Thanks to all for chiming in. I'm thrilled to see you here.

~ Daryl
(Daryl Wood Gerber 9:08pm August 4, 2016)
7 cup salad is easy to make and easy to double & triple if you wish. It is a
fruit salad, but not overly sweet like so many are. You use one cup of each go
the 7 ingredients: sour cream, cottage cheese, shredded or flaked coconut,
mini marshmallows, well drained crushed pineapple, fruit cocktail (no juice),
and chopped pecans. Mix together all ingredients and refrigerate. Is better
after sitting a day or so. I am going to try your pudding recipe.
(Patricia Barraclough 12:24pm August 5, 2016)
The pudding sounds yummy, and I'll be sure to try it!!
My easy recipes, off the top of my head, are Ambrosia
salad, and Stuffed Celery. Congratulations on your latest
book, too!! It should be another hit!!
(Peggy Roberson 6:53am August 5, 2016)
Anything on the grill! And, of course, my wife's zucchini
patties! Your chocolate pudding looks yummy!
(Richard Proctor 11:59am August 5, 2016)
love books with recipes! Just hve to find the time to make
them!
(Sandy Haber 2:58pm August 5, 2016)
My favorite easy recipe is for Coca-Cola Pork Chops.
(Coke, chops, brown sugar and ketchup--super easy and
tasty!)
(Shannon Murphy 3:57pm August 5, 2016)
Registered users may leave comments.
Log in or register now!