Victoria Thompson Musings

May 3, 2016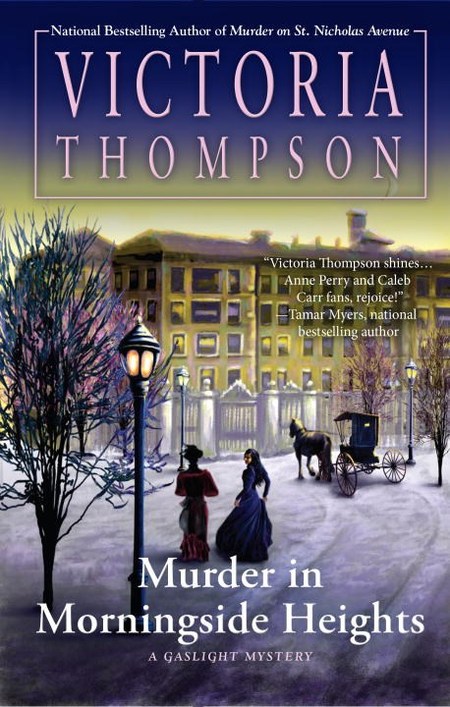 Murder in Morningside Heights
Victoria Thompson
AVAILABLE
Gaslight Mystery #18

May 2016
On Sale: May 3, 2016
304 pages
ISBN: 1101987081
EAN: 9781101987087
Kindle: B013Q70C4C
Hardcover / e-Book
Add to Wish List

Also by Victoria Thompson:
Murder on Wall Street, May 2021
Add to review list
City of Schemes, November 2020
Add to review list
City of Scoundrels, September 2020
Murder on Pleasant Avenue, May 2020

A Day in the Life of Sarah Brandt Malloy…
Malloy and I have been back from our honeymoon for several weeks now, and we're both very grateful that my nursemaid, Maeve, and Malloy's friend from the New York City Police Department, Gino Donatelli, started a detective agency while we were away. Without it, Malloy would've been bored to death, since he'd had to resign from the Police Department. Their first really interesting case after officially setting up an office turned out to be one they needed my help on, too. Thank heaven, because quite frankly, I was feeling a little bored myself.
A young woman who was teaching at the Normal School had been murdered. The Normal School is a college for women that trains them to become teachers, and it should be the safest place in the world. Abigail Northrup's parents had thought so when they agreed to let her work there, especially when she moved in with two of the other female professors. Malloy asked for my help because he thought I'd know more about college than he did because I was raised in a wealthy family. The truth is that the girls I'd grown up with hadn't even considered going to college. Rich girls went on European tours. College was for middleclass girls who wanted to be able to make their own way in the world without having to rely on finding a husband to support them. They are the New Women, and I was surprised to discover how much I had in common with them.
You may know that I trained as a nurse and a midwife after my sister died in childbirth. This was partly in rebellion against my parents, whom I blamed for my sister's death, but also because I wanted to do something meaningful with my life. Then I met a handsome young doctor, Tom Brandt, and became his wife. Tom's murder three years later shattered my perfect life, however, and I was grateful I had a valuable skill I could use to support myself, unlike so many widows who found themselves destitute. Now a whole generation of women were choosing to have a career instead of counting on finding a husband to support them.
Malloy and I learned a lot about these New Women and the world of academia. Abigail had forged some strong relationships at the college, but she had also made some dangerous enemies. Malloy and I needed all our training and a little help from Gino to uncover all of her secrets and bring her killer to justice.
Giveaway
What is YOUR day like? Tell us below in the comments to be entered to win a copy of MURDER IN MORNINGSIDE HEIGHTS plus a copy of MURDER ON AMSTERDAM AVENUE the latest two Gaslight Mysteries.
MURDER IN MORNINGSIDE HEIGHTS is the 19th book in the Gaslight Mystery Series, published by Berkley Prime Crime, May 2016: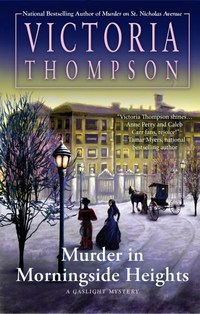 In the latest from the bestselling author of Murder on St. Nicholas Avenue, former police sergeant Frank Malloy and his wife adjust to life in New York high society as they investigate a death in the field of higher learning...
After spending his first few weeks as a private detective by investigating infidelities of the wealthy, Frank has a more serious case at hand.
Abigail Northrup of Tarrytown, New York, was her parents' pride and joy. After graduating from a prestigious women's college in Morningside Heights, she took a job there as an instructor. She also joined the ranks of the New Women, ladies planning for a life without a husband in which they make their own decisions and make a difference in the world. Unfortunately, her murder ended all that.
When the police declare the incident a random attack and refuse to investigate further, Abigail's parents request Frank's help. Of course, he'll need Sarah's assistance as she's more familiar with the world of academia, and it will be far easier for her to interview the lady professors. Yet difficulties arise as they learn that Miss Northrup may have been an exemplary student and teacher, but she lived in a world of secrets and lies...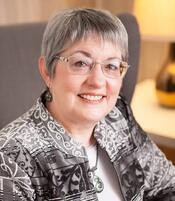 Edgar® and Agatha Nominated author Victoria Thompson writes the Gaslight Mystery Series, set in turn-of-the-century New York City and featuring midwife Sarah Brandt. Her latest, MURDER IN MORNINGSIDE HEIGHTS, is a May 2016 release from Berkley Prime Crime. She also contributed to the award winning writing textbook MANY GENRES/ONE CRAFT. Victoria teaches in the Seton Hill University master's program in writing popular fiction. She lives in Indiana with her husband and a very spoiled little dog.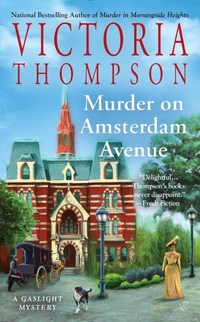 Now in paperback—midwife Sarah Brandt and a former police detective Frank Malloy return in the national bestselling series…
In the midst of Sarah and Frank's wedding preparations, Sarah accompanies her mother on a condolence call to the Upper West Side, where the son of family friends has died unexpectedly after suffering from a mysterious disease. But the father believes his son was poisoned and would like Sarah and Frank to look into the matter with the utmost discretion.
They soon learn that not everyone wants to know more about Charles's death. As Sarah and Frank unravel secrets that reach back to the War Between the States, they also discover that they are in the company of a very present danger….
Comments
23 comments posted.
my days are pretty boring - go to library to use their wifi and read! Some days I even mow the lawn!
(Joanne Schultz 4:15pm May 3, 2016)
My days are usually low key, I clean the house or tend to the
outdoor jobs,mowing the lawn,weeding and trimming and taking
care of the flowers.and spend time reading and watching
television.
Marilyn
(Marilyn Collins 6:17pm May 3, 2016)
i work and if i dont work i read
(Angie White 7:21pm May 3, 2016)
I work- tech so grade and plan, clean house and read. No excitement which I am glad
(Melinda Marks 10:17pm May 3, 2016)
clean house, watch my soap opera every day the same, except I don't clean every day
(Jeri Dickinson 10:31pm May 3, 2016)
My days are usually the same. I suffer chronic migraines and I am usually
in pain every day. Quiet reading is my favorite thing to do.
(Patti Paonessa 10:56pm May 3, 2016)
Taking the dog out in the morning, then getting my husband off to work and my youngest off to school, then some house work then kick back with a cup of tea and a good book. This sounds very good, thanks
Penney
(Penney Wilfort 10:08am May 4, 2016)
I'm retired but my husband is not. My days are usually very
quiet. I run errands when I have to, and sometimes visit
friends. Quiet days are why I like to read.
(Sharon Shearouse 10:27am May 4, 2016)
Appointments for health, cleaning, cooking and walking.
(Sharon Berger 11:25am May 4, 2016)
My days are generally full. I have a full time job, but on a school schedule, so am looking forward to a summer with few job responsibilities--there are still a few. I am a grandmother who has major care of her grandchildren and a husband who is disabled. Not much free time!
(Cathy Burkhead 1:38pm May 4, 2016)
My day is filled with work, washing dishes, making dinner, washing more dishes, helping children with homework, and snuggling with my pup and reading.
(Jamie Stein 3:43pm May 4, 2016)
Not much is going on in my life right now. I'm recovering from a serious illness and still have visiting nurses twice a week. I do, however, get to read a lot and I love it! Just can't do anything else. HA
(Bonnie Capuano 4:53pm May 4, 2016)
I watch my soap opera and I read, and sometimes house work if I have to
(Jeri Dickinson 9:43pm May 4, 2016)
My day consists of getting up early in the morning to go to
school-I am studying Human Services-and when I get home, I
eat, and spend the rest of the day/evening/night on my
computer before going to bed and lather/rinse/repeat the same
daily routine every weekday.
(Edward Washington 11:01pm May 4, 2016)
Right now we are enjoying rain...I know people want the rain to go away, but
having gone through water shortage drought in Central Valley California, I
can put up with a little rain! So, with outdoor chores on hold, I am finishing
writing bills, giving bathroom and kitchen the once over, and read a few
chapters in my latest book. It's a good day!
(Kathleen Costa 4:46pm May 6, 2016)
Since I don't work, my days are usually, cleaning, fixing meals, and watching my soap opera
(Jeri Dickinson 2:24pm May 7, 2016)
Just finished the laundry and will be starting dinner in about an hour.
I read in the evenings.
(Rita Wray 7:50pm May 7, 2016)
My days start eating breakfast with my sweetheart. I listen to music, play
with my pets, make a few phone calls. We do all our play in the morning
and work at night.
(Leann Griffiths 8:43am May 8, 2016)
I do as little as I can away with. you know housework, cooking, cleaning. I love my soap opera
(Jeri Dickinson 4:15pm May 8, 2016)
I'm retired and most days it's cleaning, cooking and reading!!!
(Bonnie Capuano 9:35am May 9, 2016)
My days are always busy . I have three line dance classes a week , plus we go to different nursing homes around the area and entertain for them and also to organizations and events close by . When not doing that I'm working in my yard or cleaning house or taking my older sister to her doctor appointments . I pick up grandkids at school sometimes and lots of other things including the church activities. I am so busy I never get bored .Since I'm retired and 70 years 'young' there is not enough hours in the day for me to do all that I want to do that day . I love it!!
(Joan Thrasher 9:37am May 9, 2016)
What I do may be boring to others but I do the things I enjoy like reading, doing crossword puzzles, working on the computer, gardening, taking care of my cats, occasionally going shopping with granddaughters and daughter-in-law.
(Anna Speed 8:12pm May 9, 2016)
My days are filled with lots of things to do or places to go. I can alwYs find
things to do...I am rarely idle.
(Jackie Wisherd 11:23pm May 9, 2016)
Registered users may leave comments.
Log in or register now!